Over 145 House Cleaning Tips & Tricks
Share Yours And Read Others
I've been busy gathering all kinds of house cleaning tips from readers for all kinds of rooms, areas, surfaces, appliances, etc. in your home.
Take a look below for over 145 tips already submitted, or add your own!
I already have quite a few tips for cleaning that have been submitted, along with videos I've embedded onto the site that you can look at.
I have them organized alphabetically, by the type of object you want to clean, so you can find them easily.
You can jump to the section of the page you want by clicking on one of the letters below. In addition, you can submit your own trick or idea here.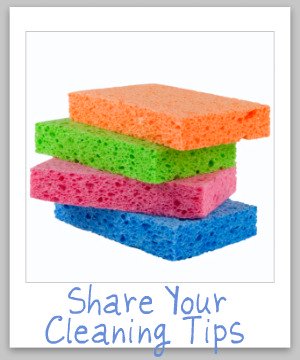 Much of this website is devoted to how to remove various types of stains from various types of surfaces.
However, when you are removing stains you are often cleaning the item too, and so cleaning and stain removal really do overlap and go hand in hand.
I've been getting so many good stain removal tips from readers that I wanted expand and allow you to also submit your own ideas and tricks for house cleaning too.
In addition, I've added some of the best videos I've found from all over the web into this section as well.
So, click here to jump down onto the page to submit your own ideas, so it can be featured here with all the others.
Search This Site
General Tips
"A" Tips
"B" Tips
"C" Tips
"D" Tips
"E" Tips
"F" Tips
"G" Tips
"H" Tips
"I" Tips
No tips have been submitted yet for this letter.
"J" Tips
"K" Tips
"L" Tips
"M" Tips
"N" Tips
No tips have been submitted yet for this letter.
"O" Tips
"P" Tips
"Q" Tips
No house cleaning tips have been submitted yet for this letter.
"R" Tips
"S" Tips
"T" Tips
"U" Tips
"V" Tips
"W" Tips
"X" Tips
No tips have been submitted yet for this letter.
"Y" Tips
No tips have been submitted yet for this letter.
"Z" Tips
No tips have been submitted yet for this letter.
Do You Have A Cleaning Tip To Share?
Have you discovered a great way to clean something quickly or easily?

If so we would love to hear your cleaning tips below.

Just tell us what it is you cleaned, and how you did it, giving us enough details that someone else could follow your instructions themselves.

You can also tell us what homemade or commercial cleaning products you used to get the item clean.
Submitted Cleaning Tips
Click the links below to see cleaning tips already submitted by other readers.

Feel free to tell us in the comments if the tips worked for you too.

Toy Ransom Box: Method To Get Kids To Pick Up After Themselves
Ever heard of a toy ransom box? There was some discussion of it here on the site recently when we were discussing how to get kids to pick up after …
Uses For Alka Seltzer For Cleaning Items In Your Home
Below is a video showing several uses for alka seltzer for cleaning items in your home. The idea for each of them is to let the alka seltzer dissolve …
How To Clean Egg Stains Off Car
When your car gets egged the most important thing you can do is to get the egg stains off as quickly as possible. This is not too difficult if you realize …
Thanks For Visiting My Website: Grab Your Free Gift!

Hi, I'm Taylor, a busy mom with 3 kids, so I have lots of hands on experience with house cleaning, laundry and my fair share of spots, spills and other messy catastrophes. Thanks for visiting my site.
I update the website all the time with tips, tutorials, cleaning recipes, reviews of products from readers like you, and tests I've done on various cleaners, removers and laundry supplies.
I'd love to give you a gift! When you subscribe to my free weekly newsletter you will receive a free printable laundry stain removal chart that you can reference as needed.
I hope you enjoy this gift, and stop by again soon!
Related Pages You May Enjoy
A-Z Stain Removal Guide: Instructions For Removing Over 100 Types Of Stains
Go From House Cleaning Tips & Tricks To Home Page
CAUTION: This website is provided for informational purposes only. It is provided as is, without warranties or guarantees. Some stains and messes just won't come out, and are permanent. Further, some cleaning methods can harm your item, so if what you want to clean or launder is sentimental or expensive call a professional. See disclaimer of liability for more information.