Subscribe For Free To The Out Darn Spot! Newsletter And Get A Free Printable Laundry Stain Removal Chart
"Out, damn'd spot! Out, I say!" - William Shakespeare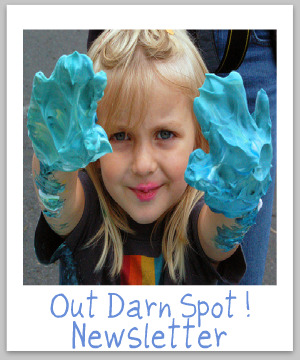 Subscribe for free to the Out Darn Spot! Newsletter, plus email updates of the site, so you can keep up with the latest from the Stain-Removal-101.com site, and get a free bonus gift of a printable laundry stain removal chart.
Quiz To Know If This Newsletter Will Help You
Do you have little ones at home?
Do you always seem to wear a little dinner home with you from the restaurant?
Do you work in a profession that requires you to get greasy or dirty?
Do you have a hobby or participate in a sports activity that leaves your clothes so smelly you don't want to touch them?
Do you lead an active and busy life, but still want to have a clean home and clothes to enjoy and relax in?
Did you answer yes to any of these questions? Can you think of a loved one who can?
If you answered yes to any of the questions above this newsletter is for you.
Bonus Gift For Subscribing - Printable Stain Removal Chart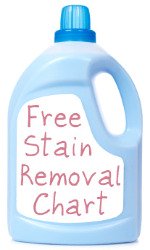 As a bonus gift for subscribing to the Newsletter you get a free one page printable laundry stain removal chart.
This chart gives tips for how to remove the most common types of stains from your washable clothing.
That way, when you are in the laundry room sorting clothing and come across a stain you can reference the chart to remember the correct steps for stain removal.
Its one page size makes it just right to place on a bulletin board in your laundry room, or laminate and keep in a handy wherever you treat stains.
What This Newsletter Provides
Stain removal is something everyone needs to know about at some time or other, but there is no reason for you to have to guess or wonder when you need an answer.
Instead, learn the latest about stain removal, including reviews of new stain and odor removers that come onto the market, recommendations about the best out there, and also how to get those stains out with items you probably already have in your home.
This monthly newsletter also explores such topics as what to do when a stain gets on all types of surfaces, including carpets, upholstery, walls, floors, counters, clothing, and even on yourself!
There are also helpful laundry and cleaning tips for your home, giveaways, cleaning and product reviews and even my (sometimes) hilarious attempts to make my own homemade cleaning and laundry supplies.
Once you subscribe you will begin to receive regular email updates of some of the best content from the site from me, along with periodic Out Darn Spot! newsletter articles and tips sent exclusively to subscribers!
First photo by artfulblogger
Related Pages You May Enjoy
Go From Subscribe For Free To The Out Darn Spot! Newsletter To Home Page
CAUTION: This website is provided for informational purposes only. It is provided as is, without warranties or guarantees. Some stains and messes just won't come out, and are permanent. Further, some cleaning methods can harm your item, so if what you want to clean or launder is sentimental or expensive call a professional. See disclaimer of liability for more information.