Cleaning Products Review And Testing - Products Accepted And Reviewed Honestly
I accept free products for cleaning products review and testing. Are you a PR firm or company that has a product you want to send me? Find out more below.
For those of you who aren't PR reps, but are just looking for some helpful, informative reviews to help you find products to clean your home and clothes, here they are: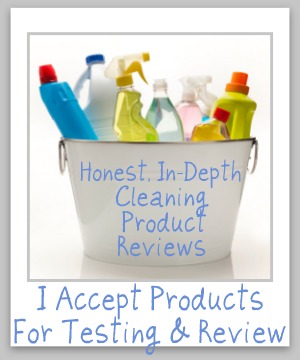 This page is intended for PR reps and other employees of companies which are seeking to get a review of their product on websites, and are considering Stain-Removal-101.com.
What Is Stain-Removal-101.com All About?
This website is a Busy Mom's guide to cleaning, laundry and stains. As such, along with instructions and how to guides on various subjects, I review and recommend the best products for various cleaning jobs around the house to help make my readers' lives easier.
My goal is to share what products work best, don't break the budget, are environmentally and health friendly, and overall are fun to use for all the areas of our home. One of the best ways to do this is to review and test various products, to see how they really work in my own home.
Along with accepting reviews from my readers, I also have written many cleaning product review and ratings based on my own experience with a product. Many of these reviews have been based on products I bought for my personal use, but as my site has grown in readership I've also received free products from companies, which has expanded the number of reviews I've been able to do on the site, which benefits my readers. In addition, for my in depth reviews I am now receiving compensation for my time in writing the reviews.
Why You Want Your Product Reviewed On Stain-Removal-101.com
To put it succinctly, your company should have its products reviewed on Stain-Removal-101.com if you want to reach a large segment of your target audience -- women, with children, who are thinking about, using and buying cleaning and laundry products for use in their homes.
Here are some statistics about Stain-Removal-101.com, as of March 2012:
PR Ranking: 4
Alexa ranking of 250,165 (U.S. ranking of 93,821)
More than 81,500 unique monthly visitors (per Google Analytics)
More than 165,500 pageviews monthly (per Google Analytics)
Facebook fans of over 1,800
Twitter followers (@stainremoval101): over 450
Weekly newsletter subscribers: over 820
Audience demongraphics predominantly females, with children
Ways We Can Work Together
I am always interested to hear from companies who may want to share information that can help my readers with their everyday lives, especially as it relates to cleaning, laundry and stain removal. I have worked with companies in the following ways:
Sponsored posts
Product reviews
Giveaways of both products and coupons
Sidebar or banner advertising
Contact Me If You're Interested In Working Together
If you're interested in working together I'd love to hear from you. Please fill out the contact form below, and I would be happy to hear your ideas and the products you would like me to learn more about. I will also send you my price sheet for advertising, product reviews, giveaways and sponsored posts.
Related Links At Stain-Removal-101.com
Disclosure Statement
Criteria And Financial Disclosure For Recommended Stain Removers And Cleaning Products
Go From Cleaning Products Review Policy To Stain-Removal-101.com Home Page
CAUTION: This website is provided for informational purposes only. It is provided as is, without warranties or guarantees. Some stains and messes just won't come out, and are permanent. Further, some cleaning methods can harm your item, so if what you want to clean or launder is sentimental or expensive call a professional. See disclaimer of liability for more information.