A-Z Fabric Care Guide
Knowing the rules of fabric care for the specific item you want to remove a stain from is critical to proper stain removal.
General stain removal rules are helpful to know, but you want to make sure that the techniques you use to try to remove a stain from your clothing, upholstery or carpet (and yes, carpet is made from textile fibers) will not ruin the fabric, and there are some definite do's and don'ts depending on the fabric being treated.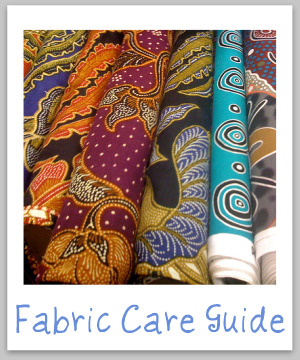 In addition, issues to consider when determining proper fabric care include:



Linings of the garment; and



Trimmings on the fabric, such as buttons, ribbons, and zippers
Just because the main fabric can take the stain removal method you want to try does not mean that the dye used on the fabric will stay, or that the potentially more delicate parts of the piece, such as the linings or trimmings, can take such a harsh stain removal technique.
Further, you should always read care recommendations of manufacturers carefully, and make an informed decision if you choose to disregard the care label for general cleaning or stain removal.
I suggest using this guide regarding caring for fabrics in conjunction with the A-Z Stain Removal Guide when determining how to best treat a fabric stain.
An additional general tip for care of fabrics is that when you have a blended fabric, meaning a fabric made of two or more fabrics (such as a cotton/polyester blend, for example), you need to follow the care instructions generally for the most delicate fabric.
Further, you should try the most conservative stain treatment or laundering instruction first, before going on to harsher methods.
Photo by cogdogblog
Related Links At Stain-Removal-101.com
How To Clean Upholstery
Go From A-Z Fabric Care Guide To Stain-Removal-101.com Home Page
CAUTION: This website is provided for informational purposes only. It is provided as is, without warranties or guarantees. Some stains and messes just won't come out, and are permanent. Further, some cleaning methods can harm your item, so if what you want to clean or launder is sentimental or expensive call a professional. See disclaimer of liability for more information.