Stain Removal Help And Frequently Asked Questions About Stains, House Cleaning And Laundry
Never fear, stain removal help is on the way.
Everyone has a stain removal problem now and then, and this entire site is designed to address those issues.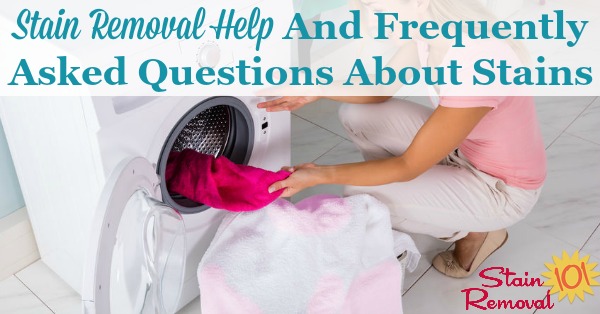 You can skip down here to see the FAQs I've created for the site.
Further, I've answered quite a number of questions from readers, and you can see those below.
Remember, you can also skip down here to ask your own question.
This area of the site has actually gotten so big that I've divided it up into several sections. You can still ask for help with your stain removal questions here, but also with your laundry and cleaning questions too.
Stain Removal Questions I've Already Answered
Here are the stain removal questions I've already answered. You can skip down to see the laundry and cleaning questions I've answered below.
Search This Site
FAQs About Cleaning, Laundry And Stain Removal Help
I'm still working on this section, but I've already started writing some of these FAQ answers. Here's what I've answered so far:
Do You Still Have A Question I Haven't Addressed Yet?
Perhaps I haven't written about a topic you need help with yet, or what I have suggested does not work for you, or whatever other reason you may have for needing specific advice.
Before asking a specific question please search the site to make sure the topic has not already been addressed.
That being said, there is never a one size fits all answer to every topic, especially something as complex as stain removal, so feel free to ask.
Remember, you can also ask for house cleaning help here, or your laundry questions here.
For your stain removal questions, the more details you provide me the better, including exactly what treatments you've already tried.
Will you stump me with your request for stain removal help? Skip down and let's find out.
Laundry And Cleaning Questions I've Already Answered
Do You Need Stain Removal Help?
Have you gotten a stain on something, and cannot figure out how to get it out?

It could be anything, from a stain on your hands, clothes, wall, carpet, wood furniture, roof, driveway, car interior, or even the ceiling.

Ask me your stain removal questions, and I will try to find out the answer for you, and give you a response.

Even if I cannot figure it out, perhaps another reader here at Stain-Removal-101 will be able to answer your question.

So give it a shot. Post your question below.
Read Other Visitor's Stain Removal Questions And Responses
Click the links below to see what other visitors asked for stain removal help, and the responses given.

Mystery Dryer Stains: Possible Causes And Solutions
Cyndi has asked for help with dryer oil stains on fabric, which are a mystery stain to her Cyndi asks: I'm not really sure where this stain comes from, …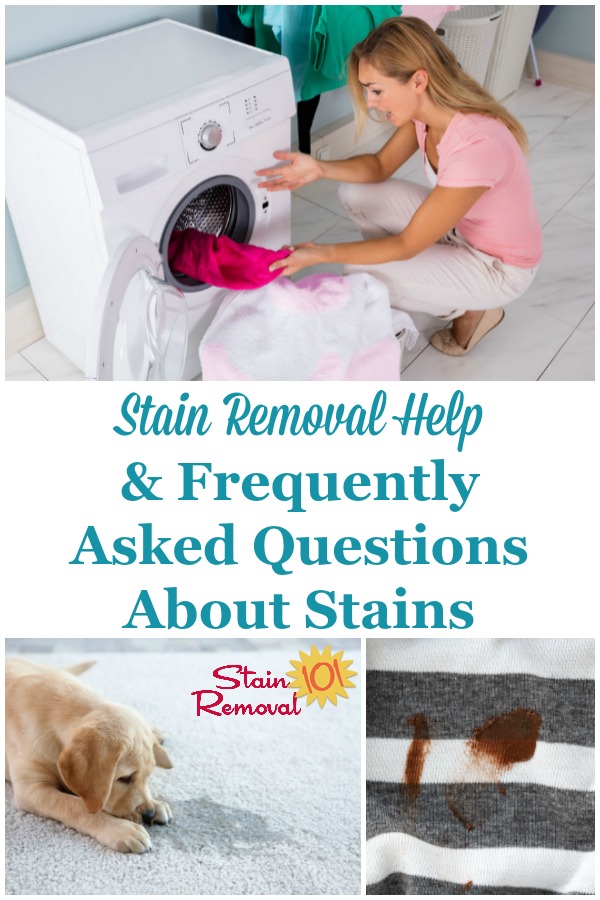 Thanks For Visiting My Website: Grab Your Free Gift!

Hi, I'm Taylor, a busy mom with 3 kids, so I have lots of hands on experience with house cleaning, laundry and my fair share of spots, spills and other messy catastrophes. Thanks for visiting my site.
I update the website all the time with tips, tutorials, cleaning recipes, reviews of products from readers like you, and tests I've done on various cleaners, removers and laundry supplies.
I'd love to give you a gift! When you subscribe to my free weekly newsletter you will receive a free printable laundry stain removal chart that you can reference as needed.
I hope you enjoy this gift, and stop by again soon!
Related Pages You May Enjoy
A-Z Stain Removal Guide - Instructions For Removing Over 100 Types Of Stains
Submit A Stain Removal Tip Or Read Over 200 Other Tips
Go From Stain Removal Help To Home Page

CAUTION: This website is provided for informational purposes only. It is provided as is, without warranties or guarantees. Some stains and messes just won't come out, and are permanent. Further, some cleaning methods can harm your item, so if what you want to clean or launder is sentimental or expensive call a professional. See disclaimer of liability for more information.