Scorch Mark On Corian Kitchen Worktop - How To Repair
by M. Addison
(Scotland)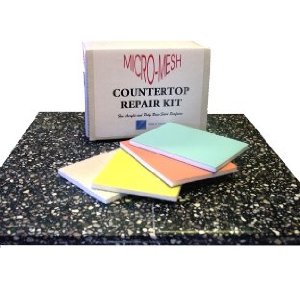 Corian Countertop Repair Kit
I received this question about how to remove a scorch mark on Corian kitchen worktop.
M. Addison's Question:
My son put a teapot, with hot tea in it, down on my new Corian kitchen worktop. I have tried in vain to get rid of the circle marks left behind. We got advise to use Cif, and I think it made it worse!!
Taylor's Answer:
I am sorry to hear that your new Corian countertop has gotten damaged.
I did some research for you about Corian, and found that even though Corian is heat resistant the manufacturer advises the following:
While Corian® is heat resistant, as with all countertop materials, it is important to minimize direct heat exposure to protect your surface and investment.

DO NOT PLACE HOT POTS, PANS, ETC. DIRECTLY ON THE COUNTERTOP SURFACE.

Always use heat trivets or hot pads when placing hot objects on any surface. Always use a trivet under portable heat generating appliances such as a toaster oven. Allow cookware to cool before placing it into a Corian® sink.
Unfortunately, it sounds like you and your son found this out the hard way.
One way to remove the scorch marks is to try to buff them out, which is I would assume why you were advised to use Cif, which is an abrasive cleaner.
You could also pay for a professional refinishing of the surface, because Corian keeps its color throughout the surface, which means it can be sanded down some and still retain the same color.
If you want to try a do it yourself approach, and the area is not too large, there are kits available which are designed to fix scratches in Corian countertops. These kits may also work for removing these scorch marks, but it really depends how deep the marks go.
The kit recommended by the Corian manufactuer for scratch repairs is the
Micro-Mesh Corian Countertop Repair Kit
(referral link).
I also found an online instruction manual for this kit, so you could see what it does before you decided whether to purchase it or not. You can
see the link here
.
Basically, there are several pads available with different levels of abrasion and you follow the instructions to rub your
countertop scratches away and then restore the appropriate amount of gloss back to the countertop, so it will basically match the rest of your counter.
The
Corian manufacturer's website
provides these instructions for using the pads on your Corian countertop:
# First, wash the area where the scratch is located, following the instructions found in this guide, to remove any film on the surface as this film may clog the abrasive pads. With this surface still wet, start rubbing with the Peach colored side of the cleaning pad. Use a light touch. Pressing too hard may actually leave deeper scratches. Rub over the scratch using a straight line motion. Periodically switch rubbing direction ninety degrees. Rinse pad periodically during this process to remove any built up residue. Be sure all of the scratch is removed.
# Clean top with water and dry thoroughly. Check to see if sanded area blends with rest of top. Please note that sanded area may not perfectly match remainder of top. If necessary, turn pad over and repeat process. Rub over large area to blend in sanding.
# If needed, continue the sanding process using the Aqua colored pad and if necessary, the Gray colored pad until the desired gloss level is achieved.
# Rinse out all pads used and allow them to air dry before putting them away.
I hope this helps you with your scorch mark on your Corian kitchen worktop.
Again, here's the kit that's recommended:
Please tell me in the comments about how the kit worked, if you choose to use it.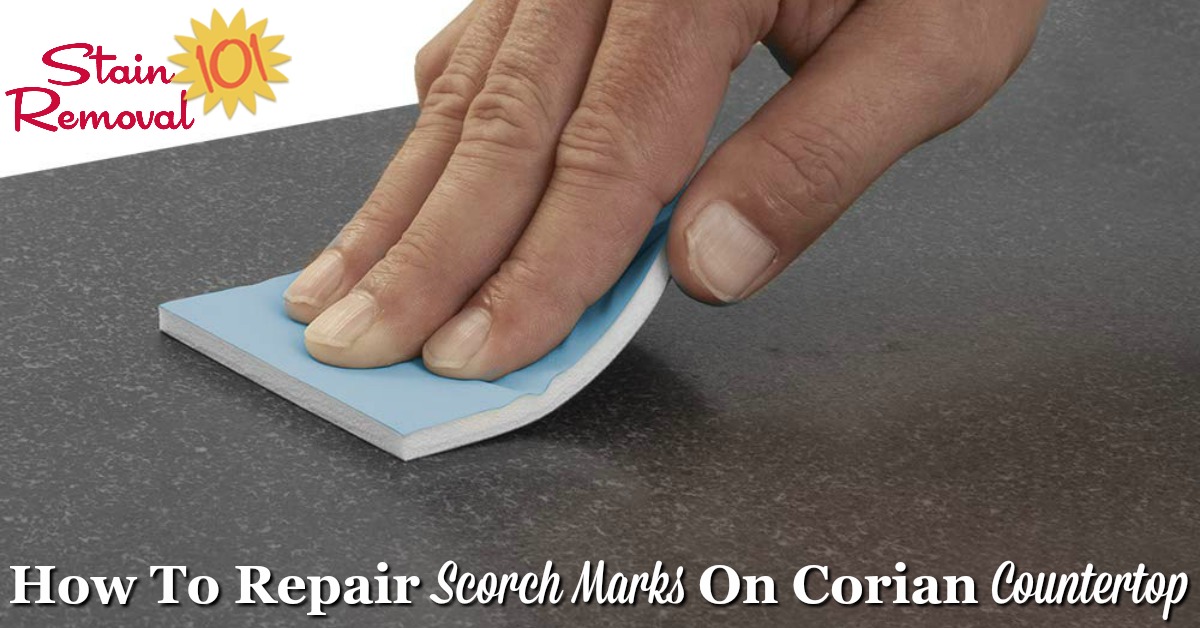 Does anyone else have any suggestions for this problem? If so, share your tips in the comments.
In addition, you can
share your tips for cleaning Corian here
, or read other tips already submitted.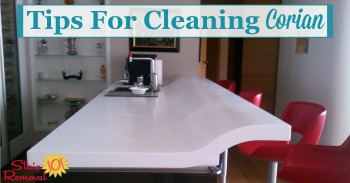 Finally, I've compiled lots of
tips for removing countertop stains here
, which you can check out, or even share your own idea!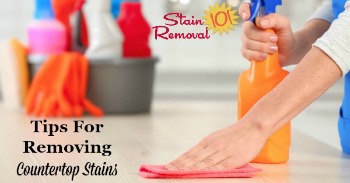 I've answered this question as part of my
series of cleaning help questions
. Come see what else I've answered, or ask your own question!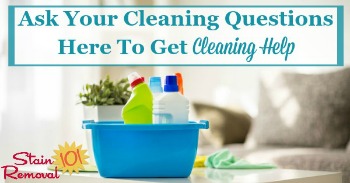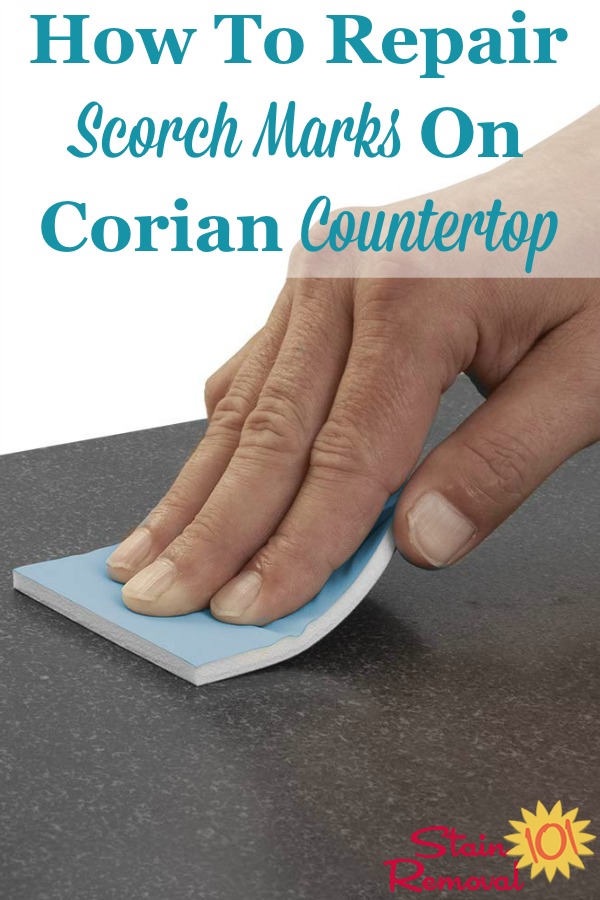 Related Pages You May Enjoy
Ask For Stain Removal Help Here
Share Your House Cleaning Tips Here Or Read Over 100 Other Tips
Go From How To Repair Scorch Mark On Corian Kitchen Worktop To Home Page
Thanks For Visiting My Website: Grab Your Free Gift!

Hi, I'm Taylor, a busy mom with 3 kids, so I have lots of hands on experience with house cleaning, laundry and my fair share of spots, spills and other messy catastrophes. Thanks for visiting my site.
I update the website all the time with tips, tutorials, cleaning recipes, reviews of products from readers like you, and tests I've done on various cleaners, removers and laundry supplies.
I'd love to give you a gift! When you subscribe to my free weekly newsletter you will receive a free printable laundry stain removal chart that you can reference as needed.
I hope you enjoy this gift, and stop by again soon!
CAUTION: This website is provided for informational purposes only. It is provided as is, without warranties or guarantees. Some stains and messes just won't come out, and are permanent. Further, some cleaning methods can harm your item, so if what you want to clean or launder is sentimental or expensive call a professional. See disclaimer of liability for more information.