Homemade Cleaning Products
Recipes And Instructions
Below are 40 homemade cleaning products recipes and instructions, for all around your house, with many types of ingredients, so you can make your own homemade cleaning solutions.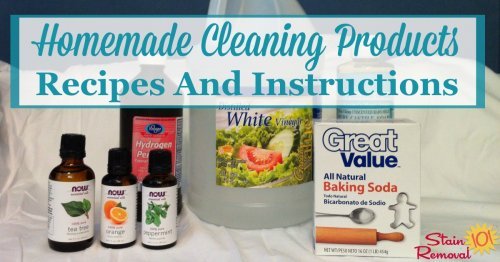 Have you ever looked at the list of ingredients on the back of many store bought cleaning products? I don't know about you, but I have no idea what half, or more, of that stuff is listed as ingredients.
When you make your own cleaning products you have the advantage of knowing exactly what is in them.
Another advantage of creating your own homemade cleaning solutions is that it can save you money, because often many of the ingredients within these recipes are quite inexpensive, especially if you buy in bulk. Plus, many of the ingredients can be used in multiple ways, so you won't be wasting anything.
Finally, an additional reason to make your own cleaners is because many of them (but not all) are made with natural ingredients, which are better for the environment.
Green cleaning is definitely important in this day and age. (If you decide you want to use green cleaners, but not make them yourself be sure to check out my eco-friendly and green cleaners reviews).
Below are some recipes and instructions for various types of cleaning solutions and products that you can make and use for your own home.
Uses Of Various Homemade Cleaning Supplies
Like I said, there are just a handful or two of supplies you'll need to make your own cleaners, and the great thing about many of them is they're very versatile.
That's why I've created this section which explains some of the cool uses for these supplies, and also gives some short science lessons that will help you make sure you're using them properly for the best results possible.
Recommendations And Ideas For Using Essential Oils For Cleaning
Another common ingredient in many of my recommended homemade cleaning products recipes include essential oils.
These oils can add a nice fragrance to your recipes, but in addition some of them can add some cleaning power to the solution, like to help disinfect or degrease, for example.
I've gotten lots of questions about these oils, and how they're used for your cleaners and laundry products, so I created several pages below that explain more about this topic for everyone who's interested.
Safety When Making Your Own Cleaning Products
While making your own cleaners can often be better for the environment and allow you to have great control over what chemicals you are introducing into your home, you still have to keep safety in mind when making your supplies.
Therefore, I've shared tips below that you should keep in mind before you begin to mix your recipes together.
Specific Recipes And Instructions
So are you ready to see some of my favorite homemade cleaning products recipes? I've compiled a list of instructions below of do it yourself products that you can use to clean virtually any area of your home.
I've divided the list up to help you find the kind of instructions you're looking for, by sharing which rooms of the house various homemade products could be used in.
Homemade House Cleaners
Homemade Kitchen Cleaners
Homemade Bathroom Cleaners
Homemade Laundry Supplies
Homemade Metal Cleaners
Homemade Odor Removers
Share Your Own Homemade Cleaner Recipes
Do you have your own homemade cleaning products recipes to share? If so, submit them here, or read over 85 other recipes which have already been submitted.


Thanks For Visiting My Website: Grab Your Free Gift!

Hi, I'm Taylor, a busy mom with 3 kids, so I have lots of hands on experience with house cleaning, laundry and my fair share of spots, spills and other messy catastrophes. Thanks for visiting my site.
I update the website all the time with tips, tutorials, cleaning recipes, reviews of products from readers like you, and tests I've done on various cleaners, removers and laundry supplies.
I'd love to give you a gift! When you subscribe to my free weekly newsletter you will receive a free printable laundry stain removal chart that you can reference as needed.
I hope you enjoy this gift, and stop by again soon!
Related Pages You May Enjoy
Over 100 House Cleaning Tips & Tricks
Go From Homemade Cleaning Products Recipes To Home Page
CAUTION: This website is provided for informational purposes only. It is provided as is, without warranties or guarantees. Some stains and messes just won't come out, and are permanent. Further, some cleaning methods can harm your item, so if what you want to clean or launder is sentimental or expensive call a professional. See disclaimer of liability for more information.