How To Use Essential Oils
For Cleaning Your Home
Here is how to use essential oils for cleaning your home as part of homemade cleaners, including important safety tips.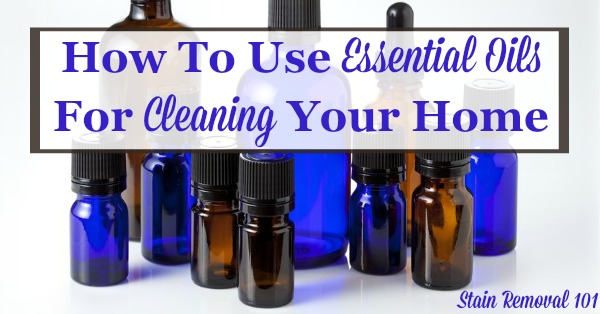 Many of the homemade cleaning products recipes that I have provided on this site, and also others you can find in books and on the Internet suggest using as one of the ingredients essential oils.
When I first started getting interested in making my own cleaning products I had no idea what essential oils were, or how to use essential oils for cleaning my home.
If you are interested in using essential oils as part of making your own cleaning products, but don't know where to start than this article is designed for you.
It will explain what I have learned about how to use essential oils for cleaning to hopefully make the process easier for you.
Please note that this page is focused on how to clean your home with essential oils, and not the therapeutic and other uses for essential oils.
What Are Essential Oils?
Essential oils are volatile aromatic oils that are obtained from various plants.
Depending on the essential oil being discussed the oils may come from the flowers, seeds, leaves, bark, stems, peels, roots, or other parts of the plant.
Essential Oil Properties That Make Them Good For Cleaning
There are three main reasons to use essential oils in your cleaning recipes, which include scent, the essential cleaning properties within certain essential oils, and for their antimicrobial properties.
Scents
Essential oils have a very strong scent, generally in a concentrated form of the scent of the plant itself.
For example, lavender essential oil will have a very strong concentrated scent of lavender, and cinnamon essential oil will smell like cinammon, etc.
These strong scents make essential oils a natural choice for adding a nice aroma to cleaning products, and also for deodorizers.
When I recommend using essential oils in a homemade cleaner and state that they are an optional ingredient it is because the essential oil is mainly being used for its scent.
Many people really enjoy having a scent to their cleaning products, and using essential oils for this purpose can be a lot of fun because you can mix and match scents, and also choose how strong or light the scent will be.
Of course, if you don't like scents just don't add the essential oils.
If the essential oil I recommend has another characteristic besides scent as the reason to be added to the cleaner I will tell you this within the recipe itself.
Those reasons for how to use essential oils can include:
Cleaning Properties
Some essential oils make good cleaners in their own right, because of their chemical composition, such as orange essential oil.
In fact, orange essential oil is an ingredient found in many citrus cleaners because it cleans so well.
Antimicrobial Properties
Finally, other essential oils, such as tea tree essential oil, have antimicrobial properties which make them good for disinfecting your home.
Mixing Essential Oils Into Your Homemade Cleaners - Safety Tips
When learning how to use essential oils for cleaning you need to keep safety in mind.
Essential oils, at least the kind you should use in your homemade cleaners, are very concentrated.
Therefore, when a recipe says to use 3-5 drops, for example, it really means it.
Don't add more thinking this will make an even better cleaner -- it won't. Instead the scent may become overpowering and also the cleaning product will be more likely to irritate your skin.
Just because essential oils are natural does not mean they should not be handled with care.
Keep your essential oils in a safe place, out of the reach of children and pets, when you are not creating your cleaners with them.
Some children may believe, because of the smell, that these essential oils are safe for consumption, but they most definitely are not.
You may also want to wear rubber gloves when mixing your recipes, if you feel like you may spill some of the essential oil onto your skin.
Difference Between Aromatherapy Oils And Pure Essential Oils
When learning how to use essential oils for cleaning your home you need to make sure you are using the correct products, which are appropriate for adding to your cleaning recipes.
There are a lot of scented oils being sold in stores today which are aromatherapy oils.
These oils have many different uses, including for massage, making perfumes or for scenting candles.
An aromatherapy oil is one in which the essential oils have been diluted with a carrier oil, such as jojoba oil.
It is necessary to dilute the essential oil because otherwise, like I said, they could really irritate your skin.
However, for purposes of making your own cleaning products, you do not want to use aromatherapy oils.
Instead, you want to use 100% pure essential oils.
Pure essential oils are sold in small dropper bottles, generally in dark colors like brown or blue to block light from harming the essential oils inside.
They also generally contain a dropper in the topper for easy measuring of small quantities, because a little goes a long way.
When you get even a small quantity of a pure essential oils it will last you for quite a while for making your homemade cleaners.
There are also varying grades of pure essential oils, but at least for purposes of creating cleaning products the grade does not matter, so long as it is pure.
How To Get Started Using Essential Oils In Your Homemade Cleaning Products
When first learning how to use essential oils for cleaning all the choices of essential oils that are available can be overwhelming.
However, there are some common essential oils which are used in many different cleaning recipes.
In addition, your personal preferences will also be important in deciding which essential oils to use.
You can consult this essential oil use chart to see all the most commonly used essential oils for cleaning, and how you can use them in your home, and what scents they can be combined with.
The chart will also give guidance and suggestions for which essential oils you should start with, based on your personality and cleaning needs.
In addition, you can check out these essential oil recipes for homemade cleaning products and essential oils recipes for homemade laundry supplies, which give suggested blends of oils for various cleaners throughout your home.
If you would like to get a good selection of oils pre-selected, I suggest some starter kits such as the ones below.
Share How You Use Essential Oils For Cleaning Your Home
I know I have merely scratched the surface of how to use essential oils in homemade cleaning products.
That is why I would love to hear from you, if you already use essential oils for cleaning. You can share your essential oil uses for homemade cleaners here, so we can all get some great ideas and recipes.
You can also read tips about essential oil use that have already been submitted here.
Learning how to use essential oils for cleaning takes some trial and error, to find what fragrances you like, and what essential oils should be used to accomplish certain cleaning tasks in your home, but it can also be lots of fun.
I hope you enjoy using essential oils in your homemade cleaners, now that you know more about it!
Thanks For Visiting My Website: Grab Your Free Gift!

Hi, I'm Taylor, a busy mom with 3 kids, so I have lots of hands on experience with house cleaning, laundry and my fair share of spots, spills and other messy catastrophes. Thanks for visiting my site.
I update the website all the time with tips, tutorials, cleaning recipes, reviews of products from readers like you, and tests I've done on various cleaners, removers and laundry supplies.
I'd love to give you a gift! When you subscribe to my free weekly newsletter you will receive a free printable laundry stain removal chart that you can reference as needed.
I hope you enjoy this gift, and stop by again soon!
Related Pages You May Enjoy
Homemade Cleaning Products Recipes
Go From How To Use Essential Oils For Cleaning Your Home To Home Page
CAUTION: This website is provided for informational purposes only. It is provided as is, without warranties or guarantees. Some stains and messes just won't come out, and are permanent. Further, some cleaning methods can harm your item, so if what you want to clean or launder is sentimental or expensive call a professional. See disclaimer of liability for more information.