Homemade Window Cleaner Recipes
Below are two recipes for homemade window cleaner to get your windows, glass and mirrors sparkling clean for less.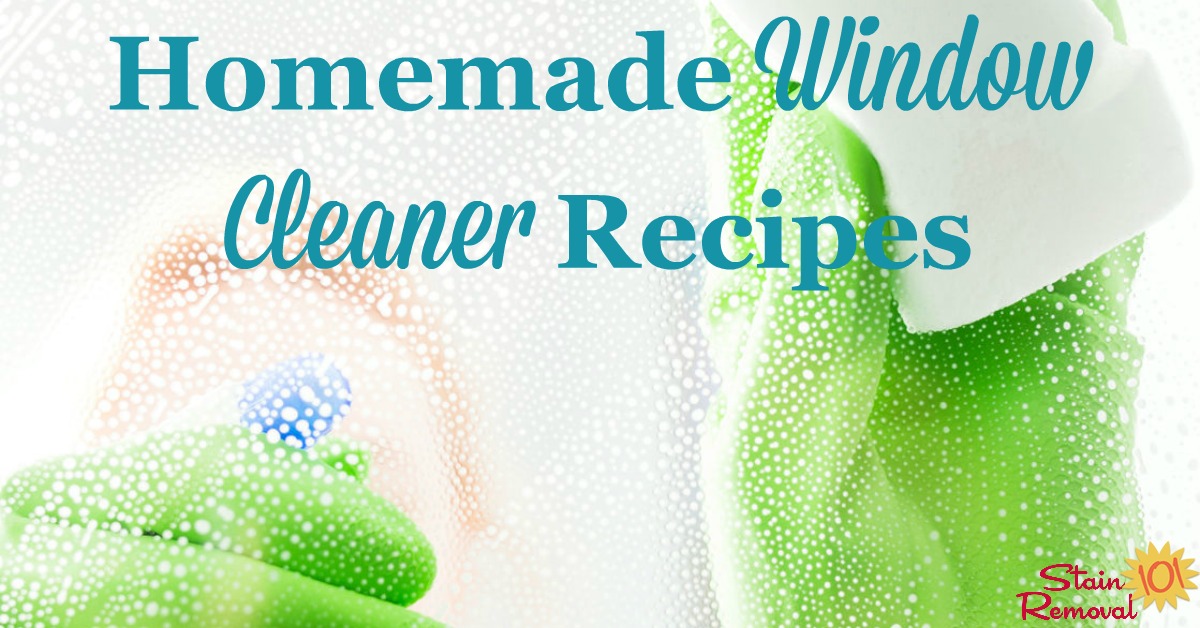 There are many alternative ways to make window washing solution, generally with certain common household ingredients, such as ammonia, vinegar, dishwashing liquid, and alcohol.
The ammonia in the recipes below helps remove fat and grease.
The dishwashing liquid in the recipes below also helps with cutting grease.
The alcohol in one of the recipes below is a solvent which dissolves lots of other types of things which can get on your window.
Both alcohol and ammonia evaporate very quickly, so with both you need to make sure that you don't wash your windows on too hot or sunny a day or you may leave streaks.
The vinegar is a mild acid, and therefore can cut through any alkaline grime such as hard water marks on your windows.
Please note that you should not add both vinegar and ammonia together to any homemade glass cleaner recipes, and you should be wary of any recipe you see out there which suggests doing so.
This is not for safety reasons, which is why you should never mix ammonia and bleach together.
Instead, it is just because adding both vinegar and ammonia together into a homemade window washing cleaner makes the cleaner ineffective.
The reason for this is that vinegar is acidic, while ammonia is basic, so when combined they neutralize each other's pH, which is one of the ways both of these cleaners clean. (Learn more about the pH of various cleaners in this article.)
Homemade Window Cleaner With Alcohol And Ammonia
Ingredients:
Directions:
Mix all the ingredients together in a spray bottle and use to wash your windows.
Hint: Be careful not to add too much dishwashing liquid, because otherwise you can cause streaking on the windows because there will be a soapy residue on them.
Caution: Be careful with any window washing solution that contains ammonia to not get it into contact with aluminum window frames because the ammonia can pit and damage your aluminum.
Homemade Window Washing Cleaner With Vinegar
Ingredients:
Directions:
Combine the ingredients together in a spray bottle and use to clean your windows.
The quicker you can clean the windows, before the water cools, the more effective this cleaner will be.
Do You Have Your Own Window Cleaner Recipes To Share?
I have provided two effective recipes for homemade window cleaning solution here, but there are also many more effective recipes out there.
If you have a recipe you really like and that works well for you, please share your window cleaner recipes with me here, or read other recipes already submitted.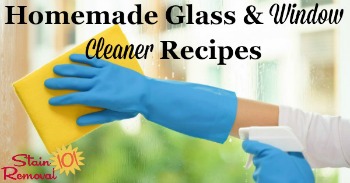 Reviews Of Commercial Products Available
In addition, if you decide you don't want to make your own, but instead want to purchase a product already designed to clean glass, mirrors, etc., then I've gathered lots of reviews of these products.
You can find lots more homemade cleaning products recipes and instructions here.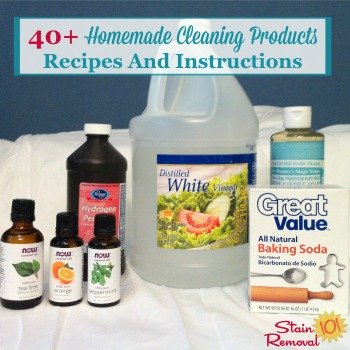 Thanks For Visiting My Website: Grab Your Free Gift!

Hi, I'm Taylor, a busy mom with 3 kids, so I have lots of hands on experience with house cleaning, laundry and my fair share of spots, spills and other messy catastrophes. Thanks for visiting my site.
I update the website all the time with tips, tutorials, cleaning recipes, reviews of products from readers like you, and tests I've done on various cleaners, removers and laundry supplies.
I'd love to give you a gift! When you subscribe to my free weekly newsletter you will receive a free printable laundry stain removal chart that you can reference as needed.
I hope you enjoy this gift, and stop by again soon!
Related Pages You May Enjoy
Lots Of Homemade Cleaners Recipes
Go From Homemade Window Cleaner Recipes To Home Page
CAUTION: This website is provided for informational purposes only. It is provided as is, without warranties or guarantees. Some stains and messes just won't come out, and are permanent. Further, some cleaning methods can harm your item, so if what you want to clean or launder is sentimental or expensive call a professional. See disclaimer of liability for more information.