Homemade Laundry Detergent Recipes
Here are 4 homemade laundry detergent recipes you can use to make your own laundry detergent. It includes recipes for powdered, liquid and even gel varieties.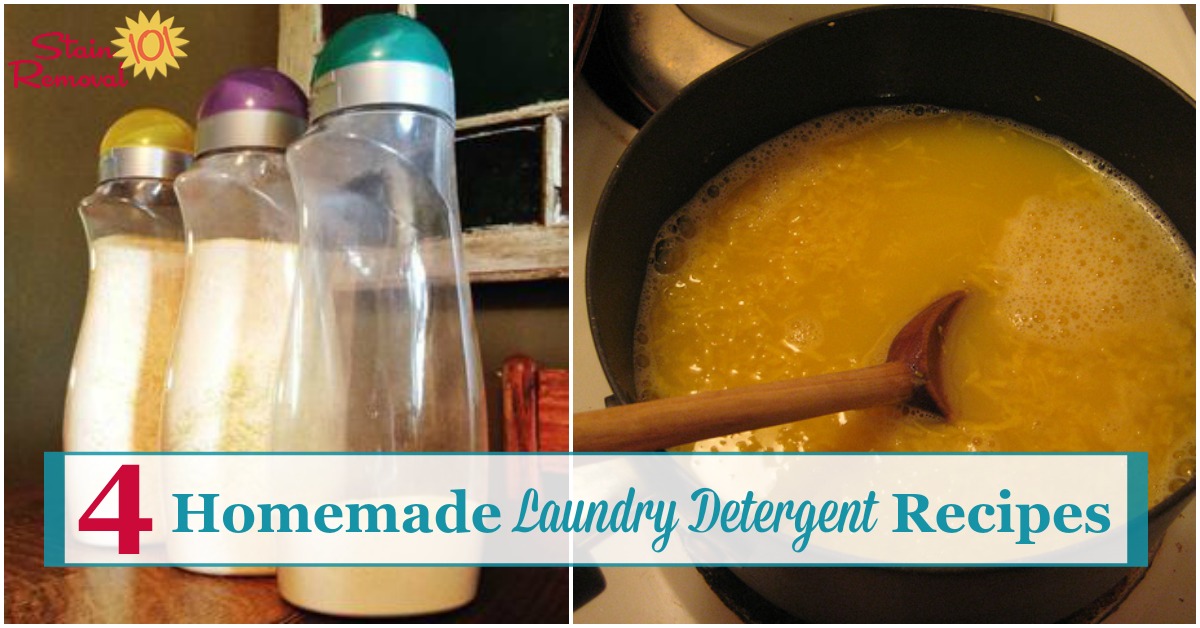 When you are new to making your own homemade cleaning products one of the most daunting things you can try to make for yourself is laundry detergent.
The reason for this is that you can be scared to hurt your clothes with recipes you don't know about for sure, and also you need to invest in some ingredients you may not normally use in your home.
However, many of the ingredients below can also be used in several other homemade cleaning recipes around your home.
In addition, these recipes have been used successfully for years by people before commercial laundry detergents became popular, and you can choose what ingredients you place in them, and what scents, if any, you put into your family's clothes.
Finally, the recipes below are much cheaper than buying detergent at the store, which is an added bonus!
Before using one of these recipes though, please take special care if you have a high-efficiency washing machine. You should read this article about HE laundry detergent facts here, to understand the issue with suds and HE machines and decide whether you'll try one of these recipes below since no soaps are typically formulated to be low-sudsing.
Homemade Laundry Detergent Powder
Ingredients:
Directions:
Mix all the ingredients together and place into a 16 ounce (or larger) plastic container, with a lid.
Each time that you do a load of laundry use 1/4 cup of this mixture as your laundry detergent.
* Nowadays it can be difficult to actually find soap flakes. You can make your own, however, by grating a bar of laundry soap with a kitchen grater.
Examples of laundry soap include Fels Naptha, Ivory, Sunlight, Kirks Castile Bar Soap, or Zote, for example.
Make Your Own Laundry Detergent Balls
Ingredients:
1 cup baking soda
1/2 cup borax
1 cup clear glycerin soap flakes from glycerin bar soap
Directions:
Mix the ingredients together and then separate and compress the mixture into balls, about 1/2 inch in diameter.
Use one of the "laundry balls" per load of laundry.
Keep all the unused laundry balls in a sealed container. Use them all within 1-2 months.
Homemade Liquid Laundry Detergent: Using The Stove
Ingredients:
1 cup laundry bar soap shavings
2 cups boiling water
1 cup borax
1 cup washing soda
1 gallon tepid water
Directions:
Melt the cup of laundry bar soap shavings in the two cups of boiling water, on the stove.
Once the soap has melted and combined with the boiling water slowly add the borax and washing soda, stirring well to thoroughly combine.
Once all those ingredients are thoroughly mixed together add the gallon of tepid water and mix well, storing in a large jug or jugs with lids to hold all the laundry detergent.
Use 1/4 of this homemade liquid laundry detergent in each load of wash.
Alternative Liquid Laundry Detergent Recipe Without Using Stove
Ingredients:
1 ounce liquid castile soap*
2 tablespoons glycerin
1 cup washing soda
1 cup baking soda
2 cups warm water
10 drops essential oil (scent is your choice) (optional)
Directions:
Combine all the ingredients together in a plastic container with a top and shake well before using.
Use approximately 1/4 cup of this homemade laundry detergent for each load (up to 1/2 cup if large or especially soiled load).
You can look at these suggested essential oil recipes for homemade laundry supplies if you want some suggestions of combinations of essential oils that smell good and work well in laundry detergent.
* Recommended liquid castile soaps include Dr. Bronner's, which is my personal favorite (click the previous link for reviews) or Vermont Soap.
Do You Have A Homemade Laundry Soap Recipe To Share?
I have provided four recipes for homemade laundry detergent above, but I know there are many other laundry detergent recipes currently in use successfully in households all over the world.
If you make your own laundry detergent I would love to hear your recipes and experiences with it.
You can submit your homemade laundry soap recipes here, which will help everyone get even more great ideas for how to make their own laundry detergent for their own families. You can also click the link to read the recipes already submitted.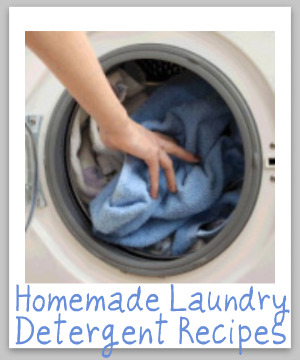 Powder detergent photo courtesy of a reader, Holly, liquid detergent on stovetop photo courtesy of moonlightbulb, and photo of laundry detergent ingredients courtesy of trenttsd
Thanks For Visiting My Website: Grab Your Free Gift!

Hi, I'm Taylor, a busy mom with 3 kids, so I have lots of hands on experience with house cleaning, laundry and my fair share of spots, spills and other messy catastrophes. Thanks for visiting my site.
I update the website all the time with tips, tutorials, cleaning recipes, reviews of products from readers like you, and tests I've done on various cleaners, removers and laundry supplies.
I'd love to give you a gift! When you subscribe to my free weekly newsletter you will receive a free printable laundry stain removal chart that you can reference as needed.
I hope you enjoy this gift, and stop by again soon!
Related Pages You May Enjoy
Homemade Cleaning Products Recipes
Store-Bought Laundry Detergent Reviews & Ratings
Washing Detergent Guide: Facts & Essential Information
Go From Homemade Laundry Detergent Recipes To Home Page
There are affiliate links on this page, and if you purchase a product through them I receive a small commission. Purchasing through my links costs you nothing extra, but helps support the free information provided on this site and my family. To learn more please see my product review disclosure statement.
CAUTION: This website is provided for informational purposes only. It is provided as is, without warranties or guarantees. Some stains and messes just won't come out, and are permanent. Further, some cleaning methods can harm your item, so if what you want to clean or launder is sentimental or expensive call a professional. See disclaimer of liability for more information.