Stain Removal Equipment And Tools
For Your Home And Clothes
Here is a selection of basic stain removal equipment and tools that every home stain removal kit should not be without.

1. White cloths
Many of the instructions on this site tell you to apply a stain removing solution with a white cloth, or to blot up liquid with a white cloth.
The reason for specifying the cloth be white is that with a white cloth you don't accidentally transfer any color from the blotting or cleaning cloth onto the item you are trying to remove the stain from. In other words, colored cloths may bleed.
Your white cloths should also be very absorbent, so 100% cotton cloths are good, although blends will also work. Some people also like microfiber, so I have shown several varieties below.
If you don't want to buy white cloths specifically for stain removal (although they can be used also as general rags for cleaning and a million other uses in your home) old white t-shirts ripped up into rags also work well, or old white washcloths.
2. Paper towels
Similarly, just as you can use white cloths to blot and apply stain removing solutions, in the alternative you can use white paper towels as stain removal equipment.
Note that the suggested paper towels have no colors or prints on them, but are instead plain white. The same reason applies -- you don't want the prints or colors to bleed onto the item you are working on.
3. Spray bottles
Depending on the stain you may need various types of ways to apply the stain remover(s) to the fabric, upholstery, or carpet.
Spray bottles are ideal for spraying on stain removing solutions onto clothing, or onto wide areas of carpet, for example, when you don't want to get something soaking wet.
4. Squeeze bottles
Another type of tool for applying stain removers are squeeze bottles. They are used when you really want to completely wet a large area with stain remover.
5. Eye dropper
You can also completely wet an area with stain remover with an eye dropper.
However, unlike with a squeeze bottle, with an eye dropper the area you will wet will be significantly smaller, and will let you put the stain remover only in the area where you need it.
6. Cotton swabs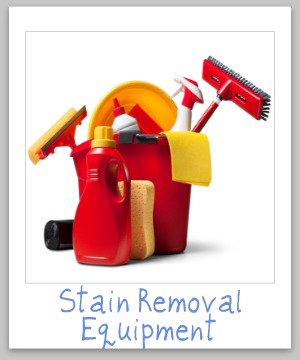 These are helpful for applying a small amount of stain remover (not soaking, but just lightly applying) to an area, where a white cloth might be too big.
In addition, cotton swabs are a great piece of stain removal equipment to use when you are testing a stain remover in an inconspicuous area to test its reaction to the fabric, before proceeding further.
7. Medium bristle brushes
Sometimes you need to gently rub in a stain remover (caution -- sometimes rubbing in a stain can be bad, so don't just do it automatically without instructions to do so) - and medium bristle brushes do this job well.
Make sure the one you choose can get wet, because by definition you will be wetting it with the stain remover.
Further, if you don't want to buy brushes only to use for stain removal certain brushes you most likely have lying around the house will work, such as fingernal brushes, or old toothbrushes.
8. Clothes brush (soft-bristled)
Sometimes the best way to get out a stain is to use a cloth brush with softer bristles, because the harder bristles of other brushes would tear or damage the fabric fibers.
9. Dull Edged Knife
At first glance it may seem that a dull edged knife, such as a butter knife, would be an odd thing to put on this list. However, such a knife can be useful for removing big glops of spilled items from cloth without smearing it (and it is dull so it doesn't cut the fabric). In addition, it can be useful for helping to remove sticky things, like chewing gum, after you've frozen the gum for a while to get it hard.
10. Soaking Tub
Finally, a tub large enough to add water and clothing to soak, is the perfect way to remove a large variety of stains that can be presoaked.
Where Should You Keep All These Tools?
To the extent possible, in the space you've got, I suggest keeping all these items together in one place to make it easier to find what you need when you need it. When removing stains time is of the essence, so not having to go out and buy needed supplies, and being able to find everything may help with the success in the stain removal process.
Along with these tools and equipment, you will also need certain supplies, like stain removers. You can see what I've recommended for your stain removal kit here.
Thanks For Visiting My Website: Grab Your Free Gift!

Hi, I'm Taylor, a busy mom with 3 kids, so I have lots of hands on experience with house cleaning, laundry and my fair share of spots, spills and other messy catastrophes. Thanks for visiting my site.
I update the website all the time with tips, tutorials, cleaning recipes, reviews of products from readers like you, and tests I've done on various cleaners, removers and laundry supplies.
I'd love to give you a gift! When you subscribe to my free weekly newsletter you will receive a free printable laundry stain removal chart that you can reference as needed.
I hope you enjoy this gift, and stop by again soon!
Related Pages You May Enjoy
Stain Removal Store: Which Supplies Should You Have?
Submit Your Own Stain Remover Reviews
Go From Stain Removal Equipment To Home Page
There are affiliate links on this page, and if you purchase a product through them I receive a small commission. Purchasing through my links costs you nothing extra, but helps support the free information provided on this site and my family. To learn more please see my product review disclosure statement.
CAUTION: This website is provided for informational purposes only. It is provided as is, without warranties or guarantees. Some stains and messes just won't come out, and are permanent. Further, some cleaning methods can harm your item, so if what you want to clean or launder is sentimental or expensive call a professional. See disclaimer of liability for more information.