Toothbrush Uses For Cleaning,
Laundry & Stain Removal
Everyone's got a toothbrush around somewhere, and here's a list of toothbrush uses you can employ them for around your home, for all types of cleaning tasks.
With a need to save money and also for environmental reasons, more and more people are reusing things in their home, and finding new ways to make them useful.
I've listed quite a few ways to use either new or old toothbrushes around your home below, based on ideas found here on the site. This can give you ideas of how to use these products for yourself in the future.
Please note that for many things the toothbrush provides the scrubbing action, but there often is another cleaning agent involved as well.
Here are the uses submitted so far (and you can also read my tips and ideas below).
Search This Site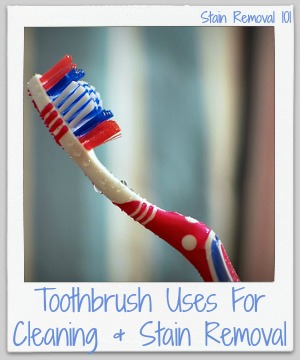 There are all types of things in your home that need something soft to scrub them to get them clean, remove soil, dirt or grime, or get deep into the fibers to loosen stains.
This is especially true for things with small crevices, or tight corners, that it is hard to fit your whole hand in to reach.
These are some of the perfect things that you can use a toothbrush to clean.
Think about it -- a toothbrush is designed to do these exact things for our delicate mouths, so why not for other things as well?
Should You Use Old Or New Brushes?
There is some debate amongst people about whether you should use a new or used toothbrush for some or all of these cleaning tasks.
My answer - I think it depends if it would gross you out to use an old one.
Obviously once you use this cleaning tool for removing a stain or cleaning something it is basically off limits for using on your teeth again.
However, there is nothing inherently wrong with recycling a toothbrush by using it for a new purpose after its served its purpose for brushing teeth already.
Things To Do If You Use An Old Toothbrush For Cleaning
However, to keep from spreading germs from your mouth everwhere, you may want to use this tip for cleaning your toothbrush before you switch from brushing your teeth with one, to other purposes in your home.
At some point though, whether you are cleaning with a new or used one, the bristles on the brush will get too smooshed and worn to effectively scrub anymore and then its time to throw it away in the trash. They won't last forever.
Ideas For Marking Your Old Toothbrushes So No One Uses Them For Teeth Brushing Again
If you do decide to use a new brush for cleaning purposes, make sure to label it as a cleaning brush somehow so no one accidentally later uses it for teeth brushing.
There are several ways to do this, but here are some ideas:
Put a dot or other mark on them with a permanent marker
Mark them with a brush or two of nail polish
You Don't Have To Buy The Best Quality Brushes For Cleaning
Finally, make sure to buy cheap brushes, such as those you can find in packs in bulk or at the dollar store for cleaning and removing stains, and not the really expensive fancy ones that you should at least use in your mouth first before putting them to a new purpose!
If you've got tip for using this product for cleaning something in your home please skip down to share it now and I'll add it to the site.
What Unusual Ways Do You Use A Toothbrush Around Your Home?
I'm always looking for more helpful household hints, and unusual uses for everyday items in our homes.

Share your tips and ideas below. Remember, photographs are not required, but they are encouraged, especially if it helps everyone understand your use or tip.
Submitted Toothbrush Uses Around The Home
Click the links below to see uses for this product which have already been submitted by others.

Feel free to comment on any of these submissions to tell me whether you use the product in a similar way, or about any other thoughts you have.

Tips For Cleaning Crevices, Moulding & Other Tight Spaces
Dianne shared her tips for cleaning crevices, moulding, and other tight places around your home, where it is hard to get your hand to clean dust, dirt …
Photo courtesy of meddygarnet
Thanks For Visiting My Website: Grab Your Free Gift!

Hi, I'm Taylor, a busy mom with 3 kids, so I have lots of hands on experience with house cleaning, laundry and my fair share of spots, spills and other messy catastrophes. Thanks for visiting my site.
I update the website all the time with tips, tutorials, cleaning recipes, reviews of products from readers like you, and tests I've done on various cleaners, removers and laundry supplies.
I'd love to give you a gift! When you subscribe to my free weekly newsletter you will receive a free printable laundry stain removal chart that you can reference as needed.
I hope you enjoy this gift, and stop by again soon!
Related Pages You May Enjoy
Helpful Household Hints For Around Your Home
House Cleaning Equipment & Tools Reviews
Go From Toothbrush Uses Around Your Home To Home Page
There are affiliate links on this page, and if you purchase a product through them I receive a small commission. Purchasing through my links costs you nothing extra, but helps support the free information provided on this site and my family. To learn more please see my product review disclosure statement.
CAUTION: This website is provided for informational purposes only. It is provided as is, without warranties or guarantees. Some stains and messes just won't come out, and are permanent. Further, some cleaning methods can harm your item, so if what you want to clean or launder is sentimental or expensive call a professional. See disclaimer of liability for more information.