Uses For Toothpaste Around Your Home
Here are a lot of tips and uses for toothpaste around your home, for cleaning, stain removal and more. It's useful for cleaning a lot more than your teeth.

Everyone has toothpaste in their home, so it's nice to figure out all the ways you can use it, not just for cleaning your teeth, but also in other ways around your home.
Did you know that toothpaste is a mild abrasive? That is one of the reasons it is such a good cleaner, for certain items, along with some of the cleaning and whitening products within the toothpaste itself.
Not all toothpastes have the exact same ingredients, and so they will not all work in exactly the same way on all surfaces.
Use Cheaper More Basic Toothpastes For These Alternate Uses
If you want to use toothpaste for cleaning and other non-dental purposes, I suggest using a very basic paste, without all the fancy whiteners, brightners, flavors and colors.
I also suggest using a paste, not a gel version.
The reason? First, you should save the expensive stuff for use on your teeth.
Second, in the case of these alternate uses cheaper is better because the cheaper pastes actually tend to work better for these uses I've listed below, rather than the fancy ones.
Pastes also work better than gels because pastes have more of that abrasive in them, to help with cleaning and stain removal.
Use White Toothpaste For Cleaning, Not Colored
In addition, I recommend using white colored paste, instead of the other colors such as blue, green, pink, etc. that toothpaste comes in, so you avoid staining.
If you want to clean a spot on your wall, for example, with toothpaste, and you smear blue gel all over your wall, don't be surprised when it leaves a mess behind.
On the other hand, using a white paste keeps those dyes from staining and making a bigger mess, so that's definitely the way to go.
If you get these toothpaste stains check out this article for tips for removal: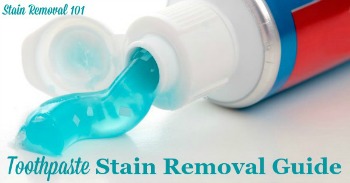 Top 10 Best Toothpaste Uses
1. Clean chrome fixtures in your bathroom or kitchen. Toothpaste is actually a great cleaner for your chrome fixtures, in either your bathroom or kitchen, and often it gets onto these surfaces, at least in the bathroom on accident. If that happens use it to your advantage. Get an old soft cloth, or an old toothbrush, so you can get into those nooks and crannies, and use the toothpaste to gently scrub your chrome and make it shine!
You can get more tips for cleaning chrome here.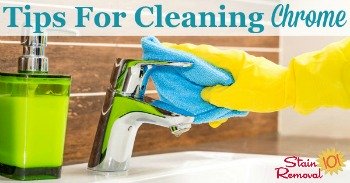 2. Clean the bathroom sink. Similarly, toothpaste can help clean your bathroom sink, and often a bit of toothpaste splatter or extra glop of the paste does get into your sink anyway. Use it to clean up the sink before rinsing it down the drain.
Get more tips for cleaning your bathroom sink here.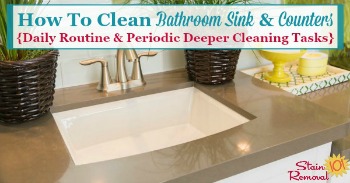 3. Remove scuffs from leather shoes. Put a little (very tiny) dab of toothpaste on the scuffed part of your leather shoe and rub with a soft cloth. Next, wipe the area with a damp cloth, and it will remove scuffs.
4. Clean up tennis shoes or sneakers. Similarly, you can also use toothpaste to clean the white rubber part of your sneakers or tennis shoes. Put a small dab of toothpaste onto an old toothbrush and gently scrub, and afterward wipe off any toothpaste residue with a damp cloth.
You can get lots more tips for cleaning shoes here.
5. Clean piano keys. With time and use the white keys on your piano can develop a grime, from fingerprints and dirt accumulation. Use a small amount of toothpaste, either on a soft cloth, or on an old toothbrush, and gently scrub the keys, being careful not to get toothpaste between them. Then, wipe down with a damp cloth. This works on both old ivory keys, as well as on the newer plastic piano keys.
6. Clean your iron plate. Sometimes your iron will get some burned on residue on the plate, which can leave marks on your clothes, and also make the iron not work as well. You can rub a little toothpaste onto a cool iron plate, and scrub gently, and then rinse clean.
You can also check out these iron cleaner reviews for more products for cleaning your iron's sole plate.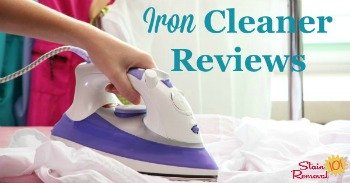 7. Remove crayon from walls. It always feels like a huge disaster when you find out your kids have scribbled on the wall with crayon. One method for removing those marks is with toothpaste. Add a dab of the paste to a soft cloth and then begin to scrub lightly at the marks to remove them. Rinse away the toothpaste once the wall is clean.
You can get more tips for cleaning walls here.
In addition, here's my crayon stain removal guide to deal with all types of crayon disasters.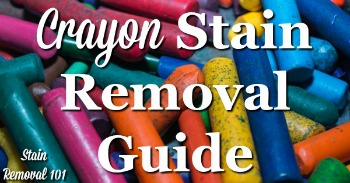 8. Remove scratches and dark marks from china and stoneware. If you get dark or black marks on your china or other plates, caused by your cutlery, apply some toothpaste with a soft cloth, and rub onto the marks, gently, to remove them.
9. Clean brass. Rub the toothpaste onto the brass with a dry, soft cloth, and buff to clean.
You can get more tips for cleaning brass here.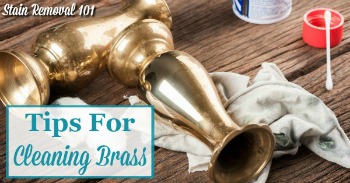 10. Clean certain types of jewelry. You can clean hard jewelry, such as diamond and gold jewelry, with toothpaste. Just add a dab of paste to an old toothbrush and gently srub the jewelry, and then rinse well with water. Take care if doing this with silver jewelry, since silver is a soft metal, so don't press too hard. You should not use this method for cleaning pearls or opals, since both are soft porous jewelry.
You can get more tips for cleaning jewelry here.
Round Up Of Uses Submitted By Others Around The Site
With a need to save money and also for environmental reasons, more and more people are making their own cleaning products. However, when you are new to making your own products you can feel a bit nervous about which recipes and uses will actually work or not.
This is your chance to share your knowledge if you have a great tip or use for this product, or get some tips of your own to make sure you get the best results possible.
Make sure when you use any of these tips that you're using a white toothpaste, which is non-staining, rather than a blue gel which may make a huge mess!
Here are the uses submitted so far:
Search This Site
Since you're interested in ways to use toothpaste around your home, you may also like this article about toothbrush uses around your home for things like cleaning, stain removal and more.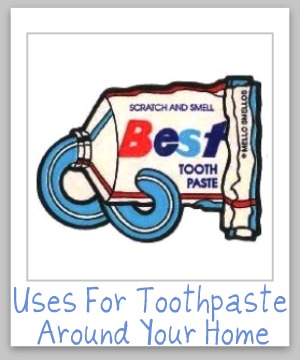 I would also like to hear your tips for how to use this common item in your home for cleaning, stain removal, or anything else non-tooth related.
Scroll down to add your tips below! The best ones will be featured on the site.
What Are Your Toothpaste Uses Around Your Home?
I'm always looking for more helpful household hints, and unusual uses for everyday items in our homes.

Share your tips and ideas below. Remember, photographs are not required, but they are encouraged, especially if it helps everyone understand your use or tip.
Submitted Uses For Toothpaste Around The Home
Click the links below to see uses for around the home which have already been submitted by others.

Feel free to comment on any of these submissions to tell me whether you use the product in a similar way, or about any other thoughts you have.

Remove Scuff Marks From Shoes With Toothpaste
Below is a video showing you how to remove scuff marks from shoes with toothpaste. I like this video, because it gives you a quick tip for fixing a …
Last photo by Enokson
Thanks For Visiting My Website: Grab Your Free Gift!

Hi, I'm Taylor, a busy mom with 3 kids, so I have lots of hands on experience with house cleaning, laundry and my fair share of spots, spills and other messy catastrophes. Thanks for visiting my site.
I update the website all the time with tips, tutorials, cleaning recipes, reviews of products from readers like you, and tests I've done on various cleaners, removers and laundry supplies.
I'd love to give you a gift! When you subscribe to my free weekly newsletter you will receive a free printable laundry stain removal chart that you can reference as needed.
I hope you enjoy this gift, and stop by again soon!
Related Pages You May Enjoy
Helpful Household Hints Around Your Home
Go From Uses For Toothpaste Around Your Home To Home Page
CAUTION: This website is provided for informational purposes only. It is provided as is, without warranties or guarantees. Some stains and messes just won't come out, and are permanent. Further, some cleaning methods can harm your item, so if what you want to clean or launder is sentimental or expensive call a professional. See disclaimer of liability for more information.