How To Clean Bathroom Sink & Counters: Daily Routine & Periodic Deeper Cleaning Tasks
Here is how to clean bathroom sink and counter areas, including what to do on a daily basis as well as additional steps to periodically take for deeper cleaning.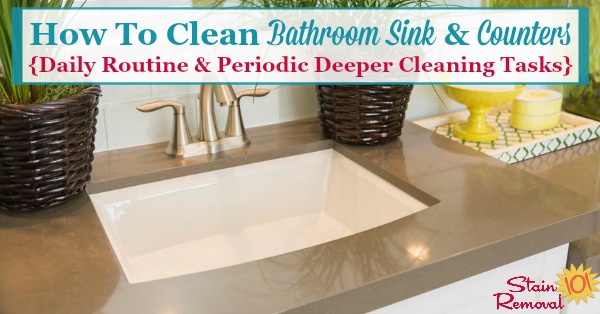 Everyone knows what we use our bathrooms to do, and it's definitely a necessary function. What that means though is that since we have to use the bathroom daily, we want it to stay a clean and sanitary place all of the time.
This includes our bathroom counters and sink, because we use this area to wash our hands, brush our teeth, and we place items on the bathroom counter that we'll use to apply our makeup, brush our hair, and more.
Fortunately, if you adopt the simple daily cleaning routine I've listed below (which will take you about two minutes per bathroom to do), as well as do some periodic deeper cleaning, your bathroom counters and sink will stay clean most of the time without too much effort.
I suggest that you add these daily cleaning steps to the rest of your morning or evening bathroom routine, such as doing the steps after getting yourself ready in the morning in your bathroom, or in the evening, when getting ready for bed in the bathroom. You'll be in the room anyway, so it's the perfect time to do it!
Daily Tasks For Cleaning Your Bathroom Sink & Faucets
Each day you should wipe out your bathroom sink.
This wipe out isn't a huge scrubbing session, but instead you'll clean up anything like globs of toothpaste, other debris, or remove stray pieces of hair that have fallen into the basin.
When you do this every single day it takes just one to two swipes with a microfiber cloth (or your just used wash cloth, or even a baby wipe or disinfecting wipe). Simply wet the cloth with warm water and add a drop or two of dish soap (or the hand soap you've got right on your bathroom counter), and wipe the sink basin.
I suggest keeping a small stack of microfiber cleaning cloths under your bathroom sink, or in a nearby cabinet, so you can easily grab a new one each day for this task. (You can keep them in a small labeled basket, perhaps next to the small basket of hand towels that you replace daily in your bathroom as well.)
Please note that if you've got a stone sink, such as one that's granite or marble, instead of using your hand soap you should use a pH neutral stone cleaner that is formulated for cleaning that type of surface.
(You can learn more about how to clean granite countertops here.)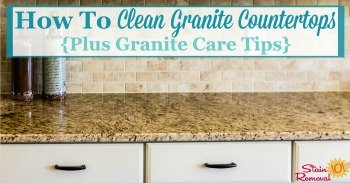 After wiping down the sink, go ahead and also wipe off the faucets so they're clean as well.
Then, rinse the cleaning cloth and wipe down any cleaning resiude that was left on your sink or faucets, and then use a second cloth to buff the sink and faucets dry.
Drying the sink and faucets keeps them from getting water spots, or developing mineral deposits.
Daily Tasks For Cleaning Your Bathroom Counters
You will wipe down your bathroom counters in exactly the same manner as you wiped down the sink area, using the wet cleaning cloth to clean, and then drying them with the dry cloth.
The key to making the task of wiping down your counters simple is to keep them generally clutter free, so all you have to do is wipe them down, not move all the stuff first every single time.
You can get tips and ideas for how to keep your bathroom counters clutter free in this article on my Home Storage Solutions 101 site.
Deeper Cleaning Tasks For Bathroom Sink & Counters
Once a week you should do a deeper clean of your bathroom sinks and counters. Fortunately, again, this is an easy task.
Instead of just wiping the sink and counters with a soapy solution, on a weekly basis wipe these surfaces down with a bathroom cleaner that contains a disinfectant.
You can check out lots of reviews of bathroom cleaners here, to find one you like (or if you're looking for one that is more eco-friendly, check out these natural bathroom cleaner reviews here).
If you'd like to make your own disinfectant cleaner, here's my homemade disinfectant recipe.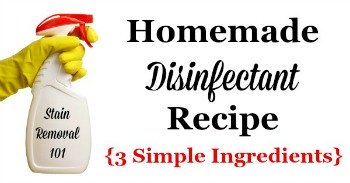 Deeper Cleaning Tasks For Sink Faucets
If you follow the daily routine and wipe off and then dry your faucets regularly, they'll stay looking pretty good most of the time.
However, periodically, every couple of months, you may need to do a bit of a deep cleaning of them, especially in the small nooks and crannies that aren't easily reached with your larger cleaning cloth.
When you do this deeper cleaning make sure to grab some essential cleaning tools, such as an old toothbrush used for cleaning, or cotton swabs. Then, just scrub these smaller and harder to reach areas to clean out debris to make them look good.
If your faucets begin to develop water spots, mineral deposits, or soap scum build up on them you can easily remove it by wiping the faucets down with white vinegar. Be sure to use it sparingly, and then rinse away the vinegar afterward, but the mild acidity within the vinegar will help remove those spots, deposits, or soap scum.
Find out more about how to clean and remove soap scum here, since soap scum build up is a common problem in bathrooms.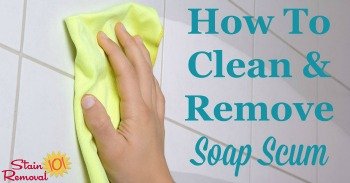 You can also periodically use these homemade chrome cleaner and polish recipes to really make chrome fixtures shine in your bathroom.
Now that you've got your bathroom counters and sink clean, check out more tips for how to clean anything here.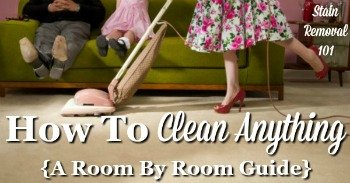 In addition, you can get lots of tips for speed cleaning your bathroom here.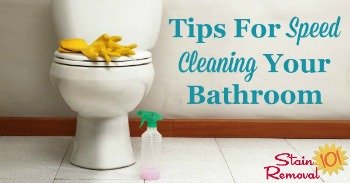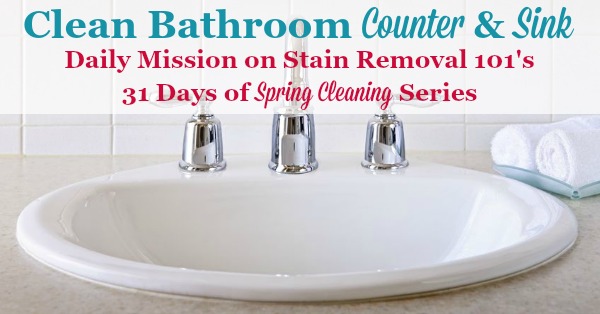 Thanks For Visiting My Website: Grab Your Free Gift!

Hi, I'm Taylor, a busy mom with 3 kids, so I have lots of hands on experience with house cleaning, laundry and my fair share of spots, spills and other messy catastrophes. Thanks for visiting my site.
I update the website all the time with tips, tutorials, cleaning recipes, reviews of products from readers like you, and tests I've done on various cleaners, removers and laundry supplies.
I'd love to give you a gift! When you subscribe to my free weekly newsletter you will receive a free printable laundry stain removal chart that you can reference as needed.
I hope you enjoy this gift, and stop by again soon!
Related Pages You May Enjoy
Tips For Cleaning The Bathroom
Uses For Toothpaste Around Your Home
Go From Hpw To Clean Bathroom Sink & Counters To Home Page
CAUTION: This website is provided for informational purposes only. It is provided as is, without warranties or guarantees. Some stains and messes just won't come out, and are permanent. Further, some cleaning methods can harm your item, so if what you want to clean or launder is sentimental or expensive call a professional. See disclaimer of liability for more information.