10 Alternate Uses For Baby Wipes Around Your Home
Here are 10+ uses for baby wipes around your home, for things beside wiping a baby's bottom, such as for house cleaning and stain removal.

If you've got a baby, most likely you've already got wipes around your home, and they're very handy when you've got a mess of spill.
Plus, if your child is potty trained now, don't throw out all the unused wipes. Instead, use them for some of the cleaning uses below so they don't go to waste.
I bet you will be surprised by some of the ideas listed below, and even if you don't have small children, you may just run out and buy some of these wipes yourself, because they're actually an inexpensive and versatile cleaning tool around your home!
1. Makeup Removal
Using baby wipes to remove makeup is simple, inexpensive and extremely gentle on your skin. It works great for eye makeup and mascara, and is gentle enough to be safe for most skin types.
If you have an issue with allergies, especially when using commercial makeup remover wipes which often have an extra scent added, consider giving non-scented wipes a try instead.
Get more tips for removing mascara stains here.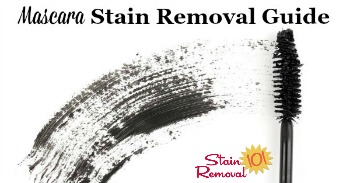 2. Use In Place Of Napkins When Out Of The House
Keep baby wipes on hand in your purse or diaper bag to use as napkins or wet wipes when out of the house.
You can use them in the car for on-the-go snacks or anywhere else you get something sticky or dirty on your hands but don't find a convenient place to wash them.
I also like to use a couple to wipe off tables at restaurants if needed.
3. Wipe Down Bathroom Counters & Other Hard Surfaces
Almost any hard surface that needs a quick wipe down or light cleaning is a great place to use a baby wipe.
Keep them in the bathroom to use on counters, sinks or even toilet seats for little guys who aren't so careful when using the potty and miss their target.
(You can get more tips for cleaning the bathroom here.)
They are also great for wiping down handles, doorknobs and even fixtures easily.
4. Stain Removal On The Go
Baby wipes are great for removing spills and stains right away when you are on the go. While they may not take all of the stain out of clothing, they can help spot treat a stain right away so it doesn't set into clothing.
Get more laundry stain removal tips here.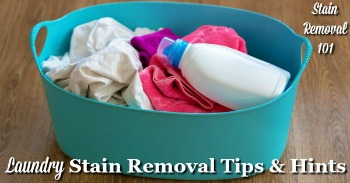 5. Stock In Your First Aid Kit
Baby wipes are ideal for first aid kits for cleaning up minor cuts and scrapes, especially before adding a bit of antibiotic ointment and a bandaid when washing with water is not a convenient option.
You can get more tips for what to stock in your first aid kit here, on the Home Storage Solutions 101 sister site.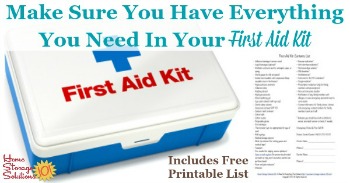 6. Wipe Down Dust From Your Car Interior
Grab a baby wipe or two while you're stopped at a long red light, or waiting in the pick up line at school, and clean up your dusty dashboard and grimy steering wheel.
You'll be amazed how dirty these items get with normal wear and tear, but it wipes right off with a baby wipe.
Check out more auto upholstery cleaner reviews here.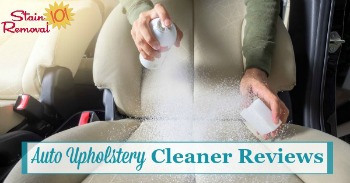 7. Dust Baseboards & Other Hard Surfaces
Just like you can wipe down and clean many hard surfaces with baby wipes, they are also great for removing dust.
Give your kids, who are much lower to the ground than you, a few baby wipes and have them wipe down your baseboards to keep them occupied, and remove dust and small scuffs all at once.
You can get more tips for cleaning baseboards here.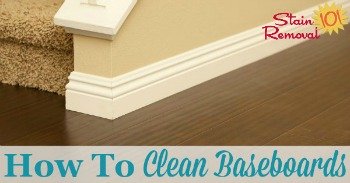 8. Replacement For Swiffer Or Similar Wet Mop Pads
Cleaning your floors can get pricey when using a Swiffer Sweeper with wet wipes, or a similar product.
To cut down on cost of buying those replacement sheets you can use a couple of baby wipes instead. It can be just as effective but with a much lower price tag.
Get more mop and broom reviews here.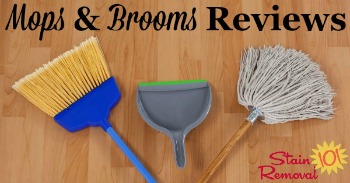 9. Clean Up Leather Furniture
Just like any other couches and chairs, leather furniture accumulates dirt and grime, but you have to be careful what you use to clean it. Surprisingly, baby wipes are a great way to do a quick clean up.
Get more tips for cleaning leather here, and leather cleaner reviews here.
10. Clean Shoes & Boots Easily
A baby wipe is an excellent choice to wipe off shoes as you come into your home, to get rid of dirt, mud, grass stains and more.
They easily take off the grime and can even remove some light stains from white sneakers with ease.
You can get more tips for cleaning shoes here.
Other Baby Wipes Uses For Your Home, From Around The Site
In addition to the ideas above, here is a round up of even more uses for these wipes, for all around your home, car, and on the go.
Search This Site
Even More Hints & Tips
In addition, check out this article with a collection of reader submitted baby wipes uses for cleaning just about everything.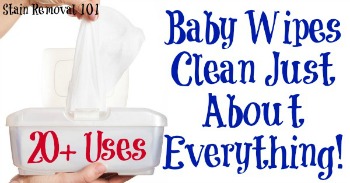 It is really not suprising that baby wipes have so many uses, since they are basically just lightly soaped up moist wipes.
Therefore, they often will have many of the same uses as cleaning wipes and disinfecting wipes.
The difference, however, is that there is no disinfecting or too harsh cleaning ingredients in the wipes designed for a baby's delicate skin. Therefore, these wipes are easier to use on cloth, for example, since there is less chance of unintentional bleaching.
I know there are even more uses for this common baby product around your home, so I'd love for you to share how you use them too. You can skip down to share your own use here.
What Are Your Baby Wipes Uses Around Your Home?
I'm always looking for more helpful household hints, and unusual uses for everyday items in our homes.

Share your tips and ideas below. Remember, photographs are not required, but they are encouraged, especially if it helps everyone understand your use or tip.
Submitted Uses For Baby Wipes Around The Home
Click the links below to see other uses for this product around the home which have already been submitted.

Feel free to comment on any of these submissions to tell me whether you use the product in a similar way, or about any other thoughts you have.
Baby Wipes Clean Everything!: Alternate Uses For This Common Item
"Baby wipes clean everything!" That's what a reader, Pam, said to me a while back, and I thought, huh, is that true? Well, she herself gave me a …
Thanks For Visiting My Website: Grab Your Free Gift!

Hi, I'm Taylor, a busy mom with 3 kids, so I have lots of hands on experience with house cleaning, laundry and my fair share of spots, spills and other messy catastrophes. Thanks for visiting my site.
I update the website all the time with tips, tutorials, cleaning recipes, reviews of products from readers like you, and tests I've done on various cleaners, removers and laundry supplies.
I'd love to give you a gift! When you subscribe to my free weekly newsletter you will receive a free printable laundry stain removal chart that you can reference as needed.
I hope you enjoy this gift, and stop by again soon!
Related Pages You May Enjoy
Helpful Household Hints For Around Your Home
Go From Uses For Baby Wipes Around Your Home To Home Page
There are affiliate links on this page, and if you purchase a product through them I receive a small commission. Purchasing through my links costs you nothing extra, but helps support the free information provided on this site and my family. To learn more please see my product review disclosure statement.
CAUTION: This website is provided for informational purposes only. It is provided as is, without warranties or guarantees. Some stains and messes just won't come out, and are permanent. Further, some cleaning methods can harm your item, so if what you want to clean or launder is sentimental or expensive call a professional. See disclaimer of liability for more information.