Earth Friendly Cleaning Products
Which Brands Work The Best?
Every day it seems more and more earth friendly cleaning products come out on the market. If you're anything like me you want to use as many natural and green cleaners as possible in your home, but you want them to actually work.
I don't want to sacrifice cleaning results in my home. Also, if I'm going to pay a premium for these products (and let's face it, they typically cost more) I want to get my money's worth.
This is where you, and readers like you, come in. I have been collecting
house cleaning supplies reviews
from "Mom reviewers" and others for a while now, and I have received quite a few about green cleaning products.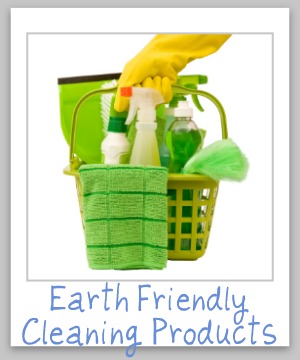 It has also introduced me to some brands of products that I didn't even know existed, but that come to find out are quite good.
What I've done in this section of the site is to group these reviews together based on common earth friendly cleaning products brands, so you can see not only how a specific product works, but how the whole brand compares and works in your home.
This is especially important for certain brands of products which have coordinating scents, because if you like a scent you may want to use it in more than one place in your home, and need a couple of different products for this.
What Constitutes Earth Friendly Cleaning Products?
However, before I start providing these reviews I want you to understand that not all products are created equal when it comes to being good for the environment.
Although there are truth in advertising laws around, there is no defined meaning of the terms "natural," "green," "eco-friendly," and such similar terms. That means companies, who know that people are looking for products that are safer for themselves and the environment, try to use these terms as a marketing tool.
Therefore, there are varying "shades" of green, and you have to do some careful and thoughtful shopping to really find ones that are the most earth friendly. Here are my tips for criteria to use when evaluating green cleaning supplies.
As I add my own information about these products to the site, along with the reviews from people like you, I will use set criteria for these green cleaning supplies, so that you can make comparisons and make a better decision for you, and your family.
Earth Friendly Cleaning Products Reviews And Information
Here is where you can find reviews of these green cleaners, so you can decide which ones are right for you. Remember, you can also skip down to share your own reviews here, good or bad, to tell me about your own experiences.
Another Option - Make Your Own Earth Friendly Cleaning Products
You don't just have to buy ready-made cleaners if you want something more green. Many people are also beginning to make their own homemade cleaning products and homemade cleaners.
Now, don't get me wrong. Just because you make your cleaners at home doesn't mean they are earth friendly cleaning products. For example, lots of homemade cleaners use chlorine bleach, but that is not normally thought of as very environmentally friendly.
However, there are some simple, natural and eco-friendly ingredients that can be combined together in various ways to make all kinds of solutions to clean your home (and your laundry too).
When you use tried and true recipes you can get very good results, and also save some major money, since generally making your own cleaning products is less costly than purchasing them.
Here are some articles on this site featuring some of these ingredients. Those listed as my article explain some of the properties of that ingredient, and some of the main uses for it around your home. If there is a second article, it is a place where you can share your own tips, uses and recipes, or see those already submitted by fellow readers. I hope all these articles will give you ideas for how you could use these homemade cleaning supplies in your own home.
Share Your Green And Eco-Friendly Cleaning Supplies Review
Have you used a green, natural, or eco-friendly cleaner or equipment and thought it was just awesome?

Or did you try something that was cleverly marketed but failed to live up to expectations?

Please share your earth friendly cleaning product review with me, sharing the good and the bad.

Here are some helpful hints to make sure your review is as useful as possible:
The name of the product you are reviewing, including any specific formulation of the product used, or the equipment, including the model of the equipment used


The surface(s) you use the product for (carpet, tile, counter, etc.) and the dirt, soil, stain or spill you use it on


Any effects it had, whether good or bad, on the surface you were cleaning (made it shiny, hurt the surface, discolored it, etc.)


How it smelled, if this is relevant to your opinion


Anything else that was important to you in determining your opinion about the product
Thanks For Visiting My Website: Grab Your Free Gift!

Hi, I'm Taylor, a busy mom with 3 kids, so I have lots of hands on experience with house cleaning, laundry and my fair share of spots, spills and other messy catastrophes. Thanks for visiting my site.
I update the website all the time with tips, tutorials, cleaning recipes, reviews of products from readers like you, and tests I've done on various cleaners, removers and laundry supplies.
I'd love to give you a gift! When you subscribe to my free weekly newsletter you will receive a free printable laundry stain removal chart that you can reference as needed.
I hope you enjoy this gift, and stop by again soon!
Related Pages You May Enjoy
Laundry Supplies Reviews: What To Use To Clean Your Clothes
Helpful Household Hints For Around Your Home
Go From Earth Friendly Cleaning Products Reviews To Home Page
CAUTION: This website is provided for informational purposes only. It is provided as is, without warranties or guarantees. Some stains and messes just won't come out, and are permanent. Further, some cleaning methods can harm your item, so if what you want to clean or launder is sentimental or expensive call a professional. See disclaimer of liability for more information.