Mrs. Meyer's Clean Day Laundry & Cleaning Products Reviews & Information
Mrs. Meyer's Clean Day is an entire line of earth friendly cleaning and laundry products, many of which have strong fragrances.
Here is some general information about the products, and information about their ingredients to determine how earth-friendly they are.
The first thing you notice if you've ever used a scented Mrs. Meyers product is that it is a very strong fragrance. These products are marketed as both eco-friendly (I will discuss this more below) but also as a source of aromatherapy for you, as you clean.
There are a wide range of products available to clean basically any part of your home and your clothes, and people that use these products tend to acquire a variety of products in the same scent.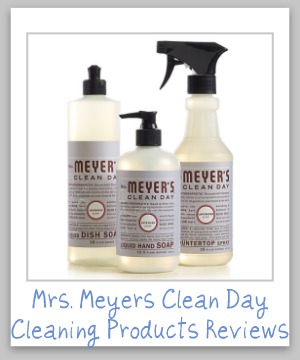 These Cleaning Supplies Have Very Strong Fragrances
The scents available for the cleaning and laundry supplies include basil, lavender, lemon verbena, geranium, and rosemary.
They have also introducted a honeysuckle scent, but only for a couple of cleaning products so far, and not for laundry supplies.
They've also got a bluebell scent for the laundry detergent and fabric softener only.
In addition, the baby laundry detergent has a "Baby Blossom" scent.
The only product available without a scent was, at one time, laundry detergent, but the unscented variety has since been discontinued.
Finally, there are a couple of scents for personal care products that are not available for either cleaning or laundry supplies, including apple, parsley and peony.
These scents are all derived from natural essential oils, and if you've ever used essential oils you know a little goes a long way to provide a long lasting, strong fragrance.
Whether you view it as a positive, or a negative, Mrs. Meyer's Clean Day products seem to use a lot of essential oils, at least judged by what the website terms its "richly fragranced" products. Some people love these scents. Others find the odor off putting, and those with allergies may react negatively to them.
You can read reviews of these products below to find out how they really work in your home, and you can also share your own reviews.
Mrs. Meyer's Clean Day Products Are Advertised As Earth Friendly - Are They Really?
As I explained in more detail in my article about the criteria for choosing green cleaning supplies, there are lots of factors to take into account when deciding if a cleaner is really good for the environment or not.
Here are the pros, as I see them, for the Mrs. Meyer's Clean Day line of cleaning supplies:
Mostly biodegradable (some powdered products have some ingredients which are not, but all liquid products are fully biodegradable)
Phosphate free
Ammonia free
Chlorine bleach free
No petroleum distillates used
Not tested on animals, nor made with animal derived ingredients
In general, I feel comfortable saying these products are earth friendly cleaning products. There are only two cons that I see. The first is that, in general, added fragrances are not always seen as environmentally friendly, because it is just added, but unnecessary chemicals. This is somewhat abated by the fact that these fragrances are derived from natural essential oils.
The more important thing to consider is that the exact ingredients are not listed on the packages. Instead, we are told that the percentage of the product derived from natural ingredients. Each product is different, but the percentages are all pretty high, in the 97-98% range. However, this cryptic statement was on their website (but they've since changed the URL of the page):
We make intelligent, responsible raw material choices, and whenever possible, obtain materials from renewable plant resources such as coconut, palm, corn, soy or olive. At times we choose not to use a plant-derived material for reasons of efficacy, consistency and safety.
Basically, this statement raises questions, but still not major ones. If the products have such a high percentage of natural ingredients, and as advertised, contain no petroleum distillates, then I cannot imagine that this is too bad. Basically, I'm just pointing it out, because it does raise an issue in my mind, although I still would recommend these products from the perspective of being environmentally friendly.
Do Mrs. Meyer's Clean Day Cleaning And Laundry Supplies Really Work Well?
One of the most important consideration when deciding whether to use any of these laundry or cleaning supplies in your home is to find out if they actually work well, of course. There is never a point in buying a product that does not actually do a great job in cleaning your home or clothes.
The popularity of these cleaning and laundry supplies continues to grow, and therefore this is some evidence that the products actually please consumers. However, I always like to read real stories, from real people, telling how products have worked for them.
That is where you, and readers like you, come in. I've been collecting house cleaning supplies reviews, laundry detergent reviews, and laundry supplies reviews on the site for a while. I've accumulated some reviews of Mrs. Meyer's Clean Day products, but I am always looking for more. You can skip down here to share your own review.
To both explain the range of products available, and also to share the reviews on this site with you, I am breaking this down into a couple of sections for different cleaning products. (Note there are also some personal care products that are made by Mrs. Meyer's Clean Day, but that is not really the focus of this site so I haven't discussed them on this page.)
General Cleaners
Some of the cleaning products are designed to be used all over your home. These include all purpose cleaner, surface scrub, surface wipes, and glass cleaner. In the past Mrs. Meyer's also had a stainless steel spray, but this has now been discontinued. Here are the reviews of these products I've received so far:
Kitchen Cleaners
For use in the kitchen the products include liquid dish soap, countertop spray, and automatic dish packs. Here are the reviews I've received so far:
Bathroom Cleaners
Mrs. Meyer's also has products designed to clean your bathroom, including bathroom cleaner, shower cleaner, and toilet bowl cleaner. Here are the reviews I've received so far:
Air Fresheners
If you want to freshen the air in your home there are several choices available, including candles, spray room freshener, and scent diffusers. You can be the first to provide a review of these products on the site.
Laundry Supplies
Finally, there are a couple of different laundry products available from Mrs. Meyer's. These include laundry detergent, liquid fabric softener and dryer sheets. (Please note that they used to have a scent free detergent, but that has since been discontinued.)
They used to have an ironing spray also, but it has since been discontinued. Here are the reviews I've received on the site about these products so far:
Price And Availability Of Mrs. Meyer's Clean Day Products
Typically, eco-friendly cleaning products cost a bit more than other brands of cleaners. That is true of Mrs. Meyer's Clean Day as well. However, if you watch for sales the price is not too bad, and several readers who have already provided me with reviews of these products have said that they do not mind to pay the premium for the products.
Availability is another issue with this brand too. It can be difficult to find in some stores, but more and more places are carrying it as it becomes more and more popular. For instance, my WalMart recently began carrying a small selection of the available products in the environmentally friendly section of its cleaning and laundry aisle.
However, I've found that sometimes these stores still don't carry all of a particular line of product, such as for people that love the geranium scent, for example, and want to get several products with coordinating scent. However, a very good source for these products is Amazon, or other online stores such as that. They carry a wide variety of the products, but be careful when buying from any online retailer to make sure how much shipping will cost, since this can dramatically increase how much you are really paying for the product.
Share Your Own Mrs. Meyer's Cleaning Product Review
Do you use Mrs. Meyer's products for cleaning your home or for your laundry? If so, please tell me how these products worked for you, the good or the bad.

Here are some helpful hints to make sure your review is as useful as possible:

Tell me which exact type and scent of product you are reviewing, and any other important identifying characteristics of it.

Further, helpful information would include how it smelled, whether the scent lingered or not, whether you had any problems with it, how it worked (positives and negatives), any allergies or skin reactions you or a family member experienced while using it, if it is easy or difficult for you to find in stores, and/or what you think of the prices.

I also am interested in what your motivations for choosing these products were, and what your feelings are about using Earth friendly cleaning products in general.

Any other details relevant to your opinions of the product or supply are all appreciated.
Submitted Mrs. Meyer's Product Reviews
Click the links below to see other reviews that have already been submitted.

Feel free to comment on any of these submissions to tell your own experience with these products, or about any other thoughts you have.

Thanks For Visiting My Website: Grab Your Free Gift!

Hi, I'm Taylor, a busy mom with 3 kids, so I have lots of hands on experience with house cleaning, laundry and my fair share of spots, spills and other messy catastrophes. Thanks for visiting my site.
I update the website all the time with tips, tutorials, cleaning recipes, reviews of products from readers like you, and tests I've done on various cleaners, removers and laundry supplies.
I'd love to give you a gift! When you subscribe to my free weekly newsletter you will receive a free printable laundry stain removal chart that you can reference as needed.
I hope you enjoy this gift, and stop by again soon!
Related Pages You May Enjoy
Earth Friendly Cleaning Products Brands: Which Ones Work The Best?
Green Cleaning Products Reviews
Go From Mrs. Meyer's Clean Day Laundry And Cleaning Products Reviews To Home Page
CAUTION: This website is provided for informational purposes only. It is provided as is, without warranties or guarantees. Some stains and messes just won't come out, and are permanent. Further, some cleaning methods can harm your item, so if what you want to clean or launder is sentimental or expensive call a professional. See disclaimer of liability for more information.