Method Cleaning Products Reviews
And Information
Method cleaning products are designed to green clean your home with style. Read reviews and information to find out how they really work in your home, and if they are really environmentally friendly.
One of the most popular brands of green cleaning supplies available is Method. The company was actually founded by two male college roommates, which is not who you would typically think of as being interested in cleaning of any sort, whether green or not.
However, the company's vision is to provide environmentally friendly products that smell great, look great, and that people will enjoy using. Their motto is "People Against Dirty," and that seems to include both dirty homes, but also against packaging design which is not artistic as well as functional.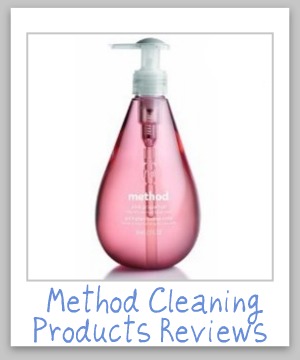 This article is focused on Method's products for cleaning your home, but the company actually has a whole line of personal care products too, along with laundry supplies.
What Makes Method Cleaning Products Environmentally Friendly?
Just because a company advertises that its products are "green" doesn't mean they really live up to the hype, since there are not hard and fast definitions for this and related terms. However, I've done some research into the products to help you evaluate the claims.
Basically, through my research I've concluded that overall the products are pretty Earth friendly, but as with almost anything, there is always room for improvement. However, if you're looking for cleaning supplies and products that are safer for the environment these are a great place to start since nothing is perfect.
Here are some of the attributes about Method cleaning products and supplies that I particularly think are Earth friendly. Please note that with so many products available for sale, in so many scents, these are just generalizations.
Non-toxic
Uses natural or naturally derived products (with some minor exceptions)
Biodegradable
Avoids cleaning chemicals such as ammonia, chlorine bleach, phosphates, and triclosan
No animal testing
Considers carbon footprint through entire manufacturing chain
Considers packaging and bottle design for less environmental impact
Uses 100% recycled plastic for bottles, which then can be recycled themselves
On the other hand, like I said there is always room for improvement. However, overall these are minor quibbles, and could easily be rectified by the company (and perhaps plans are in the works for some of them).
Has many varities of wipes available. Since these are a use once type of product, it isn't that environmentally friendly.
Not enough concentrated formulas in the Method cleaning products lines, where you can dilute them yourself. Instead many are already pre-diluted, meaning more packaging is used for water. (Note the Method laundry detergent is quite concentrated, on the other hand.)
Not enough products have refills available, which would enable you not to have to buy an entire new bottle.
Do Method Cleaning Supplies And Products Work Well?
It doesn't matter if a green cleaning product is actually good for the environment and your family's health if it doesn't actually work well to do what it is supposed to do -- clean your home. That is why one of my main criteria for evaluating the effectiveness of a green cleaning supply is actual results.
I've received a number of product reviews from other readers which I've collected here on this page to help you evaluate whether Method's products are right for use in your home. If you've used a product yourself, and want to share your own experiences with it, please skip down to share your own review here.
For ease of finding what you want, I have separated out the reviews into categories of Method cleaning products available, and also listed the major products available in each category, whether I've yet received a review or not. Please note that some products have multiple scents available, while others have only one scent. At my last count Method boasted 43 different scents across its entire line of products (including personal care and laundry products).
Cleaning Products For All Rooms
There are several Method cleaning products available which can be used in multiple rooms of your house, including all purpose cleaner, glass and surface cleaner, multi-surface wipes, cleaning and disinfecting wipes, nursery and playroom cleaner, a dilutable cleaner, and a hard floor cleaner.
Kitchen And Dish Cleaners
Method has two different kitchen cleaners, one of which is antibacterial and the other a multi-surface cleaner. In addition, there is a dish soap with a pump dispenser, which has refills available, and also dishwasher detergent.
Bathroom Cleaners
There are even more bathroom cleaners available, including a general bathroom cleaner (previously known as tub and tile cleaner), tub and tile flushable wipes, antibacterial bathroom cleaner, a scrubbing cleaner, daily shower spray and toilet bowl cleaner.
Wood Cleaners
Method also has quite a number of wood cleaners, including wood floor cleaner, wood surface cleaner spray and wipes.
Leather Cleaner
The company has one leather cleaner, which are leather wipes.
You can be the first to provide a review of this product on the site.
Stone And Metal Cleaners
There are a surprising number of specialty cleaners made by Method, especially for granite and stainless steel. There are granite and stone wipes, granite polish (with a refill available), and a granite kitchen cleaner. In addition, there are stainless steel wipes, polish and kitchen cleaner.
You can be the first to provide a review of these products on the site.
Laundry Supplies
Method also has a few laundry products available, including a laundry detergent, fabric softener and dryer cloths.
Price And Availability Of Method Cleaning Products
Finally, in evaluating Method cleaning products, to decide if they are a good choice for use in your home, you need to consider both their price and availability. After all, if they are too expensive or hard to find they won't be easy to get and use in your home.
Fortunately, Method products are becoming easier and easier to find in stores. Of course, the best place to find them in retail stores is Target, where they first got their big break. However, since then they have gone out to more and more retail locations, including many other big box stores and grocery stores. In addition, these products are easy to find online too, often with good discount prices or packaged in bulk to reduce shipping costs and environmental concerns.
On the other hand, I've found that these products tend to cost a bit more than more conventional cleaning supplies. However, that is not unusual for green cleaning products, and my hope is that as these products become more popular and widespread their price will begin to come down some.
Share Your Own Method Cleaning Supplies Review
Do you use Method products for cleaning your home or for your laundry? If so, please tell me how these products worked for you, the good or the bad.

Here are some helpful hints to make sure your review is as useful as possible:

Tell me which exact type and scent of product you are reviewing, and any other important identifying characteristics of it.

Further, helpful information would include how it smelled, whether the scent lingered or not, whether you had any problems with it, how it worked (positives and negatives), any allergies or skin reactions you or a family member experienced while using it, if it is easy or difficult for you to find in stores, and/or what you think of the prices.

I also am interested in what your motivations for choosing these products were, and what your feelings are about using Earth friendly cleaning products in general.

Any other details relevant to your opinions of the product or supply are all appreciated.
Submitted Method Cleaning Products Reviews
Click the links below to see other reviews that have already been submitted.

Feel free to comment on any of these submissions to tell your own experience with these products, or about any other thoughts you have.

Thanks For Visiting My Website: Grab Your Free Gift!

Hi, I'm Taylor, a busy mom with 3 kids, so I have lots of hands on experience with house cleaning, laundry and my fair share of spots, spills and other messy catastrophes. Thanks for visiting my site.
I update the website all the time with tips, tutorials, cleaning recipes, reviews of products from readers like you, and tests I've done on various cleaners, removers and laundry supplies.
I'd love to give you a gift! When you subscribe to my free weekly newsletter you will receive a free printable laundry stain removal chart that you can reference as needed.
I hope you enjoy this gift, and stop by again soon!
Related Links At Stain Removal 101
Earth Friendly Cleaning Products Reviews - Which Brands Work The Best?
House Cleaning Supplies Reviews - What To Stock In Your Cleaning Closet
Best Laundry Detergent For You - Reviews Of Major Brands
Go From Method Cleaning Products Reviews And Information To Stain Removal 101 Home Page
CAUTION: This website is provided for informational purposes only. It is provided as is, without warranties or guarantees. Some stains and messes just won't come out, and are permanent. Further, some cleaning methods can harm your item, so if what you want to clean or launder is sentimental or expensive call a professional. See disclaimer of liability for more information.