Method Dish Soap Review - Cucumber Scent
by Keri
(WA State)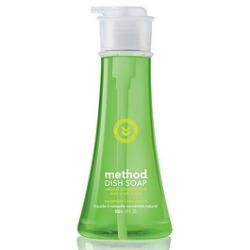 Keri has shared her Method dish soap review.
Keri says:
I went looking for a more natural dish soap after I drank water out of a cup that had a soapy taste and obviously had not been rinsed well.
I thought about the fact that we were probably ingesting chemicals whenever this happens, so I wanted to find the most natural dish soap I could find.
Method turned out to be a great find. I use the Cucumber scent and think it smells very refreshing.
It is also very gentle on my hands even though I have sensitive skin. It works awesome!
It is also reasonably priced compared to some other natural dish soaps.
I've recently seen they've changed the design of their bottle, but I've only used their old bottle, so I can't comment on the new design change. I do like the idea of the pump, anyway. But have not tried it yet.
I will definitely continue to use Method as I am very happy with this as well as many of their other products.
Taylor says:
Keri, thanks for your Method dish soap review.
You are right, they have now switched to a pump dispenser, similar to the pump dispenser they use for
Method laundry detergent
. (It is pictured above.)
There are mixed opinions about the pump dispenser for the laundry detergent (see
see here for discussion in some of the reviews
), so I will be interested to hear what others think of the new pump dispenser for the Method dish soap.
If you have used the new pump, please
share your natural dishwashing liquid review
of this, or any other brand, telling me what you like, or don't, about it, and why.
In addition, I would love to hear more reviews of Method products. You can
share your Method cleaning products review here
, or read other reviews already submitted.
Join in and write your own page! It's easy to do. How? Simply click here to return to Method cleaning products.
Method Brand Dishwashing Soap Review - Problem With New Pump Dispenser
by Angela Goins
(Douglasville, GA)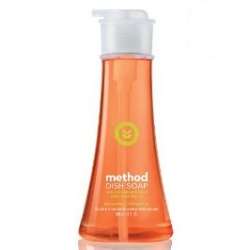 Angela has shared the pros and cons of Method brand dishwashing soap, in the Clementine scent.
Angela says:
PRO'S: Love the scent, foams well and cleans well.
CON'S: The pump dispenser. I'm not sure how this pump dispenser is designed but when you push down on it, it can shoot across the room almost!
You've really got to have great aim when you push down. This can lead to a lot of wasted soap. I'd prefer to buy the refills and then refill another dispenser with the soap.
Taylor says:
Thanks Angela for your Method dish soap review.
I am glad someone has now shared what they think of the new dispenser pump, since this change was relatively recent, and the only other review I had received said she hadn't tried the new design yet.
I would love to know what other people think about the new design of the dishwashing liquid bottle, and whether it is good or not.
I like your idea though Angela, of just getting a refill and using your own dispenser for it if you don't like their design. That is a great way to continue using the dish soap, since you like it, without the pain of using a dispenser you don't like. Fortunately, refills are available for the Method dish liquid, so this is a viable option for you.
If you have used this product, or the new dispenser pump, please
share your review here
, telling me your opinions about it.
In addition, you can
share your dishwashing soap review here
, for any other brand, or read other reviews which have already been submitted.
***Update: I've now tried this product myself, and you can read my review of it below. ***End Update
Join in and write your own page! It's easy to do. How? Simply click here to return to Method cleaning products.
Clementine Scented Dishwashing Liquid: Decent But Won't Buy Again
by Heidi
(Homewood, IL)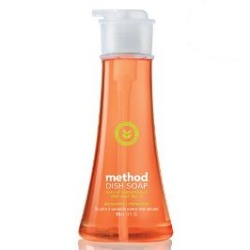 I decided to begin trying different dish soaps after following Taylor's lead.

I had not given much thought to dishwashing liquid before, and it made me wonder if I might be missing out on something. I was curious and wanted to know the pros and cons of all of them.

Besides, who can pass up the lure of all the lovely colors and varieties? LOL

I tried the Method Clementine dishwashing liquid in the pump dispenser.

Over all it was a decent product.

It got everyday and mildly greasy dishes squeaky clean and had a fragrance I could tolerate (I don't like strong scented dish soaps.)

I did notice though that with really greasy dishes, pots, pans, etc. I had to add more soap to my wash water or put it directly on my sponge to finish tackling the grease.

It also left my sponges with a rancid odor after a few uses.

I too also had problems with the dispenser, as others have mentioned.

It's not a bad dish soap, but factoring in the cost as well as my results from my use of it, I won't be buying it again.
Join in and write your own page! It's easy to do. How? Simply click here to return to Method cleaning products.
Lemon Mint Method Pump Dish Soap Cleans Great But Dispenser Is Not Good!
by Taylor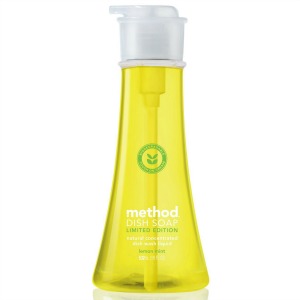 I recently finished a bottle of this dishwashing liquid, and wanted to share my thoughts about it here.

I have to agree with the reader above, who said that the pump dispenser for this eco-friendly soap is poor.

Both my husband and I have been washing lots of dishes by hand recently, because our dishwasher has been broken for about a month (finally have it fixed, but that is another story).

We both liked the scent of this soap, and the way it cleaned. It wasn't too thin (one of my pet peeves) and seemed to get rid of grease well.

However, we both got quite exasperated trying to use the product because of the dispenser.

You've got to hold the bottle exactly upright, and can't have it tilted at all or it will squirt all over the place, not just on the dishes. Also, if not exactly upright you may not even get any soap at all out of it if the end of the straw is not in the right spot.

It really ended up being a hassle when your hands are all soapy and slick while washing dishes, and made the process less enjoyable than it otherwise could be.

Overall, I won't be using this product again, not because it didn't work well, but because of the design of the dispenser. Overall, Method is known for its clean design just as much as its products, but this time they got it wrong in my opinion.

I would be curious to hear if others feel the same way or not about it. You can share your dish soap reviews here, for this or any other brand, or read others that have already been submitted.


Related Links At Stain Removal 101
100's Of House Cleaning Product Reviews
Green Cleaning Products Reviews & Ratings
Method Cleaning Products Reviews And Information
Go From Method Dish Soap Reviews To Stain Removal 101 Home Page
Thanks For Visiting My Website: Grab Your Free Gift!

Hi, I'm Taylor, a busy mom with 3 kids, so I have lots of hands on experience with house cleaning, laundry and my fair share of spots, spills and other messy catastrophes. Thanks for visiting my site.
I update the website all the time with tips, tutorials, cleaning recipes, reviews of products from readers like you, and tests I've done on various cleaners, removers and laundry supplies.
I'd love to give you a gift! When you subscribe to my free weekly newsletter you will receive a free printable laundry stain removal chart that you can reference as needed.
I hope you enjoy this gift, and stop by again soon!
CAUTION: This website is provided for informational purposes only. It is provided as is, without warranties or guarantees. Some stains and messes just won't come out, and are permanent. Further, some cleaning methods can harm your item, so if what you want to clean or launder is sentimental or expensive call a professional. See disclaimer of liability for more information.