Washing Soda: What It Is And How To Use It
To Clean Home And Laundry
Washing soda, which is also known as laundry soda, soda crystals, or sal soda, is a common ingredient in many homemade cleaning products recipes, and also is commonly used as a laundry booster.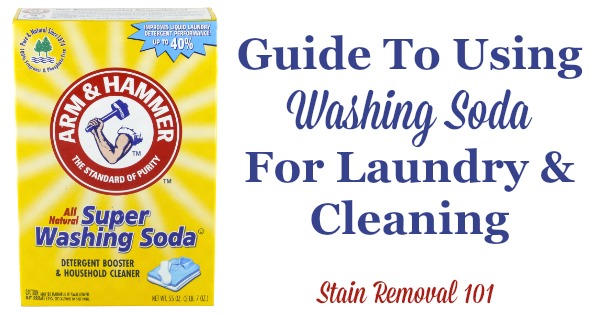 You may be wondering, when you read these recipes, what is washing soda?
Well, it is not the same thing as baking soda, which is a common misconception.
However, both washing and baking soda are related, since baking soda's scientific name is sodium bicarbonate, and soda crystals' scientific name is sodium carbonate. This means they are similar, but not identical chemical compounds.
In fact, both washing and baking soda are naturally occuring substances found together in trona, which is the substance mined to get both types of soda we generally use here in the United States today.
(Hint: If you want to make your own from baking soda scroll down for a recipe you can use.)
How Soda Crystals Are Used For Cleaning And Laundry
Soda crystals are a highly alkaline substance, with a pH of almost 12.0 (the highest is 14.0).
This high alkalinity means that it can act as a laundry booster, when added to the wash, by increasing the effectiveness of laundry detergent, especially in areas with hard water.
Similarly, because laundry soda is so alkaline it is a powerful cleaning agent for your home, and is used in many different cleaning solution recipes.
Some examples of recipes for homemade cleaners here on this site which use laundry soda include:
Please note that because of laundry soda's high alkalinity it can cause skin irritation, so wear rubber gloves while cleaning with any solution containing it, and also rinse the area throughly if it gets in contact with your skin.
Further, as with all homemade cleaning products (and commercial cleaning products) keep it out of reach of children and pets, and label all containers holding it.
Finally, make sure you don't use it to clean aluminum, because the high alkalinity will cause the aluminum to pit and change colors.
Washing Soda: Where To Buy It?
Now that you understand the multiple uses of laundry soda for cleaning your home and your laundry, and know that it is a natural and powerful cleaning agent, you may be wondering what stores sell washing soda?
It is not very expensive, but unfortunately laundry soda can be difficult to find in many stores.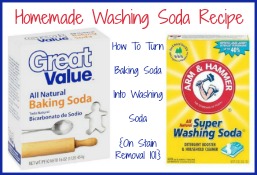 When stores do carry it, it will generally be found in the laundry aisle, under the name of Arm & Hammer Super Washing Soda. I have not seen a generic version available.
If you cannot find it in a store near you, you can buy it over the Internet, such as through my link above.
Another possibility is to make your own, using baking soda and heat. A reader shared a recipe for a homemade version of this product.
How do you use this powerful homemade cleaner ingredient in your home? Tell me below in the comments.
Thanks For Visiting My Website: Grab Your Free Gift!

Hi, I'm Taylor, a busy mom with 3 kids, so I have lots of hands on experience with house cleaning, laundry and my fair share of spots, spills and other messy catastrophes. Thanks for visiting my site.
I update the website all the time with tips, tutorials, cleaning recipes, reviews of products from readers like you, and tests I've done on various cleaners, removers and laundry supplies.
I'd love to give you a gift! When you subscribe to my free weekly newsletter you will receive a free printable laundry stain removal chart that you can reference as needed.
I hope you enjoy this gift, and stop by again soon!
Related Pages You May Enjoy
Homemade Cleaning Products Recipes
Go From Washing Soda Uses For Your Home And Laundry To Home Page
There are affiliate links on this page, and if you purchase a product through them I receive a small commission. Purchasing through my links costs you nothing extra, but helps support the free information provided on this site and my family. To learn more please see my product review disclosure statement.
CAUTION: This website is provided for informational purposes only. It is provided as is, without warranties or guarantees. Some stains and messes just won't come out, and are permanent. Further, some cleaning methods can harm your item, so if what you want to clean or launder is sentimental or expensive call a professional. See disclaimer of liability for more information.