Method All Purpose Cleaner Review - Pink Grapefruit Spray
by Ashley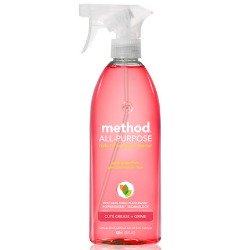 Ashley has shared her Method all purpose cleaner spray review
Ashley says:
My favorite Method cleaning product is the Pink Grapefruit All Purpose cleaner.
I use it to
clean my kitchen
. It works well on the countertops,
refrigerator
, outside of the dishwasher and
stove
.
It does not stain surfaces or ruin clothing when it comes in contact with it.
The fragrance is wonderful. It is not overpowering but leaves a lasting clean smell.
I have also started using it on my laminate floors. It does not leave a build up like most
floor cleaners
do.
It also does a wonderful job in my
bathrooms
. Make sure not to use it on the mirror though, as it does leave a film.
I use it to clean the countertops, sink,
shower
and
toilet
.
I started using
Method cleaning products
by chance because I was told that it was better for the environment. There are many different fragrances available. My allergies are not bothered by the products either.
Now I faithfully use Method products to clean my home, especially this Method all purpose cleaner! I even recommend it to my friends.
Taylor says:
Thanks Ashley for sharing your review of this product.
I like cleaners like what you've described, which can work in so many versatile ways. That means you don't have to stock so much stuff in your cleaning closet to get your whole home clean.
Has anyone else used this, or another green cleaner to clean their home? If so, please
share your green cleaning products review here
, or read other reviews that have already been submitted.
Further, you can specifically read even more
natural household cleaners reviews for all purpose cleaning here
, or share your own.
Join in and write your own page! It's easy to do. How? Simply click here to return to Method cleaning products.
Method Grapefruit Scented All Purpose Cleaner Review
by Tiffany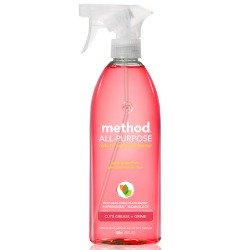 Tiffany has shared her Method grapefruit scented all purpose cleaner review.
Tiffany says:
I would strongly recommend using Method's Pink Grapefruit All-Purpose cleaner.
I have used this product specifically in my kitchen for the past four years. With five children, I wanted to use a product free of harmful chemicals that still performed well.
We use this on all of our countertops and even the on kitchen table. I also use it on the
stove top
where it does cut grease well.
As with other cleaners, on tougher spills or grease I like to spray it on and let it sit for a few minutes before wiping clean.
The most impressive part of this product is its natural scent. Everyone comments on how good the kitchen smells after using the Pink Grapefruit Method cleaner.
Comparatively, the price is a little higher than some other brands, but I have found it well worth it.
This might sound a little unconventional, but I first tried this product not just because it's more environmentally friendly, but because the design and color of the bottle stand out with all of Method's products. Prior to Method, cleaning products weren't packaged as compellingly.
Taylor says:
Thanks Tiffany for your Method all purpose cleaner review.
You are actually the second person to send me in a review of this scent of the product, so it must be popular.
I have to say, I myself have been tempted to buy Method products before, when I saw them on the shelf, just because they are so bright and colorful, and pretty. I especially noticed the pretty color of pink with the Method grapefruit scent.
I actually learned, recently, that the colors that Method uses for its cleaning supplies are all environmentally friendly too. They want the design and aesthetics of the products to draw people in, and to help them enjoy using the products, but they still keep in mind their overriding mission of green cleaning. Cool, huh? I know that impressed me.
Anyway, thanks for your review. Has anyone else used this, or another Method product, to clean their homes? If so, I want to hear from you. Please
share your Method cleaning products review here
, telling me what you think about them, and how they've worked for you, good or bad.
In addition, you can
share your general purpose cleaner review here
, telling me which product you like to use and why.
Related Links At Stain-Removal-101.com
House Cleaning Supplies Reviews - What To Stock In Your Cleaning Closet
Earth Friendly Cleaning Products Reviews
Natural Kitchen Cleaner Reviews
Green Bathroom Cleaner Reviews
Shower Cleaners Reviews
Toilet Cleaner Reviews
Cooktop Cleaner Reviews
Go From Method All Purpose Cleaner Reviews To Stain-Removal-101.com Home Page
Join in and write your own page! It's easy to do. How? Simply click here to return to Method cleaning products.
Thanks For Visiting My Website: Grab Your Free Gift!

Hi, I'm Taylor, a busy mom with 3 kids, so I have lots of hands on experience with house cleaning, laundry and my fair share of spots, spills and other messy catastrophes. Thanks for visiting my site.
I update the website all the time with tips, tutorials, cleaning recipes, reviews of products from readers like you, and tests I've done on various cleaners, removers and laundry supplies.
I'd love to give you a gift! When you subscribe to my free weekly newsletter you will receive a free printable laundry stain removal chart that you can reference as needed.
I hope you enjoy this gift, and stop by again soon!
CAUTION: This website is provided for informational purposes only. It is provided as is, without warranties or guarantees. Some stains and messes just won't come out, and are permanent. Further, some cleaning methods can harm your item, so if what you want to clean or launder is sentimental or expensive call a professional. See disclaimer of liability for more information.