Kitchen Cleaning Hints & Tips
Share Yours & Read Others
Here is a round up of over 30 kitchen cleaning hints and tips, for all types of items in your kitchen, to help you clean it faster and more easily.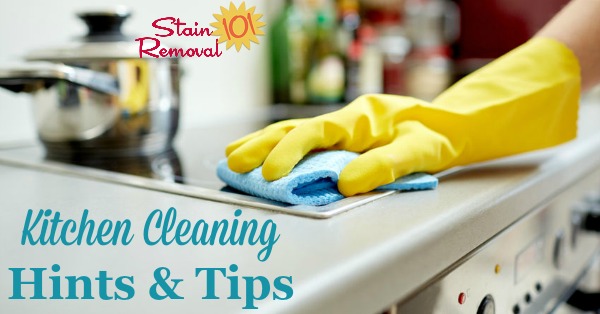 Do you spend a lot of time cleaning your home and possessions?
If so, you can use some good tips to help you get these chores done, so you can have some fun!
Here are tips I've collected from readers like you, and from around the web to help you with these tasks.
Here are the best hints and tips submitted so far, roughly put into alphabetical order based on the object to be cleaned:
Search This Site
You've seen the kitchen cleaning hints and tips submitted so far, but what about you? Do you have any helpful hints to share?
You can tell me your cleaning schedules or routines for the kitchen, your favorite kitchen cleaners, either commercial or homemade, or your tips and tricks for cleaning kitchen appliances.
You may also want to share tips for how you keep it clean while cooking, how you deal with crumbs on the floor and counters, or anything else you can think of.
I would love to hear your tips below. The best ones will be featured on this site.
What Products Should You Use To Clean Your Kitchen?
When doing your kitchen cleaning, you need to use cleaning products that work well for the job!
If you have a specific cleaner you really like to use (or didn't work as promised) you can share your kitchen cleaner reviews here, or read the other reviews already submitted.
Similarly, if you want are making an effort to use only natural or eco-friendly cleaning products, make sure you check out these natural kichen cleaning product reviews here.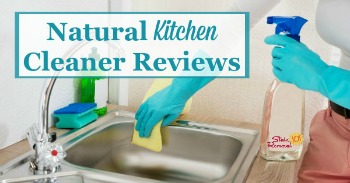 Share Your Cleaning Kitchen Tips
Everyone's got a kitchen, whether they have a mansion or an apartment, and everyone's kitchen needs to be cleaned. So, share your tips with me for how you do it.

If you like to use a particular type of cleaner, either homemade or purchased, or special cleaning equipment to get the job done well, please tell me about that too.

Finally, pictures aren't required, but are encouraged, especially if it helps show how you do something or the good results you had from using your tips.
Submitted Kitchen Cleaning Hints
Click the links below to see other tips that have already been submitted.

Feel free to comment on any of these submissions to tell your own experiences, or about any other thoughts you have.
DIY Kitchen Soap Dispenser: Remedy When Kids Using Too Much Dish Soap
Like many people Erin wants her kids to help with chores, but often their "help" takes longer or ends up being not as helpful as we'd like. That's …

6 Strategies To Motivate Yourself To Empty The Dishwasher
I thought it was just me that hated to empty the dishwasher, and unload all those clean dishes. You work and work to get everything loaded, run …

How To Disinfect And Clean A Sponge: Tips & Ideas
Below are instructions for how to disinfect and clean sponges, such as those you use in the kitchen daily. If you use your sponges …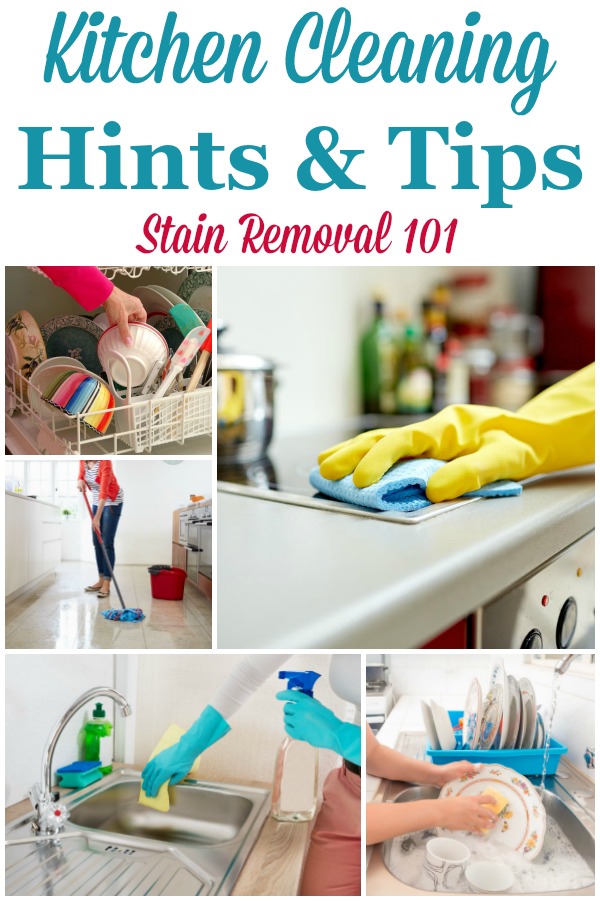 Second photo by Editor B
Thanks For Visiting My Website: Grab Your Free Gift!

Hi, I'm Taylor, a busy mom with 3 kids, so I have lots of hands on experience with house cleaning, laundry and my fair share of spots, spills and other messy catastrophes. Thanks for visiting my site.
I update the website all the time with tips, tutorials, cleaning recipes, reviews of products from readers like you, and tests I've done on various cleaners, removers and laundry supplies.
I'd love to give you a gift! When you subscribe to my free weekly newsletter you will receive a free printable laundry stain removal chart that you can reference as needed.
I hope you enjoy this gift, and stop by again soon!
Related Pages You May Enjoy
100's Of House Cleaning Tips & Tricks For Busy Moms
Homemade Cleaners Recipes From Readers
Go From Kitchen Cleaning Hints To Home Page
CAUTION: This website is provided for informational purposes only. It is provided as is, without warranties or guarantees. Some stains and messes just won't come out, and are permanent. Further, some cleaning methods can harm your item, so if what you want to clean or launder is sentimental or expensive call a professional. See disclaimer of liability for more information.