Laundry & Cleaning With Lemon Juice
Share Tips And Read Others
Here is a round up of tips, uses and recipes for laundry and cleaning with lemon juice around your home, so you can use this natural and frugal ingredient for more than just food.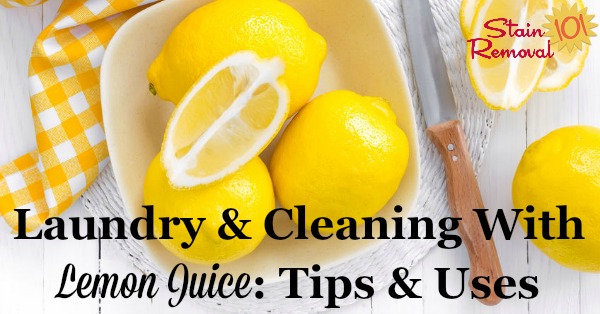 If you enjoy making your own cleaning products you can't go wrong by stocking lemons within your cleaning arsenal. They are natural, work well for a variety of uses, and best of all, they smell so good while you're cleaning, which makes the task seem much more pleasant.
Below I've listed 15 ways you can use lemons for cleaning and laundry, plus also provided even more tips and ideas in a round up of links from around the site.
Typically when I'm discussing the part of the lemon you'll use for these tasks I'm referring to lemon juice, so if you prefer to use bottled lemon juice for many of these uses, instead of fresh, that will work just fine.
However, there are a couple of instances where I'm referring to a fresh lemon, or using another part of the lemon, such as the peels, so when that is the case I'll make that clear.
How To Squeeze Lemons To Get The Most Juice
If you use fresh lemons for many of these tasks listed below you'll need to squeeze the juice from them.
To get the most juice from a fresh lemon it's best that they are at room temperature.
Then, before you cut the lemon, place it on your countertop and roll it underneath your hand, back and forth, a couple of times using slight pressure. This loosens the peel and gets the juice really flowing so you'll be able to get as much juice from each lemon as possible.
Obviously the exact amount of juice each lemon contains varies, but if you're using fresh lemons you can typically expect to get about 3 tablespoons of juice from a medium sized lemon.
All of the recipes listed below use approximate amounts, it doesn't have to be exact, so don't sweat the measurements too much.
15 Lemon Uses Around Your Home
Here are quite a few ways you can use this versatile ingredient for naturally cleaning and removing stains:
1. Remove stains, brighten and remove odors from wooden cutting board.
Just rub the board with juice, let sit for 20 minutes, and then rinse. You can add salt as a natural abrasive at the same time, by dipping a half a cut lemon into salt and using that to rub onto the board.
You can get even more tips for cleaning cutting boards here.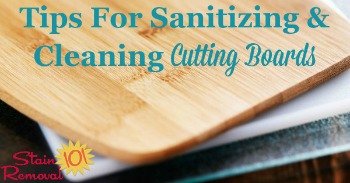 Lemon juice can also be used in the same manner to clean rolling pins and wooden spoons.
2. Remove stains from plastic food storage containers.
If you've got stained containers, such as with tomato or something similar, add a bit of lemon juice, place them in the sun to dry, and then wash them as normal, and the stains are washed away.
You can get more tips for cleaning and removing stains from plastic containers here.
3. Clean microwave.
A yucky microwave is no match for a bowl of water and a cut up lemon (or adding the juice of one lemon to the water), heated for 2-3 minutes.
You can get full details on how to clean your microwave in this manner here.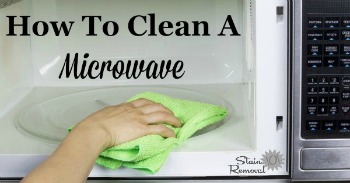 4. Homemade tile grout cleaner.
You can make a grout cleaner paste of lemon juice and a teaspoon or two of cream of tartar.
Just mix until a good (not runny) consistency, scrub the grout using a toothbrush or grout brush, and then rinse off.
You can check out even more homemade grout cleaner recipes here.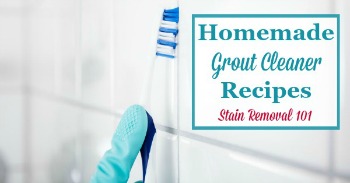 5. Remove coffee and tea stains from fine china cups.
After a nice meal with friends or family if you notice staining in the bottom of your china cups don't panic, and don't use anything harsh or abrasive to try to clean them up. Instead, add a lemon wedge to each cup, fill with boiling water and leave overnight to soak. In the morning wash as normal.
You can get more ideas for removing coffee and tea rings and residue from cups and mugs here.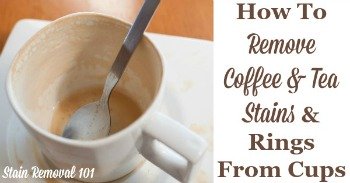 6. Deodorize your garbage disposal with lemon peels.
Whenever you use citrus fruit of any variety save and freeze the peels. Then, when your disposer needs a quick freshen up throw in a handful of frozen peels or rinds, and run cold water, and grind them up.
It will clean and freshen the blades and release a nice smell at the same time.
Get even more tips for cleaning and removing odors from your garbage disposal here.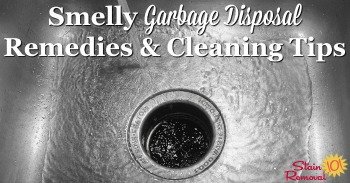 7. Clean tarnished brass and copper.
Lemon, plus salt, is a great natural copper or brass cleaner, especially for pots and pans, where you want something non-toxic for cleaning.
Just cut a lemon into wedges and dip a wedge into the salt and then rub the salty lemon against the copper or brass you want to clean. Then rinse off and dry.
You can get more homemade copper cleaner recipes here.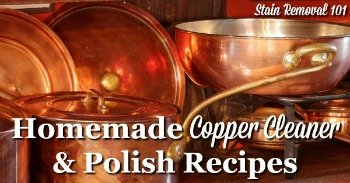 8. Clean stainless steel or chrome.
Similarly, you can clean chrome or stainless steel in the same way as the brass or copper, except you don't need to add salt.
Get more tips for cleaning chrome here.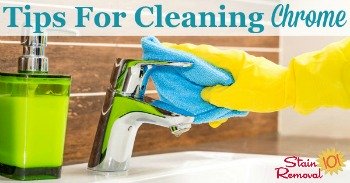 9. Clean aluminum pans.
Sometimes with use aluminum can darken, but you can brighten it back up by adding three tablespoons of lemon juice to a quart of boiling water inside the aluminum pan.
Let it boil for a couple of minutes and then take it off the heat and let the water cool. Then wash and dry like normal.
If the outside of the pan is also in need of some cleaning you can rub it with a lemon wedge, rinse and then dry.
Get more tips for cleaning aluminum here.
10. Make citrus vinegar cleaner.
Vinegar is a great cleaning product, but it doesn't have the best of smells. However, infusing the essential oils which are contained within the peels of lemon or another citrus fruit into the vinegar can both make vinegar smell much better, and also make it an even stronger cleaner since citrus essential oils are great degreasers.
To make your own lemon scented vinegar for cleaning combine three whole lemon peels, cut up into slices, and two cups of vinegar, into a sealable container and let sit for four weeks, shaking the mixture vigorously two times per week.
Then, after it has been soaking for four weeks strain the liquid and pour into a spray bottle and it's ready to use!
You can get even more instructions for making this homemade cleaning vinegar here.
11. Remove berry stains.
Lemon juice is an excellent natural berry stain remover, both for clothes (if you catch the stain quickly), and also on your hands if they get stained with berries as well.
For clothing, use lemon juice as a pretreater, let it sit for several minutes, and then wash as normal. Be sure to confirm stains are gone before placing the item in the dryer.
Find even more berry stain removal tips here.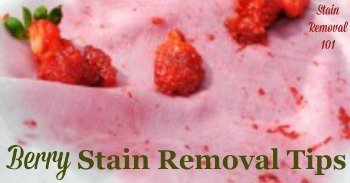 12. Remove garlic and onion odor from hands.
Lemon juice is also a great way to remove the smell of these pungent foods from hands after you've chopped them.
Rinse your hands with lemon juice (make sure you don't have any paper cuts!) and the odor is gone, and the more pleasant smell of lemon remains.
Here are more tips for getting rid of onion smell on hands.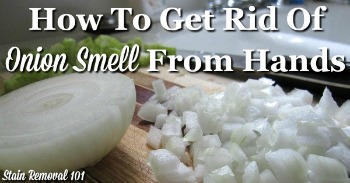 13. Remove mildew stains from clothes.
If you've accidentally left clothes in your washing machine, or otherwise kept fabric damp for so long you actually see small black mildew dots on them, not just have a stinky smell, pretreat the spots with a paste of lemon juice and salt and place the fabric in the sun to dry. Then, wash as normal.
Be sure the stain is completely gone before placing in the dryer. You may need to repeat the process for extreme cases or stubborn stains.
You can get more tips for removing mildew stains here.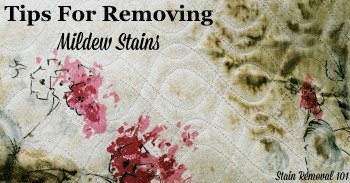 14. Remove underarm stains.
If you've got fresh perspiration stains on clothing you can remove them with lemon juice just as you can with vinegar.
You use a similar method as described in this article about laundry uses for vinegar. It works for the same reason as with vinegar, the acidity of lemon juice.
Get more tips for removing perspiration stains here.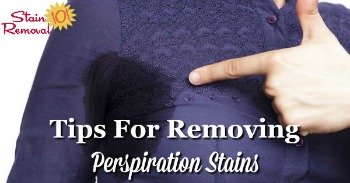 15. Whiten linens without chlorine bleach.
Finally, lemon juice is a great non-bleach whitener and brightener for delicate fabrics and linens.
It can lighten dyes, so this works best for whitening whites, and not for colored clothing or linens.
For linens add three cups of lemon juice to a gallon of water and let the linens soak for three hours. Then, wring them out, and let dry in the sun for naturally whiter whites.
As you may have noticed, several of the tips suggest using lemon juice in conjunction with sunlight for the best results. You can find out more here about how sunlight aids with cleaning and stain removal.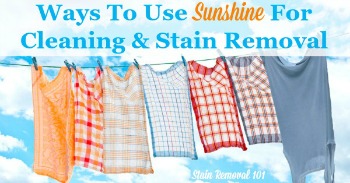 More Lemon Uses From Around The Site
Here are the tips and uses submitted so far:
Search This Site
More Tips From Taylor:
Further, here's my article about uses of lemon juice around your home.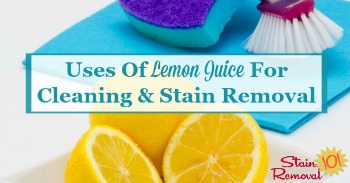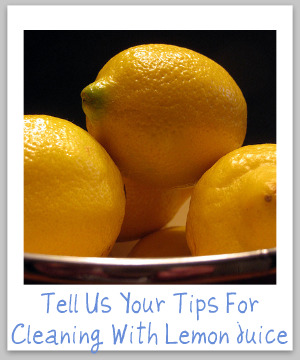 Because lemon juice is generally readily available in most homes, and it has such a pleasant smell it is quite a popular ingredient in many homemade cleaners.
In addition, those concerned about harsh chemicals in their home and in the environment have lemon juice as a favorite homemade cleaning supply because it is natural and contains no harsh chemicals.
Finally, lemon juice is generally inexpensive so who wouldn't want to use lemon juice for cleaning?
If you use homemade cleaner recipes using lemon juice, or you use it for laundry or other stain removal, share your tips and recipes below so we can all benefit.
What Are Your Tips For Cleaning With Lemon Juice?
Making and using your own cleaning products is becoming quite popular. One of the most common homemade cleaning supplies is lemon juice.

How do you use lemon juice around your home for cleaning or stain removal?

You can also share your recipes for homemade cleaning solutions which feature lemon juice here.
Second photo by Katerha
Thanks For Visiting My Website: Grab Your Free Gift!

Hi, I'm Taylor, a busy mom with 3 kids, so I have lots of hands on experience with house cleaning, laundry and my fair share of spots, spills and other messy catastrophes. Thanks for visiting my site.
I update the website all the time with tips, tutorials, cleaning recipes, reviews of products from readers like you, and tests I've done on various cleaners, removers and laundry supplies.
I'd love to give you a gift! When you subscribe to my free weekly newsletter you will receive a free printable laundry stain removal chart that you can reference as needed.
I hope you enjoy this gift, and stop by again soon!
Related Pages You May Enjoy
100's Of Stain Removal Tips & Tricks
Go From Tips For Cleaning With Lemon Juice To Home Page
CAUTION: This website is provided for informational purposes only. It is provided as is, without warranties or guarantees. Some stains and messes just won't come out, and are permanent. Further, some cleaning methods can harm your item, so if what you want to clean or launder is sentimental or expensive call a professional. See disclaimer of liability for more information.