Getting Rid Of Coffee And Tea Stain Rings In Mugs

Here are tips for how to remove coffee and tea rings in mugs and cups.
If you love a daily cup of tea or coffee you have probably also experienced a tea or coffee ring in your favorite mug that just wouldn't come out with normal dish washing.
Those rings of coffee or tea stains can build up over time leaving your mugs looking dingy and dirty.
You want, if at all possible, to use natural products to remove this build up from your mug or cup because you use it to drink, so you don't want to be drinking chemical residue at the same time.
Some suggested products you can use include:
salt
and
baking soda
.
The reason is that either salt or baking soda can be made into a slightly abrasive paste by adding a small amount of water, and then rubbing the paste onto the stains either with a rag, or a
toothbrush
if your hands can't fit inside the mug well.
The gentle abrasive action will help remove those rings without adding any chemical residues that might be harmful if consumed later with your next cup of coffee or tea.
Do you have a coffee or tea stain removal tip to share? If so,
submit your coffee stain removal tip here
, or your
tea stain removal tip here
.
You can also
share your house cleaning tips here
.

Top photo by odolphie, from Flickr CC
Join in and write your own page! It's easy to do. How? Simply click here to return to tea stain.
Liquid Dishwasher Detergent Works For Me
by Michelle
Michelle says:
Put a drop of liquid dishwasher detergent in the stained cup and let it soak for a few minutes.
Then it will be good as new!
Taylor says:
Thanks Michelle.
There are actually lots of uses for dishwasher detergent besides just adding to your dishwasher.
I've collected
quite a few uses here
if you're interested in checking it out.
Join in and write your own page! It's easy to do. How? Simply click here to return to tea stain.
Soak In Bleach Solution To Get Out The Stains
by Faye Erickson
(Woodbury, MN, USA)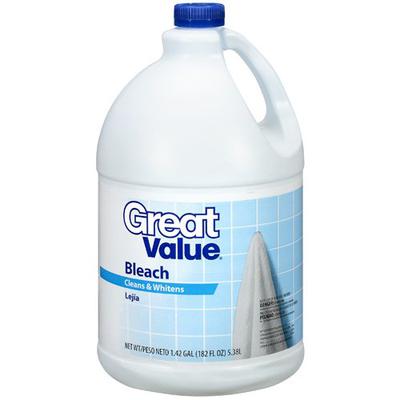 Faye says:
I use a
bleach
and hot water solution.
Put the cups into the sink. Then put a few squirts of bleach into the bottom of the cup, then add hot water to the top of the cup.
Let it sit for a few minutes before dumping the solution down the drain.
If you don't want to do a lot of cups at one time pour the solution from the full cup into an empty stained cup. From one to the other, reusing the solution over and over again.
Taylor says:
Thanks for your recommendation Faye.
There are lots of
uses of bleach
for cleaning and stain removal. Check out the link for even more ideas for how to use this product in your home.
Join in and write your own page! It's easy to do. How? Simply click here to return to tea stain.
I Use Baby Bottle Sterilising Solution For The Worst Stains
by Cath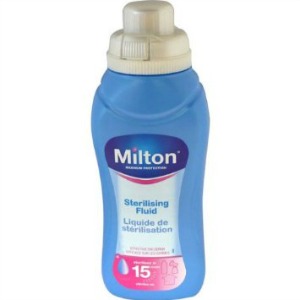 Cath says:
I use baby bottle sterilising solution (like Milton's), since it takes the worst stains off.
I just assume if it's ok for baby bottles it has to be ok for adult things ...
Taylor says:
Thanks for this tip Cath. I have to say I hadn't heard of any product for sterilizing baby bottles and other baby stuff before, beside the machine like sterilizers.
Does anyone else use this product for either their baby bottles or another cleaning use around your home? I'd love to hear about it if you do!
Join in and write your own page! It's easy to do. How? Simply click here to return to tea stain.
I Just Use Dish Soap For These Rings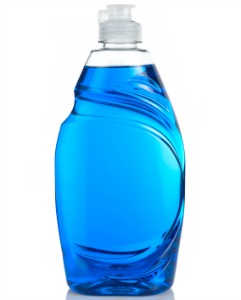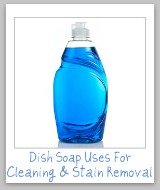 Quite a few readers shared tips with me about how they just use dish soap to get rid of these marks.
Here are some of the comments I received:
Sandy says:
I keep sponge on near the sink and squirt of Dawn, ring all gone--whether it be coffee, tea, or whatever.
Angie says:
Regular dishwashing detergent works for me. I may just rub harder and repeat the process for stubborn stains.
Join in and write your own page! It's easy to do. How? Simply click here to return to tea stain.
The Abrasive Action Of Bottle Brush Normally Works For Me
by MBGS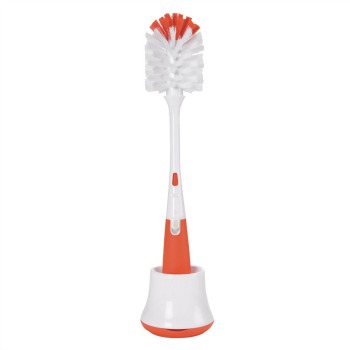 I usually use a bottle brush.

If necessary I'll add some baking soda and a few drops of Dawn, but the abrasive action of a bottle brush generally does the trick on its own.


Similar Method: Use An Abrasive Scouring Pad
Another reader, Cherie, told me about a similar method that she uses for removing these stains.
Cherie said, "I've been drinking tea/coffee/coco for over 50 years now and the best way to clean the cup is to use a scotch green scrubber after every use. Then your cups never get stained.
If you have company and can't get right to cleaning your mugs and cups the scrubber will take care of it.
As for my china cups those get hand washed immediately after use -even if I have company so they never stain."
Join in and write your own page! It's easy to do. How? Simply click here to return to tea stain.
Remove Tea Rings With Effervescent Denture Cleanser Tablets
by YeOldBat
(East Northport, NY)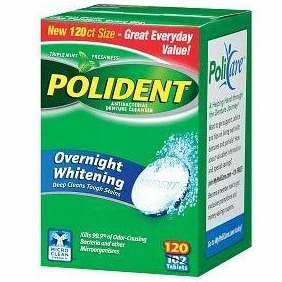 YeOldBat says:
I'm a huge tea drinker and I have dentures.
While cleaning said dentures one morning I noticed the dreaded "tea ring" stain already beginning to form in my mug.
I pulled a used mug from my dishwasher, filled it with scalding hot tap water, and dropped in a Polident tablet.
When the water cooled, I rinsed the inside of the mug with a sponge making sure to get into the bottom corners, and voila! A sparkling clean mug!
My daughter now picks up denture cleaner (she has her own teeth thank goodness!) for her tea and coffee stains.
Quite frankly,
bleach
will do the same thing, and it's cheaper, but I HATE the smell! :)
Taylor says: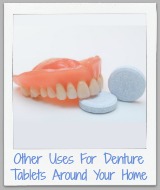 Thanks for this tip!
Denture cleansers that dissolve and effervesce in water can actually be used to clean lots of things in our home, and I'd love to hear if others have
more denture cleanser uses
. Click the link if you've got more ways to use this product, and I'll add them to the site!
A similar effervescing product that sometimes is used for cleaning is Alka Seltzer. Here's an article with
uses for Alka Seltzer for cleaning items in your home
.
Related Pages You May Enjoy
House Cleaning Tips & Tricks For Busy Moms
Guide For How To Remove Coffee Stains
Tea Stain Removal Guide
How To Remove Coffee & Tea Rings From Mugs & Cups To Home Page
There are affiliate links on this page, and if you purchase a product through them I receive a small commission. Purchasing through my links costs you nothing extra, but helps support the free information provided on this site and my family. To learn more please see my product review disclosure statement.
Thanks For Visiting My Website: Grab Your Free Gift!

Hi, I'm Taylor, a busy mom with 3 kids, so I have lots of hands on experience with house cleaning, laundry and my fair share of spots, spills and other messy catastrophes. Thanks for visiting my site.
I update the website all the time with tips, tutorials, cleaning recipes, reviews of products from readers like you, and tests I've done on various cleaners, removers and laundry supplies.
I'd love to give you a gift! When you subscribe to my free weekly newsletter you will receive a free printable laundry stain removal chart that you can reference as needed.
I hope you enjoy this gift, and stop by again soon!
CAUTION: This website is provided for informational purposes only. It is provided as is, without warranties or guarantees. Some stains and messes just won't come out, and are permanent. Further, some cleaning methods can harm your item, so if what you want to clean or launder is sentimental or expensive call a professional. See disclaimer of liability for more information.