Uses Of Salt For Cleaning & More
Share Yours & Read Others
Here is a round up of the DIY, frugal and natural uses of salt for cleaning, stain removal and more in your home.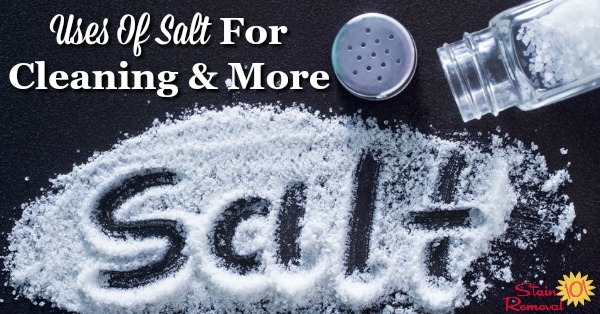 Just about everyone has salt in their kitchen, and we all know it can be used for seasoning food. But there are a lot of additional ways to use this common household item around your home, and I've listed quite a few below.
What Type Of Salt Should You Use?
There are a lot of types of salt, and some of them can be quite expensive. But for the majority of the uses listed below in this article I'm suggesting that you use table salt. This stuff is quite inexpensive, so these uses are typically quite frugal as well!
If a different type of salt is required for a specific use I will make sure that's clear.
What Makes Salt So Useful
Before I begin listing the uses I will also briefly explain why salt is such an awesome and useful item in your home.
Along with being frugal, it is also naturally occurring, so using it can be eco-friendly.
When salt is undissolved its crystalline nature makes it mildly abrasive. That means it is great for scrubbing things without causing scratches.
In addition, salt crystals have absorbent properties so they are often used to soak up certain types of spills.
And finally, when salt is dissolved in water it creates a saline solution which works well for breaking down protein based stains.
15 Salt Uses Around Your Home
1. Clean artificial flowers.
If your artificial flower arrangements are getting dusty get a cup of salt and put it in a paper bag, and then add your flowers. Shake the closed bag gently.
The salt will loosen and remove the dust, and when you pull the flowers back out, and shake off the salt, they'll be ready to display again.
You can learn more about this cleaning tip here.
2. Clean gunk and grime from vases of old flowers.
If you prefer live flowers to artificial you can still find a use for salt, which is to help you clean the grime that seems to create a ring around the inside of the vase after your live flowers get old.
Reach into the vase with a damp sponge or cloth sprinkled with salt, and scrub at the ring. Or if you can't reach in your hand fill the vase with a strong solution of salt water and shake, and also scrub if possible with a bottle brush, and it will help you remove the ring.
(Alternatively, you can also use Alka Seltzer tablets to help you clean inside vases. Find out more at the link.)
3. Remove tea and coffee stains inside cups and mugs.
If your favorite mug has what feels like permanent residue from your morning cup of tea or coffee use the abrasive qualities of salt to remove it.
Put a small amount of salt onto a sponge or dishcloth and rub at the stains in small circles and watch them disappear. Rinse and dry before using again.
You can get more ideas for removing coffee and tea rings and residue from cups and mugs here.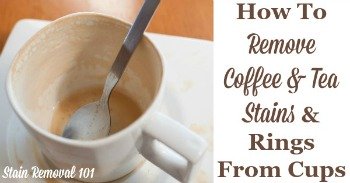 4. Clean greasy cast iron skillets.
Salt is great for cleaning cast iron without removing the seasoning.
Take some table salt, or kosher salt if you prefer since it is a bit coarser, and sprinkle into the hot pan. It will help absorb grease, and then once the pan is cool enough scrape out the grease and much of the debris in the bottom of the pan.
Then, wash like normal (I do not personally suggest ever using dish soap on a cast iron skillet unless it is thoroughly seasoned, like for years!)
Find out more here: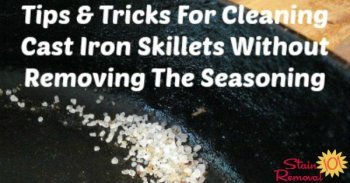 5. Set color in bright colored towels.
When you get a new set of colored towels wash them the first two to three times with a cup of salt added. It will help set the dye so they won't fade as quickly in the future.
6. Create homemade brass or copper polish.
You can clean tarnished and dull brass and copper objects by creating your own polish made from equal parts salt, flour and vinegar.
Rub the paste onto the metal, then rinse with warm water and buff the objects back to their original shine.
You can check out more homemade brass cleaner recipes here.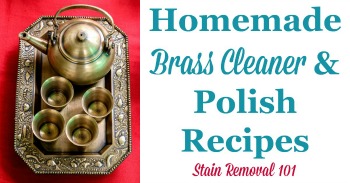 In addition, you can get more homemade copper cleaner recipes here.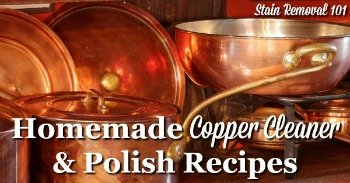 7. Freshen your garbage disposal.
If your garbage disposal develops an odor it is most likely food stuck down in the blades. Put 1/2 cup of rock salt and cold water down the drain and then turn on the disposal with the water running.
As the blades chop up the salt and it is all rinsed away by the cold water it will clean off your blades and remove your odor.
Get even more tips for cleaning and removing odors from your garbage disposal here.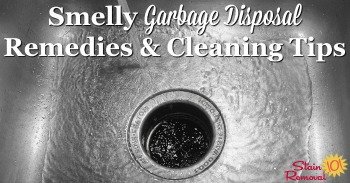 8. Clean cutting boards.
Spread some salt onto your wooden cutting board, and rub it in, using it as a mild abrasive. Then, rinse and dry the board. You can read more about how to do this in this article.
Some people like to rub the salt in with a cut lemon coated in salt, which also will help brighten a wood cutting board with the addition of the lemon juice.
You can get even more tips for cleaning cutting boards here.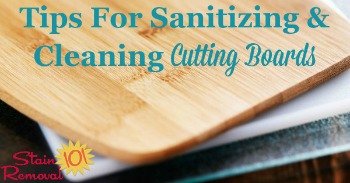 9. Kill weeds in cracks of sidewalk or walkways.
If you've got isolated weeds, such as in cracks of the sidewalk, you can kill them by making a solution of 1 cup of salt dissolved in 2 cups of boiling water. Pour this directly on the weeds and they'll die.
(Salt will kill grass in high enough concentrations so this is not suggested for use in your yard.)
You can get even more homemade weed killer recipes here.
10. Clean dirt from leafy vegetables.
Leafy vegetables can be hard to get clean, and you can find dirt and sand in many of the crevices if you don't wash carefully. Make it easier on yourself by washing them using a bath of salt water.
11. Clean up fresh oven or stovetop spills.
Salt has a very high melting point, so it is very helpful to use it when you notice immediately when something has bubbled over in your oven or on your stovetop.
While the spill is fresh and still liquid (not yet burned and hardened on) sprinkle the spill liberally with salt. This will keep whatever it is from burning hard onto the oven or stovetop.
Then, once the stove or oven is cool you can just wipe the mess away instead of having to scrub and scrape it off.
Get more tips for oven cleaning here.
12. Remove blood stains.
You can create a paste of salt and water to dab onto the blood stain, or soak the stained cloth in a saline solution of 1 tablespoon of salt to 1 cup cold water for 30 minutes to an hour.
Then, launder as normal (use cool water so you don't set the stain) and make sure the stain is completely removed before placing in the dryer.
Check out more tips for blood stain removal here.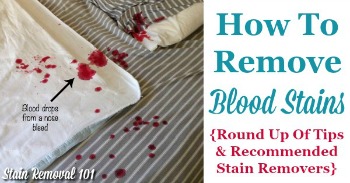 13. Remove perspiration stains.
Another protein based stain, like blood, is perspiration. The instructions for removing sweat stains with salt are the same as for removing blood stains above.
You can get more tips for removing sweat and perspiration stains here.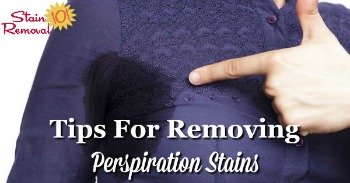 14. Clean up an egg dropped on the floor.
If you are clumsy and accidentally drop an egg on the floor or counter you can sprinkle it with salt, which helps it congeal for a quicker clean up.
Learn more about how to use salt here, for cleaning up dropped eggs.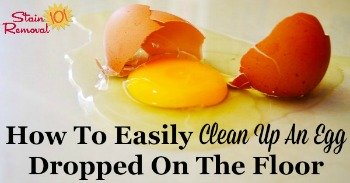 15. De-ice sidewalks and paths.
When salt is added to water it lowers the temperature at which it freezes, so sprinkling rock salt onto sidewalks and paths can help melt that ice from those surfaces making walking on them less treacherous.
In addition to these uses of salt, I've gathered more uses shared throughout the site below.
More Salt Uses From Around The Site
Here are some of the uses and tips submitted so far:
Search This Site
Additional Quick Tips Shared By Readers
I often get some great quick tips from readers, and here's one about an idea for salt.
Repurpose Salt Container Once Empty
Denice said, "When the salt container is empty, cut the top off to fit inside the ring of a mason jar. Great for pouring sugar or bulk spices."
More Tips From Taylor:
Further, here's my article about uses for salt around your home.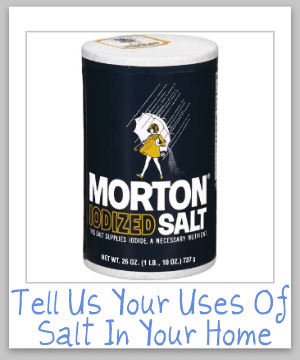 Salt is a common item found in most homes.
It is also quite inexpensive, so it is a popular ingredient in many homemade cleaners.
Obviously salt is used in cooking your food, so it is also non-toxic and safe for the environment and your health when used for cleaning and stain removal.
So, do you use salt as an ingredient in any of your homemade cleaning solutions, or as a part of your method for removing any stains?
If so, submit your cleaning recipes and tips below for how you use salt to help clean your home.
Finally, a helpful book about all the ways salt can be used around your home is Solve It with Salt: 110 Surprising and Ingenious Household Uses for Table Salt. Unfortunately it is out of print, but you can check in Amazon's used book section to try to get a used copy if you're interested.
What Are Your Uses Of Salt Around Your Home?
Making and using your own cleaning products is becoming quite popular. One of the most common homemade cleaning supplies is salt.

How do you use salt around your home for cleaning or stain removal?

You can also share your recipes for homemade cleaning solutions which feature salt here.
Submitted Tips For Salt Uses Around Your Home
Click the links below to see salt uses for around the home which have already been submitted by others.

Feel free to comment on any of these submissions to tell us whether your uses of salt are similar, or about any other thoughts you have.
Thanks For Visiting My Website: Grab Your Free Gift!

Hi, I'm Taylor, a busy mom with 3 kids, so I have lots of hands on experience with house cleaning, laundry and my fair share of spots, spills and other messy catastrophes. Thanks for visiting my site.
I update the website all the time with tips, tutorials, cleaning recipes, reviews of products from readers like you, and tests I've done on various cleaners, removers and laundry supplies.
I'd love to give you a gift! When you subscribe to my free weekly newsletter you will receive a free printable laundry stain removal chart that you can reference as needed.
I hope you enjoy this gift, and stop by again soon!
Related Pages You May Enjoy
Lots Of Homemade Cleaners Recipes
Stain Removal Tips & Tricks For Busy Moms
Go From Uses Of Salt Around Your Home To Home Page
There are affiliate links on this page, and if you purchase a product through them I receive a small commission. Purchasing through my links costs you nothing extra, but helps support the free information provided on this site and my family. To learn more please see my product review disclosure statement.
CAUTION: This website is provided for informational purposes only. It is provided as is, without warranties or guarantees. Some stains and messes just won't come out, and are permanent. Further, some cleaning methods can harm your item, so if what you want to clean or launder is sentimental or expensive call a professional. See disclaimer of liability for more information.