Dish Soap Uses For Making
Homemade Cleaners & Stain Removers
Did you know that there are many dish soap uses for homemade cleaners and stain removers? Whether you use a natural soap or otherwise this common low cost ingredient can clean lots of stuff in your home besides just dishes.
With a need to save money and also for environmental reasons, more and more people are making their own cleaning products. However, when you are new to making your own products you can feel a bit nervous about which recipes and uses will actually work or not. This is your chance to share your knowledge if you have a great tip or use for this product, or get some tips of your own to make sure you get the best results possible.
Here are the uses and recipes utilizing this common ingredient that have been submitted so far. Please note that if you're looking for the greenest ways to clean all of these recipes can use natural soap, such as liquid castile soap, instead of soaps derived from petroleum based products.
I've also separated out the uses into homemade cleaners recipes, from its uses as a stain remover.
Dish Soap Uses For Homemade Cleaners Recipes
Dish Soap Uses For Stain Removal
Below are recipes which use dishwashing liquid as at least one of the ingredients for removing various types of stains.
Just For Fun Dish Soap Uses
You can also use dish soap in some fun ways, and here's one on the site:
Search This Site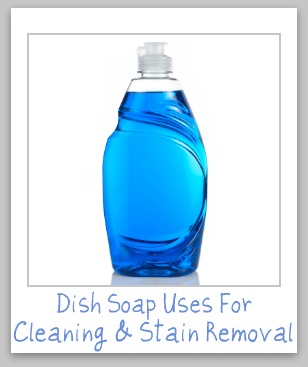 Just about everyone has dishwashing liquid in their home, don't they?
Well, soap is soap so this stuff, although sold to us to clean pots and pans and other dishes can just as easily clean other things in our homes too.
What is nice about this cleaning product is that it is typically pretty pH neutral (around 7.0 on the pH scale). This is done to keep your hands from getting too hurt by the soap, but it also has the benefit of making the cleaner very gentle.
There are lots of homemade cleaners recipes out there which use dish soap as one of the ingredients, and I've collected some of them above, but I know there are even more of them out there.
If you whip up your own cleaning concoctions with this type of product please share your recipes with me, so I can learn about even more amazing dish soap uses.
How Do You Use Dish Soap For Cleaning, Laundry Or Stain Removal?
Making and using your own cleaning supplies is becoming quite popular. One of the most common homemade cleaning supplies is dishwashing liquid or soap.

I'd love for you to tell me how you use this common product found in virtually everyone's home for laundry, cleaning or stain removal.

You can also share your recipes for homemade cleaning solutions which feature this common ingredient here.
Submitted Dish Soap Uses For Cleaning, Laundry & Stain Removal
Click the links below to see tips and recipes already submitted for using this common product around your home for cleaning, laundry and/or stain removal.

Feel free to comment on any of these submissions to tell me whether you use dishwashing liquid in a similar way, or about any other thoughts you have.

Homemade Car Wash Soap Recipes
You can make your own homemade car wash soap with this recipe: Ingredients: 1/2 cup dishwashing liquid 1/2 cup baking soda 1 gallon …
Thanks For Visiting My Website: Grab Your Free Gift!

Hi, I'm Taylor, a busy mom with 3 kids, so I have lots of hands on experience with house cleaning, laundry and my fair share of spots, spills and other messy catastrophes. Thanks for visiting my site.
I update the website all the time with tips, tutorials, cleaning recipes, reviews of products from readers like you, and tests I've done on various cleaners, removers and laundry supplies.
I'd love to give you a gift! When you subscribe to my free weekly newsletter you will receive a free printable laundry stain removal chart that you can reference as needed.
I hope you enjoy this gift, and stop by again soon!
Related Pages You May Enjoy
Go From Dish Soap Uses For Cleaning & Stain Removal To Home Page
CAUTION: This website is provided for informational purposes only. It is provided as is, without warranties or guarantees. Some stains and messes just won't come out, and are permanent. Further, some cleaning methods can harm your item, so if what you want to clean or launder is sentimental or expensive call a professional. See disclaimer of liability for more information.