Uses Of Glycerin For Cleaning & Stain Removal
Here is a round up of tips for the uses of glycerin for cleaning, laundry and stain removal, plus some other fun uses as well.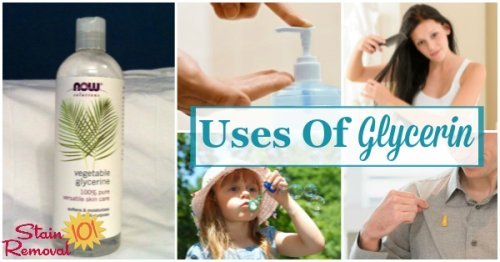 Glycerin is a natural byproduct of soap making, and can come from vegetable or animal sources.
It is a natural solvent, which makes it good for cleaning and stain removal, and in addition, it has moisturizing properties that make it a natural ingredient in many beauty recipes as well.
If you'd like to make more of your own cleaners and beauty products you should definitely have some glycerin on hand.
Here are 5 ways you can use it around your home, for cleaning, beauty and for fun.
Type Of Glycerin To Use
All of the uses I've listed below use liquid glycerin (also sometimes spelled glycerine).
I suggest you get vegetable glycerin, which is a colorless thick liquid.
Remove Mustard Stains
Glycerin is a type of alcohol, which can both dissolve in other alcohols and in water. This property makes it an excellent solvent, and it works very well on several types of stains.
One of the types of spots it works especially well on, and which is often typically hard to remove, is mustard. The glycerin actually loosens the stain from the fabric.
To use it in this way dab some glycerin onto the stain, and leave it on for about an hour. Once that time has passed use a clean white cloth or paper towel and blot at the stain to remove it, and the excess glycerin.
This works especially well on dried on mustard stains that don't seem to budge with a more general stain pretreater.
Once the stain is removed wash as normal.
You can get even more tips for removing mustard stains here.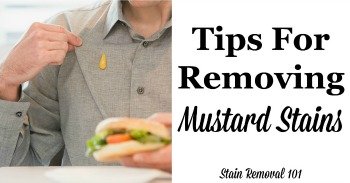 Remove Tar Stains
Another stain that is incredibly difficult to remove is tar, and glycerin again comes to the rescue.
The solvent properties of the glycerin help to loosen the sticky tar in ways that other stain removers just can't.
Depending on how large the tar spots are you may need to apply the glycerin a few times, but you follow the same method for removal as described above for mustard stain removal.
Homemade Bubble Blowing Solution
Glycerin doesn't just have practical uses, but some fun ones as well.
You can use it, along with several other ingredients, to make homemade bubble blowing solution for the kids to play with in the summer.
To make a batch combine the following ingredients in a closeable container:
4 cups water
4 tablespoons dish soap
2.5 tablespoons glycerin
Once you've mixed up the solution you and your kids can dip bubble wands in it (or refill older bubble solution containers) and have great fun blowing bubbles without worrying too much about the excessive cost if you spill the contents of the bottle.
Make Liquid Hand Soap
Do you have lots of bars of soap, but prefer liquid soap? Or do you have lots of slivers of almost completely used soap bars and want to find a way to use them?
If you answered yes to either question a small amount of glycerin can help you transform those bars of soap into liquid hand soap. Here are the ingredients to make about three bottles of liquid soap:
1/2 cup soap flakes (grate the bar soap using a cheese grater or your food processor)
5 cups of water
1/2 tablespoon of glycerin
Add the ingredients to a large pot, and heat over low to medium heat until the soap flakes melt, stirring to combine. This happens quickly, typically within 1-2 minutes.
Once the melted soap mixture is the right consistency for you, let it cool completely and then pour the now liquid soap into containers using a funnel.
However, if it seems a bit thin leave the heat on low for a little longer to evaporate out a bit more liquid until it reaches the consistency for liquid soap that you desire.
Bar soap already has some glycerin in it, and therefore it is possible to make liquid soap without adding more.
However, that liquid soap where no additional glycerin is added has a tendency to clump and reform into a solid.
What the added glycerin does is help the liquid soap stay liquid, and make it have a silkier smoother consistency.
You can get more ideas for ways to use bar soap here.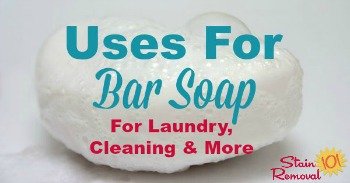 Homemade Detangling Spray
Finally, if you've got any long haired kids at home you know how difficult it can be to brush through their tangled hair. So, detangling sprays come to the rescue.
You can make an all-natural homemade version using glycerin and a few other ingredients. Here's what you'll need:
3/4 cup water
1 ounce glycerin
1 ounce Vitamin E oil (referral link)
10 drops essential oil (suggested varieties include lavender, geranium or something citrusy, such as grapefruit or sweet orange)
8 ounce spray bottle
Combine the ingredients into the spray bottle and shake to mix, and then apply to hair as you would any other detangling spray.
In addition to these uses of glycerin, I've gathered more uses shared throughout the site below.
Other Uses For Glycerin From Around The Site
Here are some of the best tips and uses submitted so far:
Search This Site
Other Readers Suggestions For Glycerin Uses
Bath Salts
Karen wrote in and said:
"I have been making my own bath salts for years. I use Epsom salt, glycerin, essential oil (usually lavender) and special soap tint. Much cheaper then store bought salts, plus you can make any scent you prefer."
Handling Paper
Glennis wrote in and said:
"I put a small amount (about 1/2 a teaspoon) in the palm of my hand and spread it over the tips of my fingers. Great if you need to collate pages, county money, etc."
Even More Ideas & Tips
Further, here's my article about what glycerin is used for.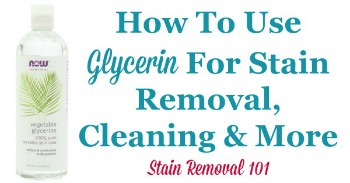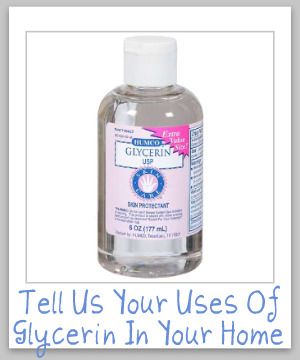 Glycerin (also spelled glycerine) is a naturally occuring product that comes from vegetable oil and fat.
Typically glycerin is found in lotions and creams, among other beauty products, because of its skin softening qualities.
However, glycerin can also be used as a part of certain homemade cleaners and as a stain remover.
If you use homemade cleaning or stain removal recipes containing glyerin I would like to hear about them here, so click this link to get to the form to share.
Soapmaking Books Using Glycerin
In addition, one of the big glycerin uses is to make melt and pour soaps. Here are some recommended soapmaking books where they use glycerin.
What Are Your Uses Of Glycerin Around Your Home?
Making and using your own cleaning products is becoming quite popular. One of the most common homemade cleaning supplies is glycerin.

How do you use glycerin around your home for cleaning or stain removal?

You can also share your recipes for homemade cleaning solutions which feature glycerin here.
Thanks For Visiting My Website: Grab Your Free Gift!

Hi, I'm Taylor, a busy mom with 3 kids, so I have lots of hands on experience with house cleaning, laundry and my fair share of spots, spills and other messy catastrophes. Thanks for visiting my site.
I update the website all the time with tips, tutorials, cleaning recipes, reviews of products from readers like you, and tests I've done on various cleaners, removers and laundry supplies.
I'd love to give you a gift! When you subscribe to my free weekly newsletter you will receive a free printable laundry stain removal chart that you can reference as needed.
I hope you enjoy this gift, and stop by again soon!
Related Pages You May Enjoy
Lots Of Homemade Cleaners Recipes
Go From Uses Of Glycerin To Home Page
CAUTION: This website is provided for informational purposes only. It is provided as is, without warranties or guarantees. Some stains and messes just won't come out, and are permanent. Further, some cleaning methods can harm your item, so if what you want to clean or launder is sentimental or expensive call a professional. See disclaimer of liability for more information.