Find Out What Is Glycerin Used For In Cleaning And Stain Removal Here
Ever wondered what is glycerin used for?
I used to also, until I found out its uses for cleaning and stain removal in my home and yours.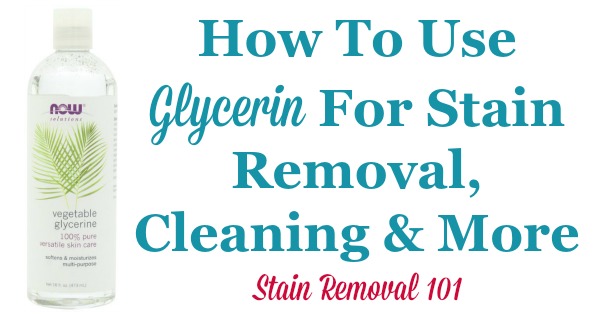 First of all, some of you may be wondering what glycerin is, in the first place.
Glycerin is a natural by product of soap making, and comes from generally vegetable or animal sources.
Typically, when discussing natural soaps, we tend to use vegetable glycerin, instead of glycerin which comes from animals.
One of the first uses for glycerin was to make nitroglycerin, which is used to make dynamite. Of course, to use glycerin in this way additional processing and chemical reactions need to take place and the glycerin you buy for home use is not explosive, and is safe to use in your home.
Glycerin, in its pure form, is called "glycerol," meaning it is a type of alcohol. It is a colorless thick liquid, which is hygroscopic, meaning it absorbs moisture from the air.
As a type of alcohol it is a very good solvent, because many things dissolve into it easier than they do into either water or even rubbing alcohol.
But you may still be wondering, "what is glycerin used for?" now that you know what it is.
Using Glycerin In Stain Removal
One of the answers to the question, "what is glycerin used for?", is that it is used for stain removal.
Glycerin's quality as a solvent, along with it being hygroscopic, make it good for cleaning and stain removal. These qualities allow gylcerin to soften hardened and set stains, so that even old stains can be more easily removed.
Here are some examples of instructions on this site which have suggested using glycerin for stain removal:
Another Glycerin Use Is As Part Of Homemade Cleaning Products
Glycerin is not only useful for removing stains, but also as part of certain homemade cleaning products.
For example, glycerin is used in several homemade laundry detergent recipes.
Glycerin Can Be Used To Make Melt And Pour Homemade Soaps
One of the best ways to use glycerin in your home, for cleaning, is to make your own homemade soaps with it.
These homemade soaps, known as melt and pour soaps, can be quite beautiful and also very moisturizing for your skin.
In fact, one of the most common uses for glycerin in commercial products is in lotions and other beatuty products because glycerin helps moisturize and soften your skin.
I recently began reading the book Soapmaking the Natural Way, which provides 45 melt and pour recipes using natural ingredients, including herbs, flowers and essential oils.
This is a great introduction to using vegetable based glycerin for making soaps. The pictures are exquisite, and it has inspired me to try a couple recipes to make as gifts for my friends and family.
Where To Buy Glycerin
Glycerin is available in many stores, including health food stores and craft stores, which sell it for soap making.
It is also available on the Internet, such as on Amazon.com.
What Are Your Uses Of Glycerin Around Your Home?
I have provided several answers to the question, "what is glycerin used for?" However, I am sure there are even more ways to use glycerin for cleaning, stain removal, soap making and in other homemade cleaning solutions.
So, if you have a recipe for a homemade cleaner using glycerin, or had success removing a certain stain with glycerin, or any other use, please share your uses of glycerin here, or read even more uses I've already collected, such as for beauty and fun.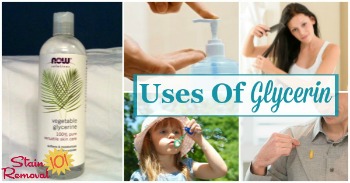 Now vegetable glycerin photo courtesy of Amazon.com
There are affiliate links on this page, and if you purchase a product through them I receive a small commission. Purchasing through my links costs you nothing extra, but helps support the free information provided on this site and my family. To learn more please see my product review disclosure statement.
Thanks For Visiting My Website: Grab Your Free Gift!

Hi, I'm Taylor, a busy mom with 3 kids, so I have lots of hands on experience with house cleaning, laundry and my fair share of spots, spills and other messy catastrophes. Thanks for visiting my site.
I update the website all the time with tips, tutorials, cleaning recipes, reviews of products from readers like you, and tests I've done on various cleaners, removers and laundry supplies.
I'd love to give you a gift! When you subscribe to my free weekly newsletter you will receive a free printable laundry stain removal chart that you can reference as needed.
I hope you enjoy this gift, and stop by again soon!
Related Pages You May Enjoy
Homemade Cleaning Products Recipes
Go From What Is Glycerin Used For In Your Home To Home Page
CAUTION: This website is provided for informational purposes only. It is provided as is, without warranties or guarantees. Some stains and messes just won't come out, and are permanent. Further, some cleaning methods can harm your item, so if what you want to clean or launder is sentimental or expensive call a professional. See disclaimer of liability for more information.