Uses For Coca Cola Around Your Home
Share Your Tips And Read Others
Here is a round up of some suprising uses for Coca Cola around your home, for cleaning, stain removal and more.

With a need to save money, for a feeling of self-sufficiency, or just out of curiosity many people are trying to use normal items in their home to accomplish even more tasks then their normal use. One of those products is the drink, Coke.
What Is It About Carbonated Soda That Allows It To Be Used For Cleaning?
I also tried to figure out what is is about Coke that allows it to be a stain remover and cleaner. My research has indicated that it is the phosphoric acid contained in it which is the active cleaning ingredient.
Phosphoric acid is not only in Coke, and many other soft drinks, but also a component of toilet bowl cleaners, other bathroom cleaners for tubs and tiles, and in many lime descalers and hard water removers.
It is also found in denture cleaners and certain metal polishes.
Therefore, it's the low pH of the product that makes it work so well. (You can read more here about how the pH of the cleaner impacts what it can clean.)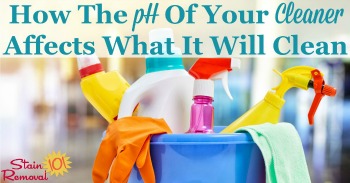 Kind of makes you wonder about whether it's a good idea to drink that stuff, huh?
Uses For Coke Or Other Sodas
Here are the best tips and uses submitted so far:
Search This Site
What If The Soda Stains The Surface Or Fabric You're Trying To Clean?
Of course this drink, along with the phosphoric acid, also contains other ingredients, including dyes that may themselves cause stains. Here is my article on removing soda stains, with tips and tricks for removing these types of stains from clothing, upholstery and carpet if a stain results in use.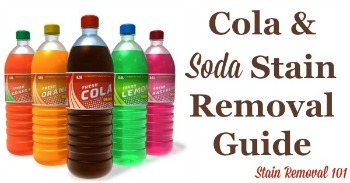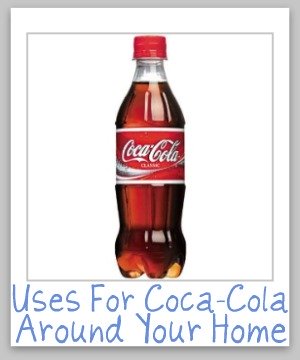 Normally we think of Coca-Cola as something to drink. However, here on this site I like to find unusual uses for common objects, especially as it relates to cleaning and stain removal.
It turns out I've gotten a couple of good tips already for how people use Coke not just as a beverage, but for other uses around their home.
That got me thinking -- are there even more uses for Coke that other people, like you, might be able to share?
I would love to hear your ideas, so share your tips below. You can skip down here to share your tips right now.
What Are Your Uses For Coke And Cola Around Your Home?
I'm always looking for more helpful household hints, and unusual uses for everyday items in our homes.

Share your tips and ideas below. Remember, photographs are not required, but they are encouraged, especially if it helps everyone understand your use or tip.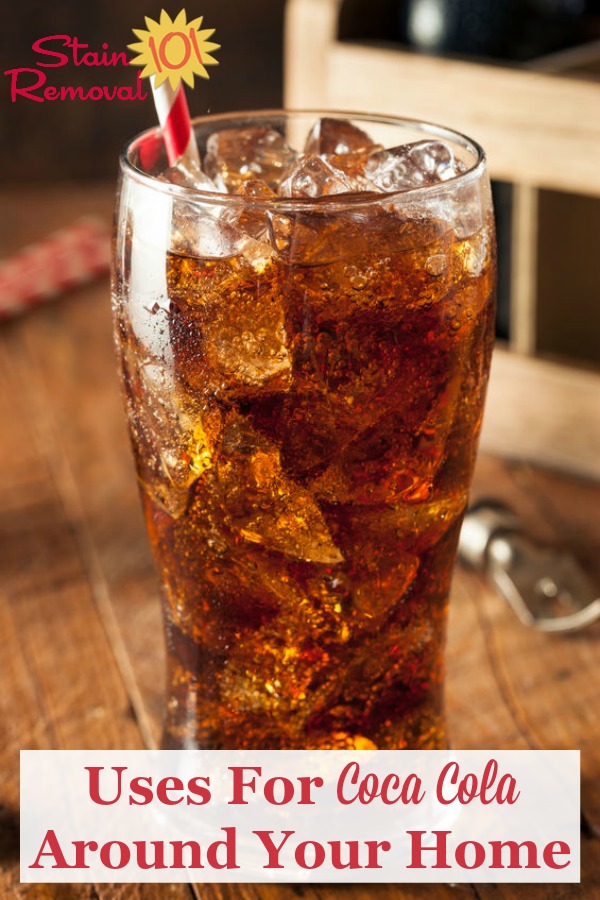 Thanks For Visiting My Website: Grab Your Free Gift!

Hi, I'm Taylor, a busy mom with 3 kids, so I have lots of hands on experience with house cleaning, laundry and my fair share of spots, spills and other messy catastrophes. Thanks for visiting my site.
I update the website all the time with tips, tutorials, cleaning recipes, reviews of products from readers like you, and tests I've done on various cleaners, removers and laundry supplies.
I'd love to give you a gift! When you subscribe to my free weekly newsletter you will receive a free printable laundry stain removal chart that you can reference as needed.
I hope you enjoy this gift, and stop by again soon!
Related Pages You May Enjoy
Helpful Household Hints Around Your Home
Go From Uses For Coca Cola Around Your Home To Home Page
CAUTION: This website is provided for informational purposes only. It is provided as is, without warranties or guarantees. Some stains and messes just won't come out, and are permanent. Further, some cleaning methods can harm your item, so if what you want to clean or launder is sentimental or expensive call a professional. See disclaimer of liability for more information.