How To Remove A Tea Stain
Share Your Tips & Read Others
Here is a round up of tips for how to remove a tea stain from many types of surfaces, including fibers and hard surfaces, as well as stain remover recommendations and reviews.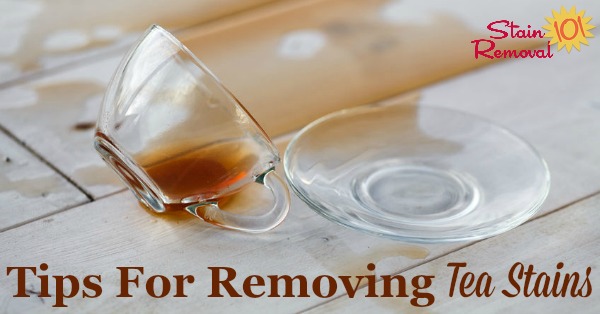 Stains are a fact of life, but fortunately other people have been in your shoes before.
This is your chance to share your success stories for removing these stains, or if you need help of your own, get some ideas for how to clean up your stain.
In addition, since this is such a common stain I've also written my own tea stain removal guide that you can reference, with it's step by step instructions.
Check out the tips already submitted below for some ideas.
Search This Site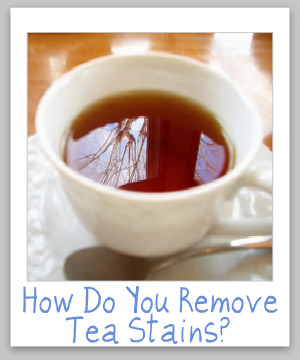 Tea, whether it be black tea, green tea, or white tea, is a delicious beverage, served either hot or cold, that people all over the world have enjoyed for centuries.
At the same time that we have enjoyed it, we've also over the years accidentally spilled it, causing stains on our clothes, upholstery, carpet, or other parts of our home.
In addition, that favorite cup and saucer for tea, over time, can become stained with the tea itself.
Tell us below how you removed those stains caused by tea from your clothes or other items in your home.
Be sure to also tell us what type of tea you removed (i.e., black or green, etc.), and what it had in it, such as whether or not the tea had cream in it, because these types of things impact how the stain must be removed.
Do You Have A Tip For How To Remove A Tea Stain?
Do you have any great tips for removing tea stains from clothes, upholstery, carpet, the bottom of your tea mug, or anywhere else to share?

Feel free to share instructions for how you removed the stain, and what homemade or commercial supplies or stain removers you used to accomplish it.

In addition, you can also share what did not work for you to allow us to steer clear of those pitfalls.
Other Tips Submitted About Removing A Tea Stain
Click on the links below to see other tips about removing tea stains.


How To Remove Tea Stains From Clothes
If you love tea, you have probably accidentally spilled it all over your clothes while drinking it before. Below is a video giving three different methods …

How To Remove Coffee & Tea Rings From Mugs & Cups
Here are tips for how to remove coffee and tea rings in mugs and cups. If you love a daily cup of tea or coffee you have probably …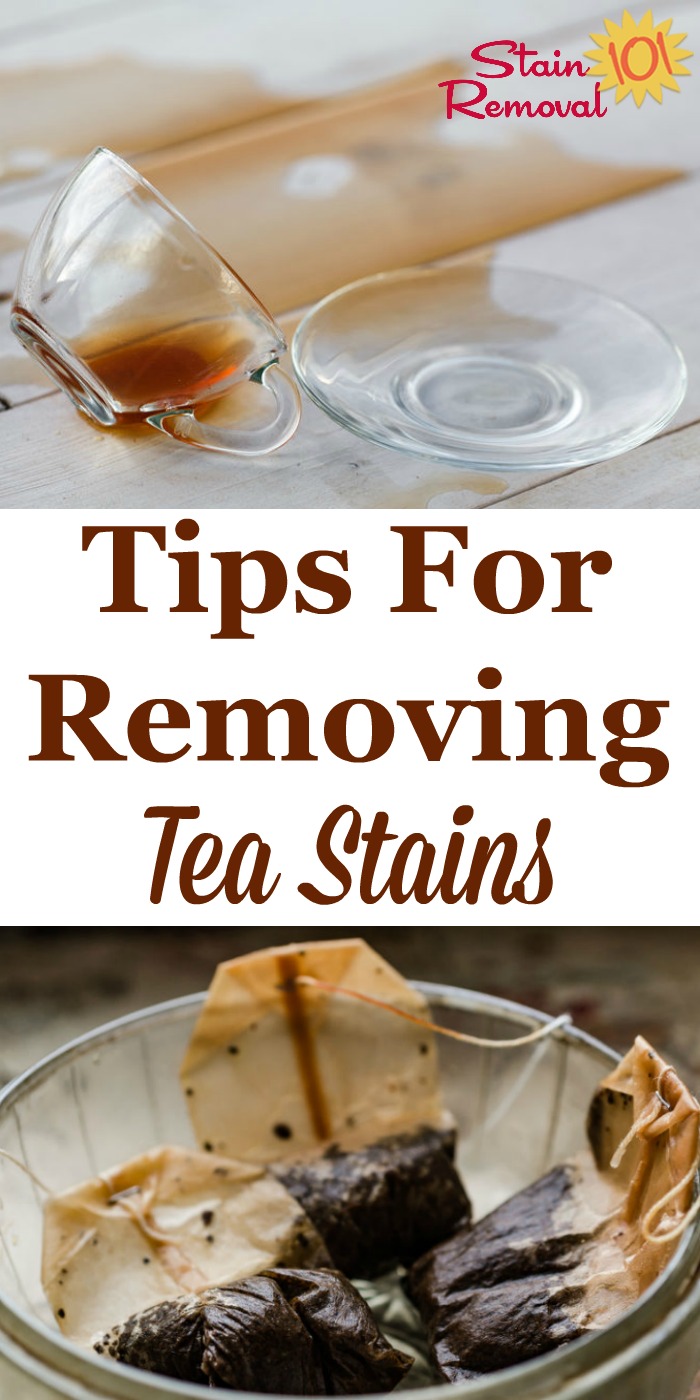 Second photo by Kanko
Thanks For Visiting My Website: Grab Your Free Gift!

Hi, I'm Taylor, a busy mom with 3 kids, so I have lots of hands on experience with house cleaning, laundry and my fair share of spots, spills and other messy catastrophes. Thanks for visiting my site.
I update the website all the time with tips, tutorials, cleaning recipes, reviews of products from readers like you, and tests I've done on various cleaners, removers and laundry supplies.
I'd love to give you a gift! When you subscribe to my free weekly newsletter you will receive a free printable laundry stain removal chart that you can reference as needed.
I hope you enjoy this gift, and stop by again soon!
Related Pages You May Enjoy
100's Of Stain Removal Tips & Tricks
Go From How To Remove A Tea Stain To Home Page
CAUTION: This website is provided for informational purposes only. It is provided as is, without warranties or guarantees. Some stains and messes just won't come out, and are permanent. Further, some cleaning methods can harm your item, so if what you want to clean or launder is sentimental or expensive call a professional. See disclaimer of liability for more information.