Ways To Use Sunshine For Stain Removal & Cleaning Your Home
Here's how to use sunshine for stain removal and to help clean your home, with the most natural of cleaners, the sun.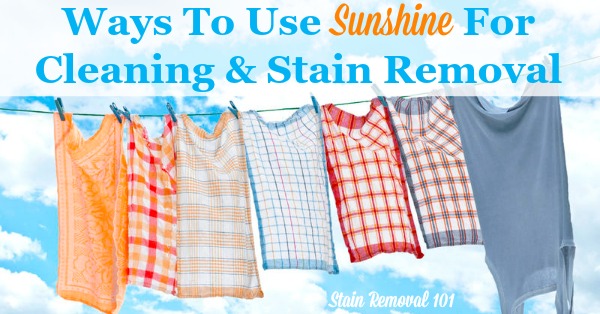 The power of the sun is an often forgotten way to remove stains from your clothes, and other household items.
However, even though this method of removing stains is now sometimes forgotten, it was not always so.
Women have long opened their blinds, and let in fresh air and sunshine to help freshen their homes.
In addition, they have known that line drying items out in the warm sunshine helps to naturally bleach and whiten the items hanging on the line.
To be sure sunshine can sometimes over bleach items, such as faded fabrics that have sat in a sunny room to long.
However, used in the right doses sunshine is a free and natural ways to help clean our homes, and remove stains.
Here are some examples of ways I recommend to use sunshine on this site to help remove stains:
In addition, another great way to use sunlight for stain removal is to sun your mattresses once or twice a year, to help remove stains, and freshen and air it out. You can try doing this at the same time you flip your mattresses, which can be during your spring and fall cleanings.
Similarly, a great way to air out and freshen up your pet's bedding is to lay it out in the sun too. This will help remove stains and odors.
There is another reason, besides stain removal, to place items out in the sun. That is because sunlight is germicidal, meaning it can kill germs.
Now, sunlight will not completely and thoroughly disinfect any surface of your home, but the UV light contained within sunlight will kill some germs, and also things like dust mites.
That is why adding sunlight to a room can also really and truly "freshen" it, because it can kill lots of those little germs floating around in the dust motes.
So the next time you want to remove some stains, or otherwise clean and freshen up your home don't forget this free, natural cleaning products -- sunshine.
Thanks For Visiting My Website: Grab Your Free Gift!

Hi, I'm Taylor, a busy mom with 3 kids, so I have lots of hands on experience with house cleaning, laundry and my fair share of spots, spills and other messy catastrophes. Thanks for visiting my site.
I update the website all the time with tips, tutorials, cleaning recipes, reviews of products from readers like you, and tests I've done on various cleaners, removers and laundry supplies.
I'd love to give you a gift! When you subscribe to my free weekly newsletter you will receive a free printable laundry stain removal chart that you can reference as needed.
I hope you enjoy this gift, and stop by again soon!
Related Pages You May Enjoy
Homemade Cleaning Products Recipes
Laundry & Cleaning With Lemon Juice: Tips & Uses
Go From Sunshine For Stain Removal And Cleaning To Home Page
CAUTION: This website is provided for informational purposes only. It is provided as is, without warranties or guarantees. Some stains and messes just won't come out, and are permanent. Further, some cleaning methods can harm your item, so if what you want to clean or launder is sentimental or expensive call a professional. See disclaimer of liability for more information.