How To Clean Fireworks Stains On Cement And Driveways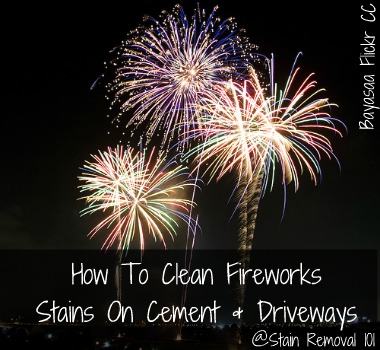 I got a question about how to clean fireworks stains on cement and driveways on the site's Facebook wall right after the Fourth of July. Here's the question:
Joyce asked:
Smoke bomb/firework stains on cement patio...any suggestions?
Taylor's answer:
I love to watch fireworks, but the kind you get for your own backyard or driveway seem to cause more mess than thrills sometimes, at least in my opinion.
That is because the cool ones that shoot into the sky, and are mostly used by professionals for the professional shows, are too dangerous for us amateurs. Instead, we go with things like black snakes that are actually not very cool, but instead just make a big black stain on the driveway or concrete patio.
Prevent Stains From Fireworks In The First Place
The best thing to do for home fireworks, if you're worried about staining on your cement and concrete surfaces, is to prevent the stains from ever occurring.
To do this, one idea is to launch the fireworks on another surface. I know when I was a kid my Dad would sometimes wet a piece of old plywood (so less likely to catch fire) and then launched fireworks off that.
How To Clean And Remove Stains Already Present
But, if you've already got the fireworks stains, here are some ideas to try:
1)
Do nothing.
Just let the area alone, and with rain and sun it should mostly fade away. As I discuss in more detail with my
article on sunshine stain removal
, sunlight can be a natural bleaching agent that removes several types of stains. The sun, plus the rest of the weather will fade
many of these stains over time.
2)
Power washing.
If you don't like the wait and see approach above, you can also power or pressure wash your driveway or concrete to clean up from the fireworks. You need to be careful with this method though, to make sure you don't get the tip of the pressure washer too close to the concrete or cement, or the pressure will actually chip and crack the surface! To be safe stay at least a foot back.
3)
Chlorine bleach solution.
Finally, you can try to bleach away the stains using a 3:1 solution of water to
chlorine bleach
(a little bleach goes a long way!)
To do this, pour on the solution, let it sit for a couple of minutes, and then scrub the area with a brush and then rinse with water.
Please note, however, that chlorine bleach can kill vegetation and is often used as a
homemade weed killer
, so if using this method you might kill the grass or other plants around this part of the driveway or concrete.
Does anyone else have suggestions for how to clean fireworks stains on cement and driveways? If so, you can
share your own tips for removing concrete stains here
, or read other tips which have already been submitted.
In addition, I answered this question as part of the site where I provide
stain removal help
. Feel free to ask your own questions too!

Top photo by bayasaa, top photo in collage courtesy of popofatticus and second photo in collage courtesy of Patrick Mueller
Related Pages You May Enjoy
Ask For Cleaning Help Here
House Cleaning Tips & Tricks
Tips For How To Pressure Wash
Bleach Uses Throughout Your Home
Go From How To Clean Fireworks Stains On Cement And Driveways To Home Page
Thanks For Visiting My Website: Grab Your Free Gift!

Hi, I'm Taylor, a busy mom with 3 kids, so I have lots of hands on experience with house cleaning, laundry and my fair share of spots, spills and other messy catastrophes. Thanks for visiting my site.
I update the website all the time with tips, tutorials, cleaning recipes, reviews of products from readers like you, and tests I've done on various cleaners, removers and laundry supplies.
I'd love to give you a gift! When you subscribe to my free weekly newsletter you will receive a free printable laundry stain removal chart that you can reference as needed.
I hope you enjoy this gift, and stop by again soon!
CAUTION: This website is provided for informational purposes only. It is provided as is, without warranties or guarantees. Some stains and messes just won't come out, and are permanent. Further, some cleaning methods can harm your item, so if what you want to clean or launder is sentimental or expensive call a professional. See disclaimer of liability for more information.