Homemade Dishwasher Stain Remover - Orange Kool Aid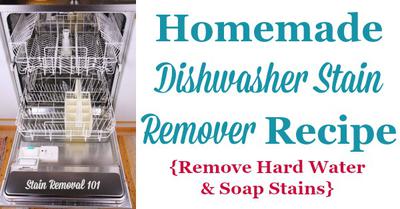 Below I've got several variations of this simple homemade dishwasher stain remover you can use to get nasty hard water stains and soap build up out of your dishwasher.
What started this discovery for me was learning about the tip to use an orange Kool Aid packet (or lemon) to clean your dishwasher.
To use this remedy is really simple. You add the powdered Kool Aid, or other no sugar added citrus powdered drink (such as lemonade, and some people swear by Tang) to the dishwasher detergent tray, and run the dishwasher empty.
I wanted to know why this worked, because it does, in fact, work, really well.
Come to find out, it's the citric acid in the Kool Aid packet that gets rid of the stains caused by
hard water
and other alkaline stains, like general mineral build up, in your dishwashers.
That is why this citric acid also works well on soap stains, and soap build up in your dishwasher. You can see some of this build up, especially around your detergent tray, almost looking like streaks, if you tend to add too much soap each time you run your dishwasher.
Just like hard water and mineral build up, the soap build up inside your machine is an alkaline substance.
Therefore, using citric acid in the Kool Aid packets will help dissolve it, and rinse it away.
You should know the thicker the build up of hard water and soap stains, the more cycles through you will have to do this simple home remedy.
It works, but it isn't a miracle worker! Therefore, if you live in an area with hard water I suggest doing this at least monthly, perhaps twice a month.
You can read on below about how to use just citric acid for this dishwasher stain remover, instead of using the Kool Aid packets, if you'd prefer.
Join in and write your own page! It's easy to do. How? Simply click here to return to citric acid uses.
Citric Acid For Dishwasher Stain Remover Plus More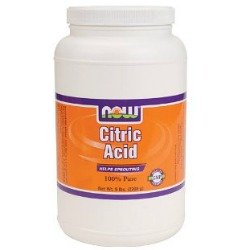 If you don't want to add a Kool Aid packet to get your citric acid, you can also just add citric acid directly to your dishwasher, either while it is empty, or each time that you wash dishes.

Originally, a reader, Jim, wrote in his tip for using citric acid in this way, and he suggested using one teaspoon of citric acid to the dishwasher soap.

When you do this consistently, with each load of dishes, over time you will notice several differences.

For one, it will remove the white film that builds up inside the dishwasher, which is a result of hard water and mineral build up.

In addition, that same hard water build up you notice inside the machine is actually slowly dulling your dishes and glasses as well. If you do this you'll also notice shinier glasses and dishes.

You can get citric acid in bulk through the links below:


In addition, if you'd like to purchase a product that works in a similar way to citric acid, I personally use
LemiShine
detergent additive in every load of my dishwasher. This product contains citric acid in it, and much like Jim, who originally shared about using citric acid, I found that with time I did see less build up since I used it in every single load of my dishwasher.
My
article about LemiShine
shows several before and after photos when using this product, to show how it does remove that hard water build up on dishes and in the dishwasher itself.
If anyone knows anymore uses for this natural cleaning agent you can
share your citric acid uses here
, or read even more suggestions that have already been submitted.
You can also
share your own tips for cleaning a dishwasher here
, or read other tips already submitted. You'll see that many of them suggest using some form of mild acid, like citric acid, vinegar, or other such thing to get your dishwasher clean, and to remove mineral stains that develop with time.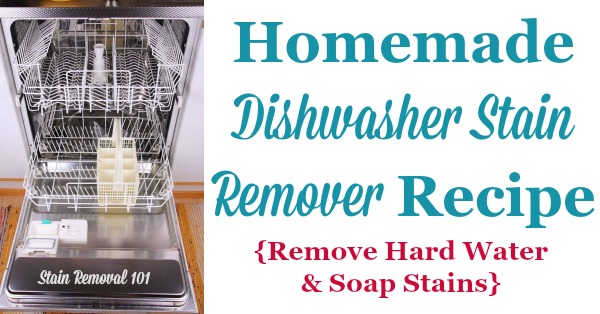 Related Pages You May Enjoy
Lots Of Homemade Cleaners Recipes
How To Remove Kool Aid Stains
Helpful Household Hints For Around Your Home
Tips For How To Remove Hard Water Stains And Spots
Go From Homemade Dishwasher Stain Remover Recipe To Home Page
There are affiliate links on this page, and if you purchase a product through them I receive a small commission. Purchasing through my links costs you nothing extra, but helps support the free information provided on this site and my family. To learn more please see my product review disclosure statement.
Thanks For Visiting My Website: Grab Your Free Gift!

Hi, I'm Taylor, a busy mom with 3 kids, so I have lots of hands on experience with house cleaning, laundry and my fair share of spots, spills and other messy catastrophes. Thanks for visiting my site.
I update the website all the time with tips, tutorials, cleaning recipes, reviews of products from readers like you, and tests I've done on various cleaners, removers and laundry supplies.
I'd love to give you a gift! When you subscribe to my free weekly newsletter you will receive a free printable laundry stain removal chart that you can reference as needed.
I hope you enjoy this gift, and stop by again soon!
CAUTION: This website is provided for informational purposes only. It is provided as is, without warranties or guarantees. Some stains and messes just won't come out, and are permanent. Further, some cleaning methods can harm your item, so if what you want to clean or launder is sentimental or expensive call a professional. See disclaimer of liability for more information.