Tips For Cleaning Dishwasher
Share Yours And Read Others
Here is a round up of tips for cleaning your dishwasher, so it doesn't get grungy or develop odors, including both DIY and home remedies and reviews of various cleaning products.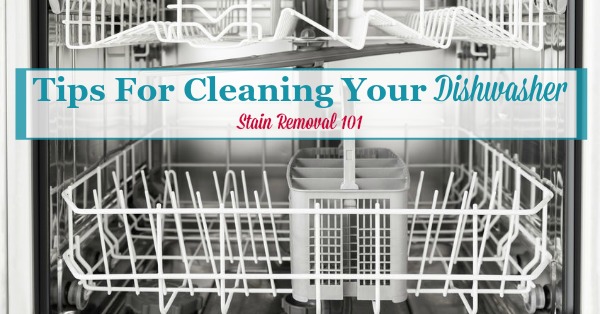 Do you spend a lot of time cleaning your home and possessions? If so, you can use some good tips to help you get these chores done, so you can have some fun!
Here are tips I've collected from readers like you, and from around the web to help you with these tasks.
This includes DIY and home remedies for cleaning this appliance, plus make sure to check out the reviews of specific cleaning products designed for the dishwasher.
Here are the best tips submitted so far:
Search This Site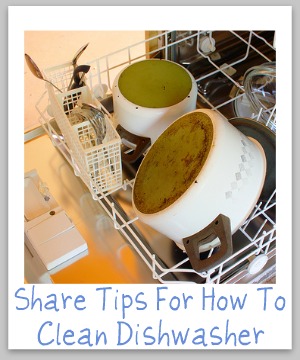 Normally you think of a dishwasher as a convenient way to clean your dishes, and it is. However, the dishwasher itself can begin to get dirty after regular long-term use.
A grungy dishwasher can be the result of mold, mildew, hard water build up, a build up of detergent residue, or something else.
No matter the cause, though, you want to clean your dishwasher regularly to keep it looking good, and also running well.
Below you can share your tips with me for how you do it.
I would also be interested in what cleaning products, whether commercial or homemade, you use to accomplish this task.
Share Your Dishwasher Cleaning Tips Here
Dishwashers are a common object in many homes, and although they are designed to clean dishes they often themselves need cleaning. So share your tips with me for how you do it.

If you like to use a particular type of cleaner, either homemade or purchased, or special cleaning equipment to get the job done well, please tell me about that too.

Finally, pictures aren't required, but are encouraged, especially if it helps show how you do something or the good results you had from using your tips.

Second photo by auberirdische sind gesund
Related Pages You May Enjoy
House Cleaning Tips & Tricks For Busy Moms
How To Use Vinegar As Automatic Dishwasher Rinse Aid
Go From Cleaning Dishwasher Tips To Home Page
CAUTION: This website is provided for informational purposes only. It is provided as is, without warranties or guarantees. Some stains and messes just won't come out, and are permanent. Further, some cleaning methods can harm your item, so if what you want to clean or launder is sentimental or expensive call a professional. See disclaimer of liability for more information.