Homemade Dish Soap Recipes
Here are a couple recipes for homemade dish soap for those brave enough to create their own soap on the stove, and a simpler one for those that just want a natural alternative that smells good.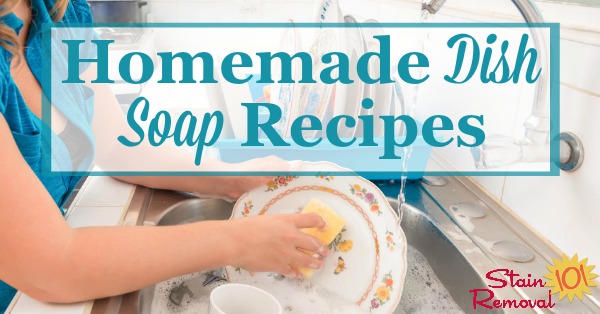 Liquid dish soap doesn't cost too much money, especially for generics, but many people want to learn how to make their own.
My belief is that people not only want to save some money, if possible, but also to get away from many of the unnatural ingredients that are found in commercial dishwashing liquids today.
This includes being made from petroleum products, which are a non-renewable resource, and also because many commercial soaps are also now antibacterial, meaning they contain chemicals to kill bacteria.
Being antibacterial doesn't sound too bad until you learn these bacteria are beginning to get antibiotic resistance from overuse of these chemicals. (You can read my article here on why you shouldn't use antibacterial soaps.)
Below are some recipes for making your own dishwashing liquid, which contain natural ingredients and can still smell good while you wash your dishes.
Lemon Homemade Dish Soap Recipe: Made On The Stove
Ingredients:
Directions to make:
Step 1: Pour the soap flakes into the hot water and stir with a fork until the soap flakes dissolve.
Step 2: Let this solution cool for approximately five minutes.
Step 3: Stir the glycerin and lemon essential oil into the solution and stir to thoroughly mix everything together.
Step 4: Pour the mixture into a 16 ounce (or larger) squirt bottle.
Directions for use: Use as you would any other dishwashing liquid, using a couple of teaspoons for a sink of dishes.
Please note that you can change which essential oil you use with this recipe, if you want a different scent. I would still suggest a citrus oil, however, just because this helps with degreasing. To learn more about the uses of various essential oils, you can check out this essential oil use chart.
Homemade Dishwashing Liquid: Add Your Own Scents
This recipe uses a liquid castile (olive oil based) soap, meaning that you don't have to melt soap over the stove, which is something many people prefer not to do.
The other thing I really like about this recipe is that you can add your own unique scent, based on your preferences and personality, depending on what essential oils you add to it.
Ingredients:
Liquid castile soap (such as non-scented Dr. Bronner's)
Essential oils of your choice (suggestions below)
Directions:
Fill a squirt bottle with liquid castile soap.
Hint: If the castile soap you are using is concentrated make sure to follow the instructions for proper dilution before placing it in the squirt bottle. In addition, if you purchase a castile soap that already has an essential oil fragrance, do not add additional essential oils.
Hint: If you purchase Dr. Bronner's has a scent free version and you can add whatever scent blend you choose to it.
Next, add approximately 1 drop of essential oil, of your choice, for each ounce of castile soap you have in the squirt bottle.
Hint: Do you want some suggestions of blends of essential oils you can use? I've compiled a list of essential oil recipes, including nice blends you can use in your homemade dish soap recipes.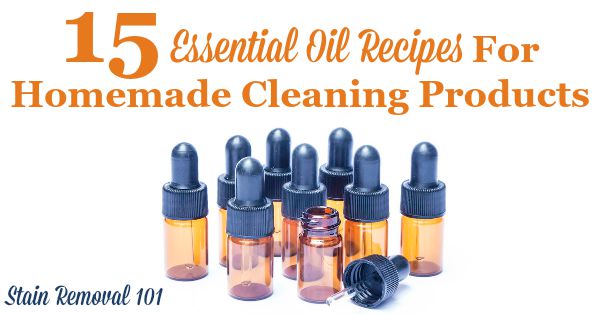 You will need to shake the bottle before each use. Use approximately 1-2 tablespoons of this homemade dish soap as you would any dishwashing liquid, and wash your dishes as normal.
Want to know more about using essential oils in your home for cleaning and laundry? Find out more about how to use essential oils to clean your home and clothes here.
Share Your Tips For Making Homemade Dishwashing Liquid
I have provided some recipes and instructions for making dishwashing soap, but I know there are many more out there.
If you make your own, share your recipe and instructions for how to make dishwashing liquid here, so we can all learn some new ideas.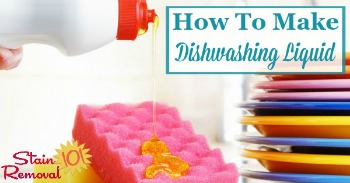 In addition, check out these natural dishwashing liquid reviews if you decide you want an eco-friendly product you can buy at the store.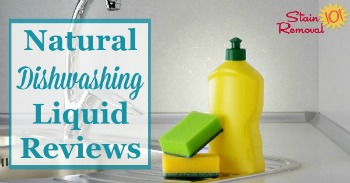 Finally, you can find lots more homemade cleaning products recipes and instructions here.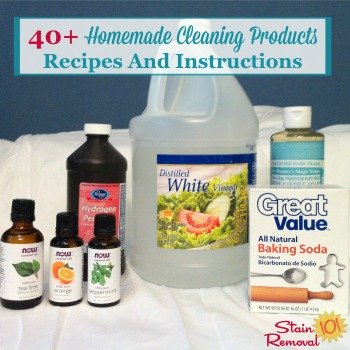 Third photo by rubberglovelover from Flickr Creative Commons
Thanks For Visiting My Website: Grab Your Free Gift!

Hi, I'm Taylor, a busy mom with 3 kids, so I have lots of hands on experience with house cleaning, laundry and my fair share of spots, spills and other messy catastrophes. Thanks for visiting my site.
I update the website all the time with tips, tutorials, cleaning recipes, reviews of products from readers like you, and tests I've done on various cleaners, removers and laundry supplies.
I'd love to give you a gift! When you subscribe to my free weekly newsletter you will receive a free printable laundry stain removal chart that you can reference as needed.
I hope you enjoy this gift, and stop by again soon!
Related Pages You May Enjoy
Homemade Cleaning Products Recipes
Uses Of Glycerin, Including For A Liquid Hand Soap Recipe
Go From Homemade Dish Soap Recipes To Home Page
There are affiliate links on this page, and if you purchase a product through them I receive a small commission. Purchasing through my links costs you nothing extra, but helps support the free information provided on this site and my family. To learn more please see my product review disclosure statement.
CAUTION: This website is provided for informational purposes only. It is provided as is, without warranties or guarantees. Some stains and messes just won't come out, and are permanent. Further, some cleaning methods can harm your item, so if what you want to clean or launder is sentimental or expensive call a professional. See disclaimer of liability for more information.