Suffocating With Fumes From Cleaning Products - Any Suggestions?
by Suzanne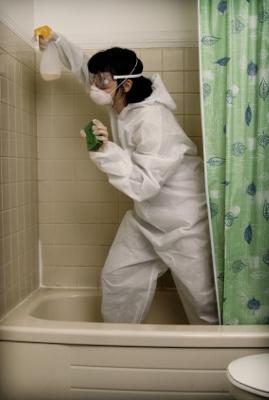 Suzanne sent me in this comment, slash question, about Kaboom shower tub and tile cleaner, after reading the Kaboom shower tub and tile cleaner reviews on the site. Although her question is about a specific product, I've kind of expanded it a bit to discuss fumes from cleaning products in general.
Suzanne says:
I love Kaboom too, but I want to know how you breathe with those fumes??
Do you open up all the windows or something? I really do love it, but the fumes make it hard with your eyes watering and everything.
Any ideas from others??
Taylor says:
Thanks Suzanne for your comment and question. You are definitely not the first person to comment about the smell of Kaboom products, which apparently are pretty strong, at least in many people's opinions. (See for example
here
and
here
).
I know I keep saying this when people make this complaint, but it bears repeating in my opinion -- Kaboom advertises its products as having "no obnoxious fumes." It is not surprising that certain cleaners contain bad fumes and odors -- and those that do are generally not great for our health either!
However, I think it is ironic that Kaboom has specifically advertised their products as being, not exactly fume free, but their slogan implies that they won't make you feel sick, get headaches, etc., because of their use of the term "no obnoxious fumes." I guess I'm just calling them out on it because they were the ones that made such a big deal of the fact that their products don't smell bad.
I don't know -- perhaps Kaboom has come out with new formulations, and we are just hearing reviews from those using the old formulation. If you've got any information about this please tell me in the comments, because right now this is speculation on my part.
However, back to your question Suzanne, and about stinky cleaning products in general. As with any strong smelling products, if you choose to use them to clean your home I always suggest for safety that you keep the area as well ventilated as possible. That can include opening windows and doors, and also turning on the exhaust fan in your bathroom, for example.
Further, if the fumes from
cleaners really do bother you, as they do many people, I also suggest switching from these strong products to more
Earth friendly cleaning products
, or even making your own
homemade cleaning products
, where you can control the ingredients you put in, so you don't use things which irritate your eyes or throat, for example.
Further, in addition to cleaning products making fumes as they clean, I know I and many other people have problems with some of the strong scents in certain products.
If you or a family member are bothered by scented products, please switch to something hypoallergenic, which is typically both dye and perfume free.
The more artificial the scent, the more likely it is to be both bad for the environment and to trigger allergic reactions and other adverse consequences for those bothered by the products.
If you like a scent, try products such as
Mrs. Meyers
,
Method
, or
Seventh Generation
, which use natural fragrances from essential oils to scent their products, since sometimes this is better for allergies. You can also try these
essential oil recipes for homemade cleaning products
if you want to make some great scents of your own.
However, even these more natural scents may bother some people in your home, and if that is the case just skip the scents completely. Fortunately, more and more companies are coming out with scent free products. One of the companies with the biggest selection of "free and clear" products that I've found is
Seventh Generation
. (If you know of more great alternatives please pass along these additional suggestions in the comments, because I am always looking for more good scent free products to suggest.)
Does anyone else have suggestions for Suzanne for dealing with fumes in cleaning products, not just for Kaboom, but for any of them? I know this is an issue we've almost all faced at one time or another. If so, share them in the comments.
I've answered this question as part of my
cleaning help and questions section
of my site. You can ask me your own questions too, or see what else I've already been asked and answered.
Related Links At Stain-Removal-101.com
Stain Removal Help
House Cleaning Tips And Hints For Your Home
Go From Suffocating With Fumes From Cleaning Products - Any Suggestions? To Stain-Removal-101.com Home Page
Thanks For Visiting My Website: Grab Your Free Gift!

Hi, I'm Taylor, a busy mom with 3 kids, so I have lots of hands on experience with house cleaning, laundry and my fair share of spots, spills and other messy catastrophes. Thanks for visiting my site.
I update the website all the time with tips, tutorials, cleaning recipes, reviews of products from readers like you, and tests I've done on various cleaners, removers and laundry supplies.
I'd love to give you a gift! When you subscribe to my free weekly newsletter you will receive a free printable laundry stain removal chart that you can reference as needed.
I hope you enjoy this gift, and stop by again soon!
CAUTION: This website is provided for informational purposes only. It is provided as is, without warranties or guarantees. Some stains and messes just won't come out, and are permanent. Further, some cleaning methods can harm your item, so if what you want to clean or launder is sentimental or expensive call a professional. See disclaimer of liability for more information.