Cleaning Floor Linoleum With Magic Eraser: Can It Be Done Safely?
by SR101 Reader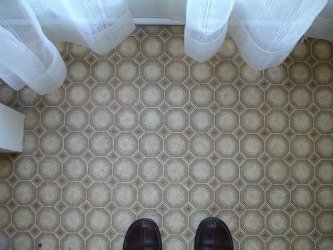 Linoleum flooring
I got this question about cleaning floor linoleum from a reader.
SR101 Reader Asks:
Is it safe to use a Magic Eraser to clean my kitchen linoleum floor?
Taylor's Answer:
That was actually a pretty tough question to find the answer to, but here are the results of my research.
Linoleum and vinyl flooring are pretty similar, at least in how you care for them, although apparently linoleum is the greener alternative (but also less common, at least currently in newer homes than vinyl).
Whether you have vinyl or linoleum floors it appears the
Mr. Clean Magic Eraser
appears to be safe to use on these surfaces at least in small does (see the caution below, however, before using them!)
In fact, some linoleum is textured, and therefore is prone to getting dirt caught in the wells and crevices of the textured flooring. In those situations a magic eraser sponge may be just the thing needed to really get in there and clean up the dirt and debris.
As a note of caution, however, please note that these sponges are made of melanine foam, and work through the power of abrasion. Both vinyl and linoleum floors are rather soft and are prone to scratching anyway. Therefore, when you use the Mr. Clean sponge (or its generic equivalent) on such a surface it is leaving small micro-scratches on the surface. If you do it too
much, or over too large of a surface it will cause the finish to dull from all those tiny little scratches.
Further, some linoleum floors are waxed. If this is the case using this cleaning product for them can rub away the protective waxy layer, meaning you will need to reapply wax to the floor sooner than you would have otherwise.
Therefore, my suggestion would be to use this cleaning product sparingly on both vinyl and linoleum flooring, although to get a small scuff or a spot of ground in dirt it should be fine.
If you're very concerned about how it will impact your flooring I would definitely spot check the product in an inconspicuous area, and then examine it closely to see what kinds of scratches or dulling occurs, before using it in a very visible area.
I would love to hear your tips for how to clean linoleum floors, and what you do to keep them clean. You can
share your cleaning tips here
with me.
I've answered this question as part of my
cleaning help and questions section
of the site. I'd love it if you asked me your own questions, or just came over and checked out what other things I've already answered for other readers!
Photo by michale
Related Pages You May Enjoy
Stain Removal Help And FAQs
House Cleaning Tips & Tricks
Go From Cleaning Floor Linoleum With Magic Eraser To Home Page
Thanks For Visiting My Website: Grab Your Free Gift!

Hi, I'm Taylor, a busy mom with 3 kids, so I have lots of hands on experience with house cleaning, laundry and my fair share of spots, spills and other messy catastrophes. Thanks for visiting my site.
I update the website all the time with tips, tutorials, cleaning recipes, reviews of products from readers like you, and tests I've done on various cleaners, removers and laundry supplies.
I'd love to give you a gift! When you subscribe to my free weekly newsletter you will receive a free printable laundry stain removal chart that you can reference as needed.
I hope you enjoy this gift, and stop by again soon!
CAUTION: This website is provided for informational purposes only. It is provided as is, without warranties or guarantees. Some stains and messes just won't come out, and are permanent. Further, some cleaning methods can harm your item, so if what you want to clean or launder is sentimental or expensive call a professional. See disclaimer of liability for more information.