Ask Your Laundry Questions Here
To Fix Your Laundry Problems
For something we do all the time, it never fails that we still encounter laundry questions we can't answer. Ask me your questions, and see if I can help with your laundry problems.

Did you know that the average household does between 8-10 loads of laundry each week?
For those households with multiple kids, or lots of other household members that can be increased even further.
That means there are lots of opportunities for laundry mishaps to occur, or otherwise to get stumped with various laundry quandries.
In general, this site is devoted to answering questions like this, to help busy Moms and Dads (and anyone else doing the laundry) to get it done quickly and easily. However, there is no way I can address every type of issue that comes up.
That is why I've created this section of the site. After I had great success with readers asking for stain removal help, I realized that a section about laundry could also be helpful to you too.
Don't forget too, that you can ask for house cleaning help here too.
You can skip down to ask your own questions about laundry here, or read the questions I've already responded to below.
Search This Site
Ask For Laundry Help Here
Are you having trouble with your laundry, and don't know what to do next?

This is your place to ask me your laundry questions, and I will try to find out the answer for you, and give you a response.

Even if I cannot figure it out, perhaps another reader here at Stain-Removal-101 will be able to answer your question.

So give it a shot. Post your question below.
Read Other Visitor's Laundry Questions And My Responses
Click the links below to see what other visitors asked and the responses I have given.

In addition, you can comment on any of these responses with your own thoughts or suggestions.

Detergent Allergy Pictures: Find Out If You're Allergic To Laundry Detergent
This site has become one of the go to locations on the web to discuss laundry detergent allergy problems, and as such several readers have actually …
Washing Machine Stains: Possible Causes And Cures
A SR101 reader asked me a question about washing machine stains, the kind where you don't have a stain on your clothes before you wash something, …

Allergic Reaction To Laundry Detergent - What Should I Do About It?
I received this question from Kristin, who asked about an allergic reaction to laundry detergent that several people in her family have experienced: …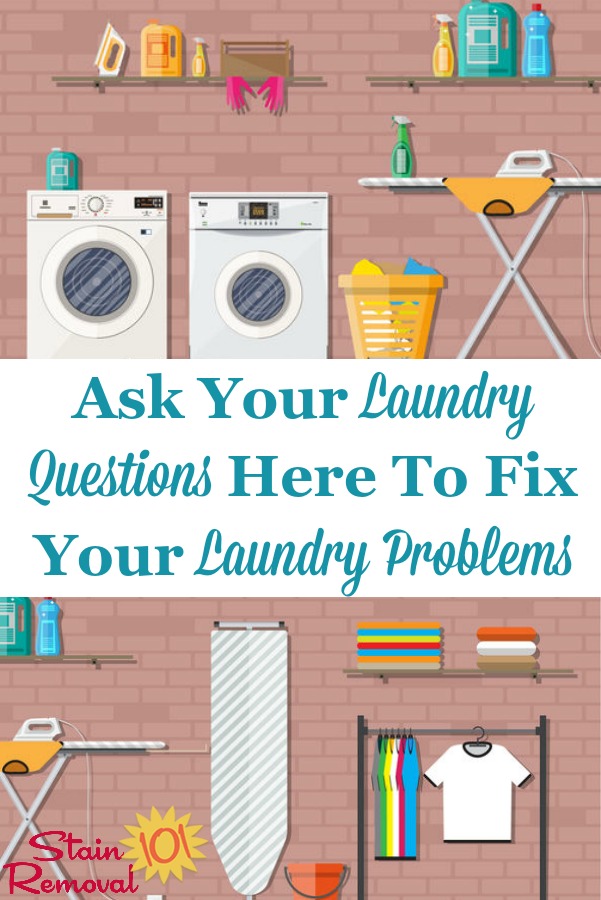 Thanks For Visiting My Website: Grab Your Free Gift!

Hi, I'm Taylor, a busy mom with 3 kids, so I have lots of hands on experience with house cleaning, laundry and my fair share of spots, spills and other messy catastrophes. Thanks for visiting my site.
I update the website all the time with tips, tutorials, cleaning recipes, reviews of products from readers like you, and tests I've done on various cleaners, removers and laundry supplies.
I'd love to give you a gift! When you subscribe to my free weekly newsletter you will receive a free printable laundry stain removal chart that you can reference as needed.
I hope you enjoy this gift, and stop by again soon!
Related Pages You May Enjoy
Stain Removal Help And Frequently Asked Questions
Laundry Supplies & Product Reviews
Go From Ask Your Laundry Questions To Home Page
CAUTION: This website is provided for informational purposes only. It is provided as is, without warranties or guarantees. Some stains and messes just won't come out, and are permanent. Further, some cleaning methods can harm your item, so if what you want to clean or launder is sentimental or expensive call a professional. See disclaimer of liability for more information.