Making Laundry Soap That Is Unscented: Is It Possible?
by Dawna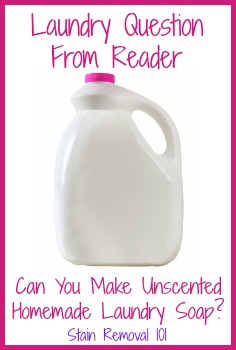 Dawna asked this question about making laundry soap for her family, which was unscented.
Dawna asks:
My family is very sensitive to scents. Are there any bar soaps that are scent free?
I absolutely hate the smell of Ivory and can't imagine anyone agreeing to fels naptha soap. HELP...
Taylor's Answer:
Dawna, thanks for asking this question.
You're right that one of the main ingredients in many
homemade laundry detergent recipes
is bar soap, and many of them on the market which are suitable for the purpose of making your own laundry soap are already scented.
That can be a problem for many people, such as your family (and mine) which are very sensitive to scents, and therefore wish to use
unscented detergents
and other
scent free laundry supplies
.
The most commonly used bar soaps which are shaved and melted down as part of common
homemade liquid laundry soap recipes
include:
Sunlight;



Ivory;


Zote; and


Kirk's
All of these bar soaps have a scent.
***Update: I actually learned later, from a reader, Heidi, that Kirk's has an unscented castile soap bar (see below for full details.) ***End Update
I am actually at a loss, personally, for what to suggest to you, because that is a real dilemma.
I would love to hear from others who've got similar issues with allergies in the family, who also make their own laundry detergent, to share what ingredients they use to keep their clothes clean, and also their family healthy and without allergic reactions at the same time!
If you've got a suggestion please
tell me here
, and I'll add it to the page as a resource. I know Dawna is not the only one who has this problem!
In addition, I responded (but unfortunately couldn't answer) this question as part of the section of my site dealing with
common laundry questions and problems
. Feel free to ask me your own questions, or see what other things I've already answered!
Join in and write your own page! It's easy to do. How? Simply click here to return to homemade laundry soap.
I Use Dove Sensitive In My Unscented Laundry Detergent Recipe
by Rhoda
I use Dove Sensitive (green label) for our homemade laundry soap.

It is the only bar soap our allergist recommends for bathing, and it works well in our laundry soap as well.

I do try to keep a watch for sales and coupons to keep the overall cost down, but I've been happy with the performance this past year.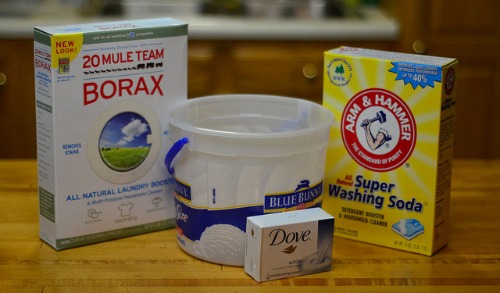 Photo courtesy of trenttsd
Join in and write your own page! It's easy to do. How? Simply click here to return to homemade laundry soap.
Two Recommended Unscented Soaps For Homemade Laundry Detergent
by Heidi P.
There are two unscented soaps I can personally recommend that I have used for homemade laundry detergent. However, you will have to order them online, at least, one you will anyway.

Kirk's makes a fragrance free soap bar. Just go to their website and you can order it if they don't sell it near you.


The other soap I can recommend is MoSoap. Go to MoSoap.com. She makes several different types of soap. What you need is the basic lye soap. It's not superfatted and specifically for house cleaning. Plus, it has no scent.
If you decide to go with MoSoap, you can buy the soap in bulk, which saves money and is essentially a soap log you cut yourself at home.
I hope this helps.
Join in and write your own page! It's easy to do. How? Simply click here to return to homemade laundry soap.
Will Zote Soap Bar Work For Those With Laundry Detergent Allergies?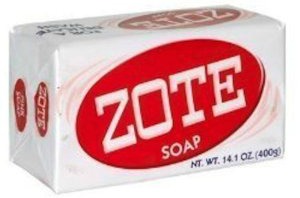 One reader, Dorothy, wrote in to tell me that "The white Zote brand is supposed to be unscented," when I originally asked this question of the site's Facebook readers.

However, upon further research although there are three different colors of this soap available -- pink, blue and white, I found that there is no formulation difference between the different color varieties, except the addition of dyes to the pink and blue varieties.

That means all varieties of this soap have a light scent of citronella oil. Therefore, my response was that I didn't think that will work for Dawna, even though I appreciated the thought.

However, when this same discussion came up yet again another time, another reader, Donna, shared how she used this brand of soap in her homemade recipe because it was the only one that didn't bother her allergies.

Recalling this previous discussion I asked her what it smelled like to her, and she responded:

"It has what I call a mild soapy smell like castile soap. I'm so sensitive I have to use unscented deodorant."

So, bottom line -- be careful with this particular brand, just because it does have a scent although it does not bother some people, even those with allergies to many scents.

Of course, also see below where another reader found her son did develop a rash from Zote, so clearly it isn't going to work for everyone with allergies!


Join in and write your own page! It's easy to do. How? Simply click here to return to homemade laundry soap.
Fels Naptha Has Worked Even For Our Sensitive Skin And Allergic Family
by Jennifer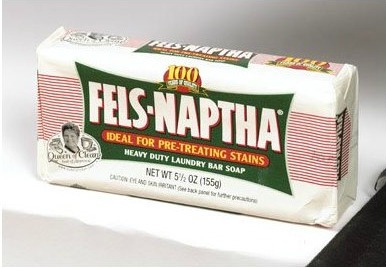 My husband and children all have extremely sensitive skin and allergies.

We have always used special lotions and soaps from the pharmacist and used dye/fragrance free detergents too.

However, I wanted to give the homemade detergent a shot.

I ended up using the Fels-Naptha soap and as I was grating it my husband absolutely hated the smell and left the room.

I stayed the course and made the detergent using the borax and washing soda recipe.

I have to admit that after washing and drying my clothes they have no scent!

I think it's the washing soda that neutralizes odor.

Even my husbands work out clothes that always had a residual odor (body oils maybe) with our old detergent smell completely fresh and clean now!

We have had no reactions in our family so far and that's saying something considering our track record with new scents!

Hope this helps somebody!


Join in and write your own page! It's easy to do. How? Simply click here to return to homemade laundry soap.
I Used Ivory Soap Because Other Bar Soaps Caused Rash
by Kelli
My son gets a rash fron Fels Naptha and Zote... So this last batch I used 3 bars of Ivory Soap, box of Borax, box of Washing Soda.

I use 1 tbsp per load.

I also use white vinegar in place of fabric softener.


Join in and write your own page! It's easy to do. How? Simply click here to return to homemade laundry soap.
Make Own Homemade Bar Soap For Unscented Variety
by Woodwife
Making homemade soap
Woodwife shared her idea for how to make an unscented version of laundry detergent, since it appears many of the laundry bar soaps have a scent already in them.
Woodwife says:
We've been making our own laundry soap of years.
When I was a kid
Fels Naptha
didn't have the horrible perfume fragrance it has today. So to avoid this, we use our own homemade bar soap.
While making several kinds for a recent craft fair I allowed a kettle of oil to overheat. Remembering that the oils probably contained some harmful free radicals from being so hot, I didn't want to make it into a bar to be used on skin so I pondered alternatives.
Then it hit me!
Why not make it into an unscented laundry bar?
We add our soap to
washing soda
and
borax
anyway, so I added them into my soap batch.
The results are excellent! You can rub it on a stain, grate it into the washer! Hope this helps.
Taylor says:
Thanks for your tip Woodwife.
I think the next step is to learn how to make homemade bar soap, but I don't currently have any instructions here on the site since I've personally never tried making it before. Anyone got a recipe you could suggest?
You can
share your homemade cleaners recipes here
if you've got a recipe to share!
Photo by mommyknows
Related Pages You May Enjoy
Washing Detergent Guide: Essential Facts & Information
Lots Of Homemade Cleaners & Laundry Supplies Recipes
Stain Removal Help And FAQs
Go From Making Laundry Soap That Is Unscented To Home Page
There are affiliate links on this page, and if you purchase a product through them I receive a small commission. Purchasing through my links costs you nothing extra, but helps support the free information provided on this site and my family. To learn more please see my product review disclosure statement.
Thanks For Visiting My Website: Grab Your Free Gift!

Hi, I'm Taylor, a busy mom with 3 kids, so I have lots of hands on experience with house cleaning, laundry and my fair share of spots, spills and other messy catastrophes. Thanks for visiting my site.
I update the website all the time with tips, tutorials, cleaning recipes, reviews of products from readers like you, and tests I've done on various cleaners, removers and laundry supplies.
I'd love to give you a gift! When you subscribe to my free weekly newsletter you will receive a free printable laundry stain removal chart that you can reference as needed.
I hope you enjoy this gift, and stop by again soon!
CAUTION: This website is provided for informational purposes only. It is provided as is, without warranties or guarantees. Some stains and messes just won't come out, and are permanent. Further, some cleaning methods can harm your item, so if what you want to clean or launder is sentimental or expensive call a professional. See disclaimer of liability for more information.