Vinegar And Baking Soda Uses For Natural Laundry Fabric Softener
by Douglas Teel
(Greenville, NC)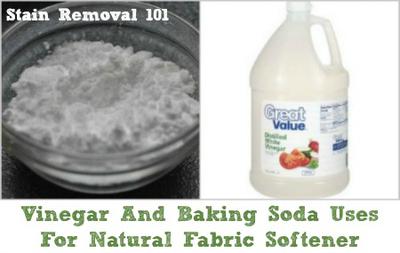 Douglas has shared how he uses both vinegar and baking soda in his laundry, as natural fabric softener and deodorizer rolled into one.
Douglas says:
I am always looking for more ways to use these two natural ingredients together. The main way I use them regularly is with the laundry.
I add
baking soda
in either the wash or rinse cycle, then vinegar in either the wash or rinse cycle. It would be like this:
Baking Soda added with your regular detergent in the wash cycle, then add
vinegar
during the rinse cycle.
OR
Vinegar added to your regular detergent in the wash cycle, and then add baking soda during the rinse cycle.
This way you get the benefits of both vinegar and baking soda in your laundry. Fresh scent, soft comfortable feeling clothes.
My gym clothes came out smelling so good and that never happened with just detergent alone. With the
"clear" no scent, no dye liquid Tide
, my gym clothes still came out smelling really good because of the vinegar and baking soda.
Taylor says:
Doug, thanks for sharing how you use these products in your laundry.
There are a lot of people that add both these ingredients to their wash. In fact, I've recommended something similar in my
homemade fabric softener recipes
. Although, typically I only see the first combo, adding
the baking soda to the wash and vinegar to the rinse, and not vice versa.
The reason is that the baking soda helps raise the alkalinity of the water, which naturally helps boost the power of the
laundry detergent
you are using. Then, the vinegar in the rinse helps remove excess soap from your clothing, which helps keep them soft.
I would suggest adding 1/4 cup baking soda, and then 1/2 cup of vinegar to the rinse water.
I would caution, however, that the acidity in vinegar, can over time, start to harm the clothing fibers, especially for natural fibers such as cotton, so you may not want to add vinegar every single time unless you have severe
laundry detergent allergies
and really need to make sure all soap residue is removed from your clothing to prevent an allergic reaction.
I would love to hear from others who use both vinegar and baking soda in their laundry. Tell me when you put it in, how much you use, and why you've found it helpful to do.
In addition, I would love to hear from readers who infuse these products with scents, using
essential oils
or other natural ingredients, sharing what scents you love, and how you do it!
You can also share other
uses for baking soda and vinegar, together here
, or read other tips which have already been submitted.
Left photo by rowdykittens
Join in and write your own page! It's easy to do. How? Simply click here to return to make your own fabric softener.
I Use Vinegar Fabric Softener And Nothing Else
by RonaT
(Dayton NV)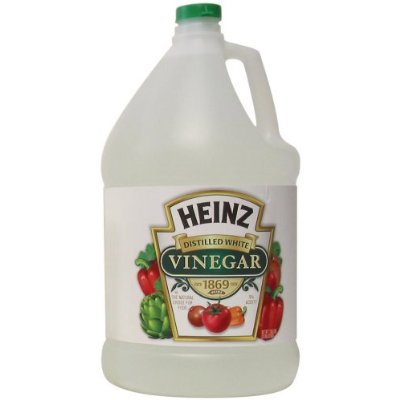 RonaT has shared what she does to naturally soften her fabrics as she washes them.
RonaT says:
I used to be a fan of
fabric softeners
until I noticed that my towels were not holding as much water as they used to. After researching on the 'net I tried pure distilled vinegar and noticed that my towels, including other pieces of clothing and beddings, became fluffier and their soaking power restored.
I gathered that fabric softeners, including detergents with fabric softeners, leave a residue that cling to individual fibers. From a fabric softener fan, I am now a huge, huge fan of vinegar. I am in awe of vinegar's myriad uses and I never run out of it at home.
P.S. Just pour enough vinegar to fill up the dispenser for fabric softener.
Taylor says:
Thanks so much for sharing your tip. There are lots of people just like you who use vinegar fabric softener in place of the oil-based versions more commercially available.
You are exactly right too, that the way the oil-based versions work is to leave a film on the fibers of the fabrics which makes it feel softer, but can interfere with the absorbency of the fabric.
You can also read a tip below submitted by another reader for how she dispenses the vinegar onto her clothes for use as fabric softener since she doesn't have a fabric softener dispenser on her washing machine.
Join in and write your own page! It's easy to do. How? Simply click here to return to make your own fabric softener.
Easiest Natural Fabric Softener: White Vinegar
by Brandy Haynes
(Muskegon, Michigan, USA)
Ingredients: White Vinegar

Directions: Add to machine during rinse cycle just like you would a commercial softener.

***Note: When removing clothing from washer to dry, they will smell like the vinegar.

Fear not; as the clothes dry the scent dissipates and you will be left with a clean smelling load.***

(I didn't believe this worked until I tried it. Now I swear by it.)
Join in and write your own page! It's easy to do. How? Simply click here to return to make your own fabric softener.
Downy Ball Use: To Dispense Vinegar Fabric Softener
by Tamie
(SW Michigan)
Tamie shared this great use for a Downy ball with me.
Tamie says:
I
make my own laundry detergent
and use vinegar for my fabric softener.
The downy ball is my favorite tool for dispensing the vinegar.
Taylor says:
Thanks for sharing that great tip Tamie for how to dispense vinegar fabric softener.
The great thing about the
Downy ball
is that it is designed to open and release its contents during the final rinse stage of the washing. Normally, that is when you would release more traditional
oil based fabric softener
. Of course, that is also the time in the washing cycle you would release vinegar so that it can help soften your clothing naturally.
If you make your own fabric softener like Tamie I would love to hear your recipe. You can
share your recipe to make your own fabric softener here
, or read other recipes already submitted.
Related Pages You May Enjoy
100's Of Homemade Cleaners Recipes
Natural Fabric Softener Brands Reviews
Go From Vinegar And Baking Soda Uses For Natural Laundry Fabric Softener To Home Page
There are affiliate links on this page, and if you purchase a product through them I receive a small commission. Purchasing through my links costs you nothing extra, but helps support the free information provided on this site and my family. To learn more please see my product review disclosure statement.
Thanks For Visiting My Website: Grab Your Free Gift!

Hi, I'm Taylor, a busy mom with 3 kids, so I have lots of hands on experience with house cleaning, laundry and my fair share of spots, spills and other messy catastrophes. Thanks for visiting my site.
I update the website all the time with tips, tutorials, cleaning recipes, reviews of products from readers like you, and tests I've done on various cleaners, removers and laundry supplies.
I'd love to give you a gift! When you subscribe to my free weekly newsletter you will receive a free printable laundry stain removal chart that you can reference as needed.
I hope you enjoy this gift, and stop by again soon!
CAUTION: This website is provided for informational purposes only. It is provided as is, without warranties or guarantees. Some stains and messes just won't come out, and are permanent. Further, some cleaning methods can harm your item, so if what you want to clean or launder is sentimental or expensive call a professional. See disclaimer of liability for more information.