How To Remove Spray Laundry Starch From Upholstery And Carpet
by Jane Piller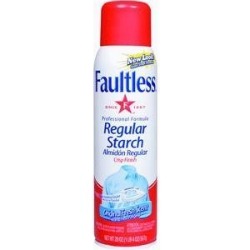 Here is a question I received from Jane about removing spray laundry starch from upholstery and carpet.
Jane's Question:
I am DESPERATE! While I was ironing the excess spray from my can of spray starch has coated the fabric of a beautiful arm chair. It is covered with dull white starch. PLEASE, how do I remove it?
Taylor's Answer:
I'm sorry Jane that this has happened to you.
It can be frustrating when we unintentionally mess something else up while trying to make something else look nice.
You did not tell me which brand of starch you accidentally sprayed on your upholstery, but generally these days these starches are made from plants, typically
corn starch
.
When the starch dries, as you know, it is intended to get stiff, which is why you have a lovely film all over your upholstered chair.
Typically, laundry starch is designed to wash out with the next wash. Therefore, to clean up that starch stain from your upholstery (or carpet for that matter) you should mix a solution of two cups cool water and one tablespoon dishwashing liquid.
With this solution sponge and blot at the stain with a clean white cloth. Keep doing this until the laundry starch is removed from the upholstery or carpeting. (Because the starch will get sticky as it gets wet, you may need to change out the cleaning solution a couple of times to keep from reapplying the starch back onto the upholstery or carpet as you clean it.)
Once
you've removed as much of the starch as you can you next need to get plain cold water and a new white cloth and sponge the area to remove the cleaning solution, and then blot dry.
Be sure to get the upholstery only as wet as necessary to remove the starch, since neither upholstery nor carpet should get too wet. Further, make sure to dry the area thoroughly afterward.
In addition, it is not uncommon when using spray starch while ironing to get overspray. If you get too much on your iron itself, you can clean it up with an
iron cleaner
.
To make sure it does not get on things which are harder to clean in the future use a drop cloth around the area where you set up your ironing board, such as an old sheet or towels, which will catch the over spray. These are easily laundered, so they are much easier to keep clean than carpet or upholstery.
Do you have any other suggestions for Jane? If so, please share your ideas and tips in the comments below.
In addition, I answered this question as part of the section of this site devoted to cleaning help. You can
ask me your own cleaning help question here
, or read what other questions I've already answered.
Related Links At Stain-Removal-101.com
Stain Removal Help And FAQs
Share Your Stain Removal Tip Or Read Over 200 Others
How To Clean Upholstery
Upholstery Cleaning Tips
Go From How To Remove Spray Laundry Starch From Upholstery And Carpet To Stain-Removal-101.com Home Page
Thanks For Visiting My Website: Grab Your Free Gift!

Hi, I'm Taylor, a busy mom with 3 kids, so I have lots of hands on experience with house cleaning, laundry and my fair share of spots, spills and other messy catastrophes. Thanks for visiting my site.
I update the website all the time with tips, tutorials, cleaning recipes, reviews of products from readers like you, and tests I've done on various cleaners, removers and laundry supplies.
I'd love to give you a gift! When you subscribe to my free weekly newsletter you will receive a free printable laundry stain removal chart that you can reference as needed.
I hope you enjoy this gift, and stop by again soon!
CAUTION: This website is provided for informational purposes only. It is provided as is, without warranties or guarantees. Some stains and messes just won't come out, and are permanent. Further, some cleaning methods can harm your item, so if what you want to clean or launder is sentimental or expensive call a professional. See disclaimer of liability for more information.