Drain Cleaning Tips And Unclogging A Slow Drain
Here is a round up of drain cleaning tips, plus ideas for unclogging a slow drain, for that inevitable clog.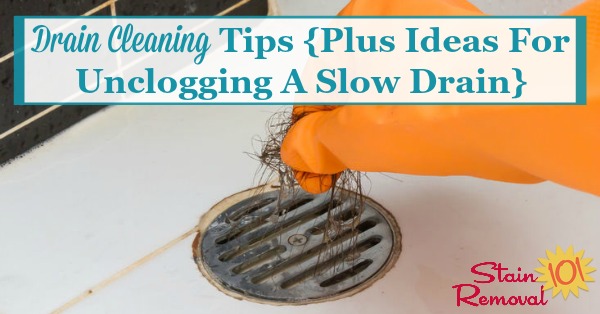 Do you spend a lot of time cleaning your home and possessions?
If so, you can use some good tips to help you get these chores done, so you can have some fun!
Here are tips I've collected from readers like you, and from around the web to help you with these tasks. These include homemade remedies as well as a link to my collection of drain cleaner reviews here on the site.
Here are the best tips submitted so far:
Search This Site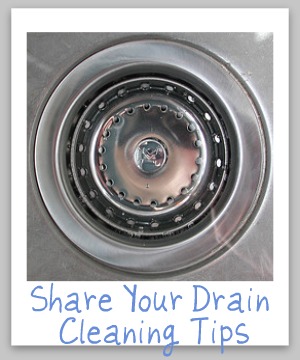 It never is a convenient time for your drain in your kitchen or bathroom to get slow, or even worse, all the way clogged.
But when it happens you need to deal with it right away, so I would love to hear your tips below for unclogging a slow drain.
Further, there are some ways to keep your drain from clogging in the first place, when done regularly though, such as pouring boiling water down the drain.
Therefore, along with tips for cleaning your drain, I would love to hear what you do regularly for maintaining and caring for your drains, to keep them clog free and draining quickly.
Share Your Tips For Cleaning Drains Here
Drains are a common object in homes that need to be cleaned, especially if it is draining slowly or clogged. Therefore, share your tips with me for how you clean or unclog them.

If you like to use a particular type of cleaner, either homemade or purchased, or special cleaning equipment to get the job done well, please tell me about that too.

Finally, pictures aren't required, but are encouraged, especially if it helps show how you do something or the good results you had from using your tips.
Submitted Drain Cleaning Tips
Click the links below to see other tips that have already been submitted.

Feel free to comment on any of these submissions to tell your own experiences, or about any other thoughts you have.

Simple & Chemical Free Drain Unclogger: Zip It Drain Cleaning Tool
Here's a simple and cheap drain unclogger that I personally believe every home should have, if you've got even one person in your household with …

Second photo by Editor B
Related Pages You May Enjoy
House Cleaning Tips & Tricks For Busy Moms
Remedies For Smelly Garbage Disposal
Go From Drain Cleaning Tips To Home Page
CAUTION: This website is provided for informational purposes only. It is provided as is, without warranties or guarantees. Some stains and messes just won't come out, and are permanent. Further, some cleaning methods can harm your item, so if what you want to clean or launder is sentimental or expensive call a professional. See disclaimer of liability for more information.