Simple & Chemical Free Drain Unclogger: Zip It Drain Cleaning Tool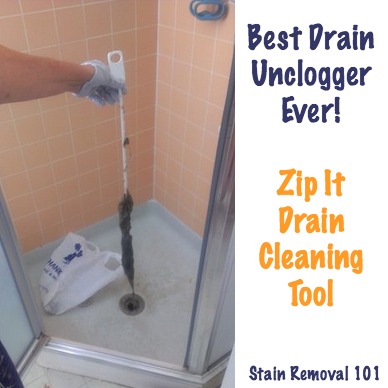 Here's a simple and cheap drain unclogger that I personally believe every home should have, if you've got even one person in your household with long hair. And the best part, it's chemical free!
We all know what long hair does in a drain. Gets it all clogged up and soon you're standing in a small pool of water as you shower, or the water takes forever to drain from the bathtub.
There are many ways to remove clogs from your drain, both chemical and manually.
Now that I've tried the
Zip It Drain Cleaning Tool
(click the link to go to Amazon to purchase it), I would always suggest this as the first step in your process of unclogging your bathtub or shower drain. Often times, it can be your only step, actually.
These Zip Its are a really long, thin, flexible piece of plastic, with a handle, that has these little grabber "teeth" on it that you can thread into a clogged or slow drain and yank out some nasty stuff.
It works so much better than a bent wire hanger for this purpose. The little teeth snag all the gross hair and other things, and pull it right out.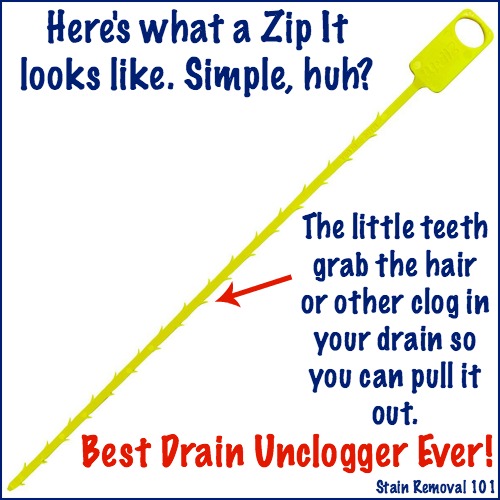 Zip It Drain Cleaning Tool (Click here to purchase on Amazon}

Be prepared, what you pull from that drain will be gross. Completely nasty. But better to yank it out of there then have it continue clogging your drain! And you can do it without harsh chemicals that you might be concerned would hurt your pipes.
The manufacturers of this product call it disposable. And it could be, from the perspective of it's cheap, so if it totally grosses you out to have to clean it up after you've used it to unclog your drain you could just throw the whole thing away.
But honestly, you don't have to. If you can stomach the clean up you can use one of these little unclogger strips over and over. If you've got lots of long haired family members I'd suggest one for every bathroom!
Plus, this product can save you from having to call a costly plumber. No need for a plumber to come snake your drain when you can use this to get down far enough in the drain to pull it out yourself!
I shared this quick review on the Facebook page recently and LOTS of people chimed in to agree with my recommendation for this product. Below I've gathered some of those recommendations to hear from others how they used it.
If you've used it, make sure to tell me how it worked for you in the comments!
Join in and write your own page! It's easy to do. How? Simply click here to return to drain cleaning tips.
Readers Agree The Zip It Works Really Well!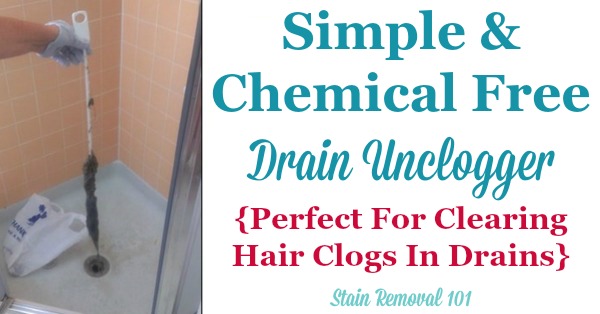 Like I said above, on the Facebook page for Household Management 101 (a sister site of this one) I posted a similar review to this one, before I realized how popular this product was and that I should create a page about it.
Here's a link to that review
.
Here's a few of the comments I received when I posted about this product:
Michelle says: "There are six long haired ladies in our house and we use these ALL the time! They are excellent!!!"
Trisha says: "This tool is AMAZING!! Truly a cant-live-without product. . . . But be prepared to be grossed out by all the slime you'll dig out! Have a trash bag with you. Then use a natural drain cleaner afterwards to keep pipes clean and clear."
Ann Marie says: "I've been using a similar one for about 2 years. It's awesome. I have long hair and always clogging up the bathroom sink drain. The soapy hairball I pull out of the drain, really gross, but way better than dumping chemicals down the drain."
Patti says: "We use it regularly. Three girls with long hair can clog a drain fast! It is definitely worth the few dollars."
Pam says: "Used for years! Wonderful and you can reuse them until they wear out, even though they say single use."
Carol says: "I have one of these. I forget where I bought mine, but I've used the same one for a couple of years now. I just take a wipe to it, and the hair and gunk come right off."
Holly says: "Yup.....guy at Lowes told me about it when I was asking for industrial strength drain cleaner because we have 3 girls in the house. I don't know how I lived without it before!"
If you've used this product and want to tell me how it's worked for you I'd love to hear. You can tell me more in the comments below.
In addition, I'd love to hear even more of your drain cleaning tips, so make sure to
submit them here
or read others submitted already!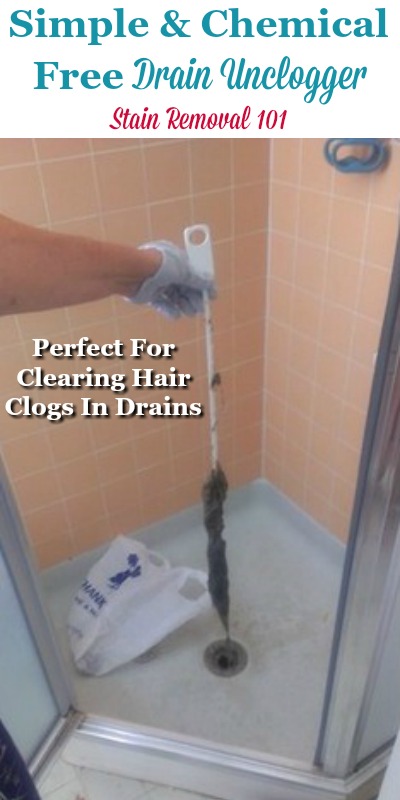 Related Pages You May Enjoy
House Cleaning Equipment & Tools Reviews
Homemade Drain Cleaner Recipes
Go From Drain Unclogger: Zip It Drain Cleaning Tool Review To Home Page
There are affiliate links on this page, and if you purchase a product through them I receive a small commission. Purchasing through my links costs you nothing extra, but helps support the free information provided on this site and my family. To learn more please see my product review disclosure statement.
Thanks For Visiting My Website: Grab Your Free Gift!

Hi, I'm Taylor, a busy mom with 3 kids, so I have lots of hands on experience with house cleaning, laundry and my fair share of spots, spills and other messy catastrophes. Thanks for visiting my site.
I update the website all the time with tips, tutorials, cleaning recipes, reviews of products from readers like you, and tests I've done on various cleaners, removers and laundry supplies.
I'd love to give you a gift! When you subscribe to my free weekly newsletter you will receive a free printable laundry stain removal chart that you can reference as needed.
I hope you enjoy this gift, and stop by again soon!
CAUTION: This website is provided for informational purposes only. It is provided as is, without warranties or guarantees. Some stains and messes just won't come out, and are permanent. Further, some cleaning methods can harm your item, so if what you want to clean or launder is sentimental or expensive call a professional. See disclaimer of liability for more information.