How To Remove Graffiti
Share Your Tips & Read Others
Here are tips and product recommendations for how to remove graffiti from a variety of surfaces, including concrete, vinyl siding, glass, and more.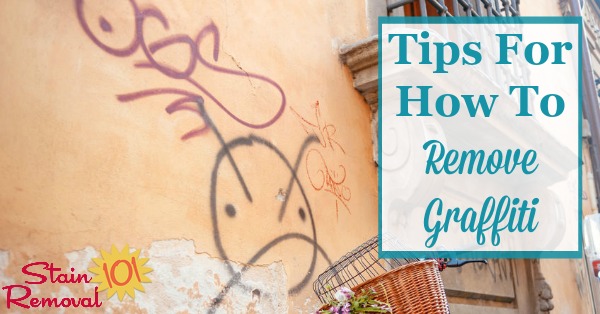 Do you spend a lot of time cleaning your home and possessions?
If so, it is a horrible feeling to wake up and realize you've been tagged.
It can be quite difficult to remove the paint from your home and other surfaces, so I've gathered tips I've collected from readers like you, and from around the web to help you with these tasks.
Here are the tips submitted so far:
Search This Site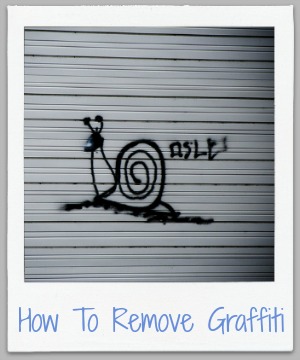 Graffiti can actually be a quite beautiful artform, but only on places where someone has given permission for it to be placed.
Unfortunately, what makes this type of art so hated is that often the people doing it don't ask permission before placing it on a hard surface, but instead do it against the wishes of the owner of the property.
It is not always easy to get rid of these "tags" as their often called, and what you use will depend partially on the size of the "artwork," what type of paint was used, and also what surface the graffiti is found on, such as glass, vinyl siding, wood, fencing, concrete, brick, etc.
I would love for you to share with me, below, your tips and remedies (and product suggestions) for removing graffiti from surfaces. Tell me as much about how you did it so you can help someone else when they wake up to being tagged.
Share Your Tips For Removing Graffiti
Has your property ever been tagged, and you've had to clean it up?

If so I'd love for you to tell me how you did it, including any home remedies or products you used to get the job done.

Please give me enough details so that someone else could follow your instructions themselves.

Make sure to tell me what surface was tagged (i.e., brick, concrete, glass, wood, vinyl, etc.) and what type of paint was used (if you know).
Submitted Tips For How To Remove Graffiti
Click the links below to see tips already submitted by other readers.

Feel free to tell me in the comments if the tips worked for you too.

Goof Off Graffiti Remover Review: Worked On Garage Door
Goof Off Graffiti Remover can be used on many surfaces to clean the tags we all sometimes receive on our personal and real property by graffiti artists. …

Krud Kutter Graffiti Remover Reviews & Uses
Below is a video showing how a man used Krud Kutter Graffiti Remover to remove spray paint graffiti from the side of a dumpster. The video itself gives …

Second photo courtesy of frozenchipmunk
Thanks For Visiting My Website: Grab Your Free Gift!

Hi, I'm Taylor, a busy mom with 3 kids, so I have lots of hands on experience with house cleaning, laundry and my fair share of spots, spills and other messy catastrophes. Thanks for visiting my site.
I update the website all the time with tips, tutorials, cleaning recipes, reviews of products from readers like you, and tests I've done on various cleaners, removers and laundry supplies.
I'd love to give you a gift! When you subscribe to my free weekly newsletter you will receive a free printable laundry stain removal chart that you can reference as needed.
I hope you enjoy this gift, and stop by again soon!
Related Pages You May Enjoy
House Cleaning Tips & Tricks For Busy Moms
Stain Removal Tips From Readers
Go From How To Remove Graffiti To Home Page
CAUTION: This website is provided for informational purposes only. It is provided as is, without warranties or guarantees. Some stains and messes just won't come out, and are permanent. Further, some cleaning methods can harm your item, so if what you want to clean or launder is sentimental or expensive call a professional. See disclaimer of liability for more information.