How To Power Wash Siding On Your Home - With Video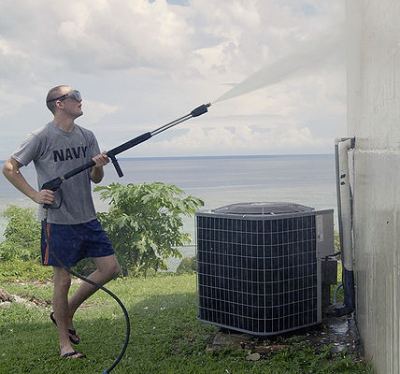 Here is a great video on how to power wash siding on your home.


This video applies equally to cleaning aluminum siding and vinyl siding, and also can be used for wood or steel siding.
It is created by Lowes, which means there is some advertisement within it for buying the equipment you need from that store, but the tips and information are quite helpful.
First of all, Lowes suggests pressure washing your home's siding approximately every two years, or more often if needed.
The exception to this would be if you have lead paint on your home (you don't want to chip off lead paint, obviously, with your pressure washer).
Further, make sure you repair any damage to the siding before you power wash it, because otherwise the pressure from the washer can exacerbate the damage.
The important things to determine before you start pressure washing anything is:
The correct amount of pressure to use


The correct spray tip


The correct cleaning detergent
The video provides all this information for how to power wash siding.
The video also gives several really good tips to prepare your home's siding before you pressure wash it, such as obvious things like closing your windows first, to not so obvious tips, like spraying down any outdoor plants with water first so the soapy water doesn't stick to them, and harm them.
Further, the video gives several good safety tips to keep in mind when using a pressure washer.
Specifically, the one I found most applicable to pressure washing siding was learning that you should never pressure wash while standing on a ladder.
If you have a
two or more story home, instead of spraying on a ladder, you can use an extension pole and special spray tips for the higher stories.
When power washing your siding you will clean it one section of the house at a time, and must do several steps for each section.
The first step is to use a low pressure soap tip to apply water and cleaning solution to the siding. You apply the cleaning solution from the bottom up, to prevent streaking.
Then, let the cleaning solution sit on the siding for 5-10 minutes, making sure it does not have time to dry. Then, rinse it off.
While rinsing it off is where you really clean the siding with your pressure washer. You use a high pressure nozzle for rinsing, and rinse from the top down.
After completing this whole process once, the video suggests doing it again, and then letting the siding dry.
Finally, the video gives several helpful tips for how to power wash siding most effectively. These include keeping the spray nozzle about 1 foot from the surface you are spraying, at a 45 degree angle, and to spray at at consistent speed.
I encourage you to watch the entire video for full tips, and a good demonstration of how to pressure wash your siding with a pressure washer.
Join in and write your own page! It's easy to do. How? Simply click here to return to cleaning aluminum siding.
Thanks For Visiting My Website: Grab Your Free Gift!

Hi, I'm Taylor, a busy mom with 3 kids, so I have lots of hands on experience with house cleaning, laundry and my fair share of spots, spills and other messy catastrophes. Thanks for visiting my site.
I update the website all the time with tips, tutorials, cleaning recipes, reviews of products from readers like you, and tests I've done on various cleaners, removers and laundry supplies.
I'd love to give you a gift! When you subscribe to my free weekly newsletter you will receive a free printable laundry stain removal chart that you can reference as needed.
I hope you enjoy this gift, and stop by again soon!
CAUTION: This website is provided for informational purposes only. It is provided as is, without warranties or guarantees. Some stains and messes just won't come out, and are permanent. Further, some cleaning methods can harm your item, so if what you want to clean or launder is sentimental or expensive call a professional. See disclaimer of liability for more information.