Removing Melted Candle Wax From Glass Candleholder
Below is a video giving instructions for how to remove melted candle wax from a glass or votive candle holder.


Have you ever placed a votive candle in a glass candle holder, and then once it was used it had melted and gotten stuck at the bottom of the glass?
I know that has happened to me a number of times.
It can be maddening trying to remove those little candles from the bottom of a glass or jar, especially when the opening is very narrow, or the melted wax from the surface.
The video below gives three suggestions for what to do when this occurs, one of which is how to prevent the candle wax from sticking in the first place, and the other two on how to remove it once it is stuck there.
The first suggestion, on how to prevent the wax from sticking, is to add a half an inch of water to the bottom of the votive candle holder before inserting the candle.
Then, the two ways to remove the candle wax, once it is stuck to the bottom of the candle are as follows:
1. Soak the candle holder in hot soapy water for a few minutes to soften the wax, and then gently scrape out the wax with a butter knife or spoon.
2. Put the candle holder in the freezer, and then once the wax is
hardened remove the candle holder and gently tap it, and the wax should pop out.
This second method, I've found, works well, and I've got some photos of how it works from Julie, who used to blog at From Inmates To Playdates.
Julie put her glass in the freezer for only about 10-15 minutes, instead of overnight like the video suggests. When she got it out of the freezer she just tapped the bottom of the candle holder and she said the wax popped right out!
What a great trick!
Her pictures are the ones of the candle holder in the freezer, and then of the candle wax once it popped out of the holder after freezing.
Now, here is the video with all of its suggestions for removing candle wax from glass candle holders:
So, do you have any tips for removing candle wax or the stains it leaves behind from any of the surfaces of your home? If so,
share your tips for how to remove candle wax stains here
, or read other tips already submitted.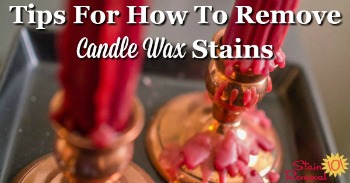 In addition, you can read my
candle wax stain removal guide here
.
Finally, check out
100's of cleaning tips from A to Z here
.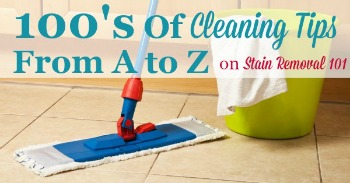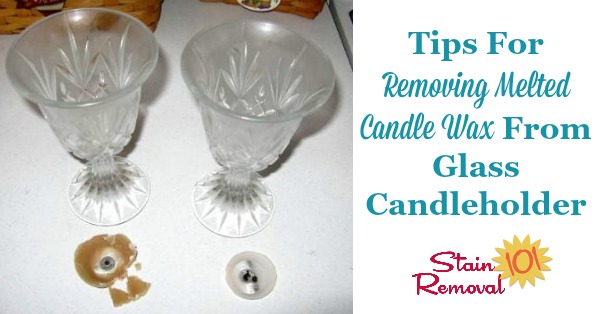 Photo of blue candle by Riebart
Related Pages You May Enjoy
Share Your Own Stain Removal Tip
Helpful Household Hints For Around Your Home
Go From Removing Melted Candle Wax From Glass Holder To Home Page
Thanks For Visiting My Website: Grab Your Free Gift!

Hi, I'm Taylor, a busy mom with 3 kids, so I have lots of hands on experience with house cleaning, laundry and my fair share of spots, spills and other messy catastrophes. Thanks for visiting my site.
I update the website all the time with tips, tutorials, cleaning recipes, reviews of products from readers like you, and tests I've done on various cleaners, removers and laundry supplies.
I'd love to give you a gift! When you subscribe to my free weekly newsletter you will receive a free printable laundry stain removal chart that you can reference as needed.
I hope you enjoy this gift, and stop by again soon!
CAUTION: This website is provided for informational purposes only. It is provided as is, without warranties or guarantees. Some stains and messes just won't come out, and are permanent. Further, some cleaning methods can harm your item, so if what you want to clean or launder is sentimental or expensive call a professional. See disclaimer of liability for more information.