Gum Removal From The Dryer
Have you ever needed to know about gum removal from the dryer?


It actually happens more often than you might think that a child has gum in the pockets of pants, and they get washed, and then dried in the dryer.
Unfortunately when that occurs the gum gets all over the dryer drum and it can be a nightmare trying to remove it.
You obviously don't want to let it sit there because the next time you use the dryer that chewing gum will get all over your nice clean clothes, which is another headache you definitely don't need.
So, here are some ideas for removing chewing gum from your dryer.
First, you can try the same technique for removing chewing gum from the dryer as with crayon from the dryer. Here is my collection of tips for
removing crayon in dryer
.
Second, you can try
WD-40
or
Goo Gone
to get out the chewing gum.
***Update - I actually had my own incident with gum in the dryer recently (as you can see from my picture to the right), and I used Goo Gone to remove it. It worked really well! You can read exactly what I did, for both the clothing which had melted gum on it, and also for the dryer drum itself, on my other website, Household Management 101. Here is my article on
how to remove gum from clothing and the dryer
when it has melted.***
***Update 2: Since then I have also received a story from a reader sharing how she also had success using Goo Gone to remove gum from her dryer in a situation very similar to mine. You can
read her success story here
.***
Finally, I got this idea from
Everything's Coming Up Daisies
, who used nail polish remover containing
acetone
to remove the chewing gum from her dryer.
I would caution with any of these methods -- especially with any solvents, to thoroughly ventilate the room and let all the solvent evaporate before running your dryer so you don't create a fire hazard.
You also will need to wipe out the dryer drum of all solvents after you remove the chewing gum.
You can
submit your own tip about chewing gum removal here
, or read others that have already been submitted.
In addition, you can
share your tips for dryer cleaning here
.
Join in and write your own page! It's easy to do. How? Simply click here to return to dryer cleaning.
Remove Gum From Dryer With Dish Sponges With Mesh Scrubbers
by Thomas
(Florida)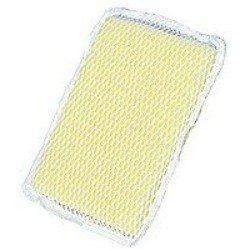 Here's a quick tip from a reader, Thomas, who shared another way to remove gum from a dryer.
Thomas says:
If you get a dish sponge that has a mesh side it will scrub the gum out and it works better if it's soapy and wet.
Taylor says:
Thanks Thomas for this quick tip.
I've used the types of sponges you're referring to, not specifically for this task, but for scrubbing things off pots and pans, and I can see from that experience that this might work really well. The mesh side really grabs at the sticky stuff to get it off.
If anyone tries this method, perhaps in conjunction with some of the others above, I'd love a report on how it worked for you.
In addition, you can
share your kitchen and cleaning sponges reviews here
, or read even more that have already been submitted.
Related Pages You May Enjoy
Share Your House Cleaning Tips Or Read Over 100 Others
Gum Stain Removal
Laundry Supplies Reviews - What To Stock In Your Laundry Room
Go From How To Remove Gum From Dryer To Home Page
Thanks For Visiting My Website: Grab Your Free Gift!

Hi, I'm Taylor, a busy mom with 3 kids, so I have lots of hands on experience with house cleaning, laundry and my fair share of spots, spills and other messy catastrophes. Thanks for visiting my site.
I update the website all the time with tips, tutorials, cleaning recipes, reviews of products from readers like you, and tests I've done on various cleaners, removers and laundry supplies.
I'd love to give you a gift! When you subscribe to my free weekly newsletter you will receive a free printable laundry stain removal chart that you can reference as needed.
I hope you enjoy this gift, and stop by again soon!
CAUTION: This website is provided for informational purposes only. It is provided as is, without warranties or guarantees. Some stains and messes just won't come out, and are permanent. Further, some cleaning methods can harm your item, so if what you want to clean or launder is sentimental or expensive call a professional. See disclaimer of liability for more information.