Snuggle Scent Boosters Reviews: Laundry Scent Pods
by Taylor
Below I've gathered reviews of the new Snuggle Scent Boosters product.


Don't let the name "Snuggle" confuse you though. This isn't a fabric softener at all. Instead, it is merely a laundry scent booster, so the sole purpose of this product is to infuse additional scent into your clothes as you wash them.
If you want to soften your clothes you'd have to use an additional product for that purpose.
In wash scent boosters have become very popular recently, first starting with
Downy Unstopables
, and expanding to include other similar products such as
Gain Fireworks
and
Purex Crystals
(although the crystals are a fabric softener as well).
Unlike some of these other products though Snuggle has decided to also use a new craze amongst laundry products, and has made this scent booster packaged into pacs or pods.
Many people love these
laundry pacs
because you don't have to measure. Just throw them into the load and you're done.
So the idea behind this new product is to just throw one pac into the wash with your clothes and then when you pull them out, you'll have heavily scented laundry.
There are currently two scents available, Lavender Joy (purple packaging shown above) and Blue Iris Bliss (which I think looks like kind of a turquoise colored packaging).
Some people love adding all this scent, but I'd like to warn everyone now that with the rise of these in wash scent boosting products I've personally seen a rise in
laundry detergent allergic reactions
.
Here's some example pages of similar products where people have complained of these allergies (and don't miss the review below which has the same complaint!)
The reason for all these allergy stories is because one of the main culprits of these allergies, which can range in symptoms from hives, rashes, itching, sneezing, and more, is scent. So if you're purposefully adding scent to a product, a known allergen, especially even more of it then you are normally used to, it stands to reason you'll see lots of allergic reactions!
I've found with regard to scent that there can be too much of a good thing. For example, some people cannot handle any added scent at all (that includes my family). While others only experience problems when they go overboard with these products.
That's where there are advantages and disadvantages to the pacs this product comes in. On the one hand, using a pac prevents you from dumping way more of this product into your machine then recommended.
On the other hand, if you find the amount of scent the pre-measured pac provides way too strong there is no easy way to cut back on it by just adding less to subsequent loads. You can't easily add half a pac, for example.
I'll tell you right now that I have not personally tried this product (although I do have reviews below from people that have), and I will not.
I do not ever personally try scented laundry products here in my house because we actually do suffer from laundry allergies and all products I use, at least when possible, are
unscented and hypoallergenic
.
Have you used this product though? If so, I'd love to hear your thoughts about it. You can
submit your review or experience here
and I'll add it to the page.
Snuggle Scent Booster Pods Caused Allergic Reaction
by Estela Acevedo
(Orland Hills, IL)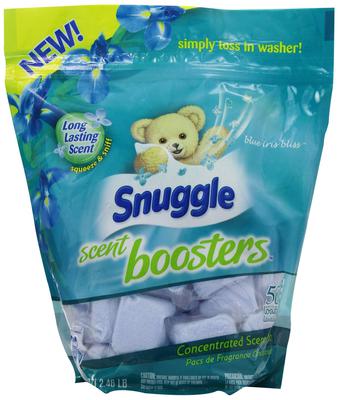 Estela says:
I love the way laundry smells after using these pods but suddenly my 17-year-old daughter started itching, profusely, all over her body.
Her face got swollen, she got hives--large areas of her skin raised--and that was the only change we made at home.
My daughter uses the Snuggle Scent Boosters on her children's laundry and now even when my 17-year-old touches their clothes, the palms of her hands begin to itch.
I had to rewash ALL of the laundry and can no longer use these pods.
Taylor says:
So sorry to hear your daughter had such a bad reaction to these pods Estela.
I hope she feels better soon!
Has anyone else used this product? If so, I'd love to hear your experiences, positive or negative, with them. You can
submit your review here
and I'll add it to the site.
Related Pages You May Enjoy
Laundry Supplies & Product Reviews
Snuggle Fabric Softener Allergy Stories
Go From Snuggle Scent Boosters Reviews To Home Page
There are affiliate links on this page, and if you purchase a product through them I receive a small commission. Purchasing through my links costs you nothing extra, but helps support the free information provided on this site and my family. To learn more please see my product review disclosure statement.
Thanks For Visiting My Website: Grab Your Free Gift!

Hi, I'm Taylor, a busy mom with 3 kids, so I have lots of hands on experience with house cleaning, laundry and my fair share of spots, spills and other messy catastrophes. Thanks for visiting my site.
I update the website all the time with tips, tutorials, cleaning recipes, reviews of products from readers like you, and tests I've done on various cleaners, removers and laundry supplies.
I'd love to give you a gift! When you subscribe to my free weekly newsletter you will receive a free printable laundry stain removal chart that you can reference as needed.
I hope you enjoy this gift, and stop by again soon!
CAUTION: This website is provided for informational purposes only. It is provided as is, without warranties or guarantees. Some stains and messes just won't come out, and are permanent. Further, some cleaning methods can harm your item, so if what you want to clean or launder is sentimental or expensive call a professional. See disclaimer of liability for more information.