Ultimate Guide To Downy Unstopables: Reviews & Info About In-Wash Scent Boosting Beads
Below I've gathered information and share reviews about Downy Unstopables (often mispelled as "Downy Unstoppables"), a product designed as an in-wash scent booster for your laundry.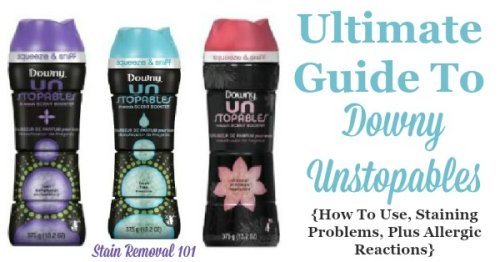 Companies come out with new products all the time, and Procter & Gamble is no exception. One of their latest products is Downy Unstopables, a crystal in-wash scent booster for washable fabric.
My first thought, when I saw this product, was "someone is finally trying to compete with Purex softener crystals." The similarities between these two products are striking -- they are both designed to be added to your washing machine wash water, are in crystal or bead form, and provide a big boost of scent to your laundry.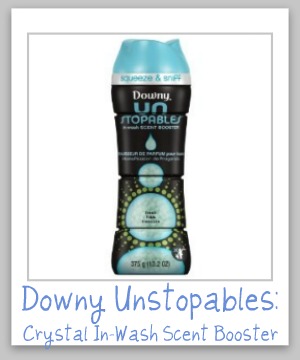 Further, because it is made by Downy, the same people who make Downy Fabric Softener, at first I assumed it was a crystal form of fabric softener, just like the Purex crystals. However, upon further investigation it turns out I was wrong! It is not a fabric softener at all.
The packaging doesn't make this really obvious, like they are kind of trying to hide this fact, which actually irked me a little. They obviously don't lie and say it does soften your clothes, but the materials and information don't just come out and say it isn't a softener either.
Basically, this product is an expensive way to add some fragrance to your wash. You can use it in conjunction with liquid fabric softener.

It currently comes in five scents, "Fresh," which appears may coordinate with Downy's "Clean Breeze" scent (although they don't make this really clear, so I could be wrong about this), "Lush," which is a lavender scented product, "Shimmer" scent which is pink (shown on the left), "Spring" which is a darker pink, and the newest is "Glow" which has a floral scent, and is in a gold package.
***Update: There is another product which competes with these Downy Unstopables now though -- Gain Fireworks. Both of these products exist only to add scent, and serve no other function in the laundering process.***
How To Use This Product
These crystals are designed to dissolve in water, either hot or cold. Therefore, to use them is quite simple. All you do is add the crystals (the more you add, the more scented your clothes will become) to the wash water while the washer drum is filling up.
You do not add the crystals to the detergent dispenser, but instead directly into the water, before adding the clothes. The Downy Unstopables are designed to be used safely in either HE or regular washing machines in the exact same way, which is nice.
Basically, even though the product is easy to use I personally think the cons of this product outweigh its pros. However, I may be biased since we don't use scented products in our house because of allergy issues, and therefore don't ever foresee me using this product anyway. Here is my list of the pros and cons of this product:
Pros For Downy Unstopables
Can be used for sports clothing, like active wear that you should not use liquid fabric softeners on. (If you don't know why oil-based softeners shouldn't be used on active wear, check out my article on oil-based fabric softener.)
Designed to provide a powerful scent, which can be good if you like that sort of thing.
Cons For Downy Unstopables
Limited number of scents, not obviously designed to coordinate with the scents of the fabric softener, dryer sheets, or even P&G brand laundry detergents you already may use. This means you can have clashing scents, which I know I wouldn't like.
They seem pretty expensive to me for just adding scent, without any other obvious function.
Of course, my opinion is not the only one which counts. I know several people have liked the product. For example, Jennifer recently shared this on the Stain Removal 101's Facebook wall:
I received mine and used them in my front load washer. Used them on son's active wear clothes. They came out smelling great. I live upstate NY and humdity has been bad so towels that kids use for pool and shower have that musty smell so definitely going to buy more for the towels.
I guess that is why they make lots of different products, huh? Although I don't foresee myself using these, perhaps you do. If so, skip down to share your review with me.
Really Huge Con: Allergies, Rashes & Hives Caused By Downy Unstopables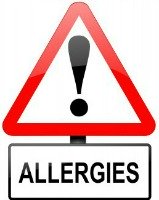 Since originally writing this article I've received LOTS of complaints from readers who have used this product and either they or their loved one have had severe allergic reactions, rashes and/or hives because of it.
I already knew we could not use it in our house because allergy issues to even slight scents in laundry products in our home, but the extreme amount of complaints I've received about this product make me realize this is a big issue for lots of people who normally can tolerate some scent, but not the apparently overwhelmingly powerful smell this product causes.
Here are two pages I've compiled of reader complaints about this big health issue:
Reviews I've Already Received
In addition, here are some of the reviews I've already received of this product that aren't related to allergic reactions. You can share your own review here:
Share Your Review Of This Product Here
Tell me how this in-wash scent booster worked for you, the good or the bad.

Here are some helpful hints to make sure your review is as useful as possible:

Tell me which exact scent you are reviewing, and any other important identifying characteristics of it.

Further, helpful information would include how it made your clothes feel, how it smelled immediately afterward and whether the scent lingered or not, whether you had any problems with it staining or spotting clothing, what types of fabrics you use it with, and/or any allergies or skin reactions you or a family member experienced while using it, if applicable.

I also am interested in whether you feel you need to also use dryer sheets or liquid fabric softener when you use this product.

Any other details relevant to your opinions of the product or supply are all appreciated.
Submitted Downy Unstopable Reviews
Click the links below to see other reviews that have already been submitted.

Feel free to comment on any of these submissions to tell your own experience with this product, or about any other thoughts you have.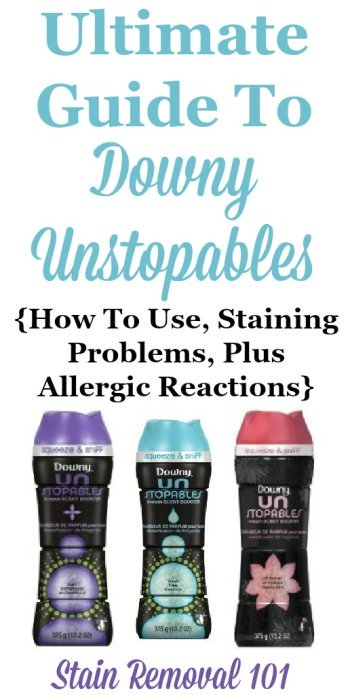 Thanks For Visiting My Website: Grab Your Free Gift!

Hi, I'm Taylor, a busy mom with 3 kids, so I have lots of hands on experience with house cleaning, laundry and my fair share of spots, spills and other messy catastrophes. Thanks for visiting my site.
I update the website all the time with tips, tutorials, cleaning recipes, reviews of products from readers like you, and tests I've done on various cleaners, removers and laundry supplies.
I'd love to give you a gift! When you subscribe to my free weekly newsletter you will receive a free printable laundry stain removal chart that you can reference as needed.
I hope you enjoy this gift, and stop by again soon!
Related Pages You May Enjoy
Laundry Supplies Reviews: What To Stock In Your Laundry Room
Laundry Tips & Tricks For Busy Moms
Go From Downy Unstopables Reviews And Information To Home Page
There are affiliate links on this page, and if you purchase a product through them I receive a small commission. Purchasing through my links costs you nothing extra, but helps support the free information provided on this site and my family. To learn more please see my product review disclosure statement.
CAUTION: This website is provided for informational purposes only. It is provided as is, without warranties or guarantees. Some stains and messes just won't come out, and are permanent. Further, some cleaning methods can harm your item, so if what you want to clean or launder is sentimental or expensive call a professional. See disclaimer of liability for more information.