Gain Fireworks Can Cause Allergic Reactions: Reader Experiences
by Taylor
Gain Fireworks can cause allergic reactions, ranging from skin reactions like hives and rashes, to sneezing, headaches, and even difficulty breathing.


To be fair, this obviously doesn't happen to everyone who use it, and there are a LOT of people, including readers of this site, who absolutely love this product.
But what this product is is a scent booster. It actually has no purpose, laundry wise, except to add scent.
It isn't even a fabric softener. It just makes things smell. Many people like the smell, but still, that is what it does.
Since I learned, with my
interview with a dermatologist
, that scent is one of the main triggers of laundry allergies (the other is dyes) the fact that this product, which provides scent, causes allergic reactions for people isn't surprising.
This is especially true because the way the product is designed, it encourages you to add a lot of these little beads, so the smell is even stronger. So, while some people can handle a scent, when they overdose their laundry with it, this is another time I see readers sharing stories about allergic reactions. In this case when a little is good, a lot is not necessarily better!
I am seeing more and more stories like this, which is why I created a page all about it. Of course, this scent booster isn't the only offender either. I've gotten lots of
similar stories about Downy Unstopables
and
Purex Crystals
as well.
Below you'll find reviews and experiences as told to me by readers who've had an allergic reaction to this product. If you've experienced such a reaction you can
submit your experience to me here
and I'll add it to the page.
Join in and write your own page! It's easy to do. How? Simply click here to return to Gain fabric softener.
Son Got Itchy Red Bumps & A Rash From Sweet Sizzle Scent
by SR101 Reader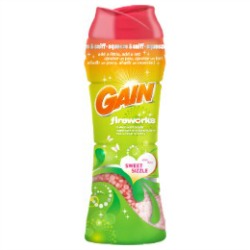 After a long back track of trying to figure out why my son had developed what looked like welts and hives on his upper body -- looking for bed bugs, fleas, spiders, any other new products being used -- we have come to the conclusion it's Gain Sweet Sizzle that has produced what looks like red bite marks that swell.

How long does it take to leave all residue out of your washer? I read somewhere it can stick to the walls.

Even with Benadryl and cortizone, in 4 days time we've had new bumps pop up in new spots everyday.

What an unpleasant experience. I won't be buying another Gain product again.

***Update: Another reader, Kristin, commented that a similar thing happened to her. She said:
I have the same red rash, I even have to pay for an emergency room visit. They will not go away. GRRRR very disappointed.
***End Update
Join in and write your own page! It's easy to do. How? Simply click here to return to Gain fabric softener.
Horrible Rash After Using Gain Fireworks Moonlight Breeze
by SR101 Reader
SR101 Reader says:
I have never been allergic to any product before.
I bought Gain Fireworks Moonlight Breeze and used it to wash my bed sheets. I woke up with a horrible itchy rash throughout my arms this morning.
It has been over 12 hours since I came in contact with the sheets and the rash still remains.
I will no longer be using this product.
Taylor says:
I'm sorry to hear about your experience and I hope you feel better soon.
If you are having trouble getting the scent, and thus the allergens, out of your clothes I would suggest reading my article about
what to do if you've had an allergic reaction to laundry detergent
.
In addition, I wanted to alert everyone that these aren't the only stories of allergic reactions on the site. I've gotten some on the
main Gain Fireworks review page
and also a
picture of the rash caused by this product here
.
Related Pages You May Enjoy
Laundry Supplies & Product Reviews
Gain Laundry Detergent Reviews & Information
Go From Gain Fireworks Causes Allergic Reactions To Home Page
There are affiliate links on this page, and if you purchase a product through them I receive a small commission. Purchasing through my links costs you nothing extra, but helps support the free information provided on this site and my family. To learn more please see my product review disclosure statement.
Thanks For Visiting My Website: Grab Your Free Gift!

Hi, I'm Taylor, a busy mom with 3 kids, so I have lots of hands on experience with house cleaning, laundry and my fair share of spots, spills and other messy catastrophes. Thanks for visiting my site.
I update the website all the time with tips, tutorials, cleaning recipes, reviews of products from readers like you, and tests I've done on various cleaners, removers and laundry supplies.
I'd love to give you a gift! When you subscribe to my free weekly newsletter you will receive a free printable laundry stain removal chart that you can reference as needed.
I hope you enjoy this gift, and stop by again soon!
CAUTION: This website is provided for informational purposes only. It is provided as is, without warranties or guarantees. Some stains and messes just won't come out, and are permanent. Further, some cleaning methods can harm your item, so if what you want to clean or launder is sentimental or expensive call a professional. See disclaimer of liability for more information.